On May 1st I ran the Frederick Running Festival half-marathon, which was my first live half-marathon since 2017 and also my first live postpartum half. I was supposed to run this race in 2020, but it was canceled, so I ran it virtually. In 2021 it got moved to July, and I prefer not to do summer half-marathons here in Maryland, so I didn't sign up that year. But this year Rob signed up to run it, so I decided to join him!
The week leading up to the race
I was feeling good the week before the race. I ran an easy run on Monday, a few half-marathon paced miles on Wednesday, and easy runs on Thursday and Friday. However, the week became stressful when we found out Grayson had a Covid exposure at school and his daycare class would be closed. We waited until Saturday to test him because my parents were planning to watch him for us while we ran. Luckily it was negative. But having a 3 year old home while trying to keep up with work is not exactly relaxing, so that didn't do me any favors.
Pre-Race
We drove out to my parents' on Saturday afternoon and had pasta for dinner. We were really nervous about how Grayson would do sleeping there because this was our first time sleeping away from home since January 2020, when he was 1 and didn't know any better. Luckily, he only woke up once at 10 to go to the bathroom but otherwise slept through the night. (Although he was up early at 5:15 as we were walking out the door to leave for the race.)
I didn't have a great night's sleep but it could have been worse. When I got up I had coffee, water, and oatmeal while getting ready. It took us about 45 minutes to drive from my parent's house to the Frederick Fairgrounds where the race took place.
Parking was really easy and we were a very short walk from the start line. We stopped for the bathroom (they had both indoor ones and porta potties available) and then ran a short warm up. I also ate a honey stinger waffle around 6:15.
Before lining up I tried to do some dynamic stretches but there wasn't a lot of room so I didn't do them as well as I usually do. I took a gel right before starting around 6:50. Rob and I lined up together even though I expected him to run a bit faster, since we would probably start around the same pace.
Starting the race
The race started right on time, and the energy was great! The other 2 races I did last year were really small so they didn't have that fun race atmosphere. The weather felt great too- it was in the mid 40s when we started.
About a minute into the race I glanced down at my watch to see my pace and realized it hadn't started. I guess it was still looking for a GPS signal when I first hit "start" as I crossed the start line. So I started it at that point knowing it would be off throughout the race.
Frederick Running Festival Miles 1-3
These first miles felt good! My plan had been to start conservatively, around an 8:20-8:30 pace, and then get down closer to 8 minutes/miles as the race went on. Since my watch was off I don't know exactly what my paces were, but my watch miles were 8:19, 8:04, and 8:04. A little fast, but it was mostly downhill and my effort was where I wanted to be.
Frederick Running Festival Miles 4-10
I'm lumping all of these miles together because they basically followed the same pattern. About 30 minutes into the race I took my first gel, and a few minutes later my stomach started turning. I was using the same fuel I always do, so I have no idea why this happened. Over the next few miles it continued and the faster I ran the worse it felt. I slowed down hoping to be able to be able to pick up the pace if/when I felt better.
At around mile 6 I started to notice the back of my right hip tightening up. My right piriformis is an ongoing trouble spot for me as I had a long injury there years ago that I still notice from time to time. While it's not painful when it gets tight, it can throw off my stride quite a bit. When I ran faster, it felt tighter. So once again I was forced to slow down. There were times throughout the race that I didn't notice it, but eventually it would come back again. The only thing I could think of with why this happened was because I sat in the car alot that morning and didn't do as a thorough of a warm-up/activation routine as I usually do.
At one point around mile 7 I really thought I was going to have to throw up. I started looking for spots on the side of the road that would be discreet, but I managed to keep running and the feeling passed. I was torn about taking another gel. Did I risk bonking or risk feeling worse? I had a different kind of gel (I had been taking Honey Stingers, but I also had Huma gels with me) so I tried Huma. It actually didn't make things any worse. I still wasn't feeling great but I could keep running.
Miles 4-10 were 8:17, 8:16, 8:29, 8:33, 8:32, 8:24, and 8:33 according to my watch.
Frederick Running Festival Miles 11-13.1
Around mile 11 there is an out and back turnarond, followed by the biggest hill of the race. I heard a few people talking about the hill and pointing to it because you could see if from the turnaround. I didn't think it was that bad since I run much bigger hills every day in training, but it was also not easy at that point in the race. However, I knew after getting up that hill it was mostly downhill to the finish.
As much as I would have liked to push hard during those last few miles, my body had other ideas. I would be able to pick up my pace for a few minutes but then either my stomach or hip would rebel.
The race ends on a race track, which was kind of fun but the terrain made it difficult to run fast. (It reminded me of running on a loose gravel trail for my last marathon!) I was able to give a final push once I knew the finish line was in sight.
Miles 11-13.1 were 8:35, 8:37, 8:08, and 7:56 for the final .1.
(My watch actually measured right around 13.1 miles, so if I had started it on time it would have been more like 13.2 or 13.3 miles.)
Post Race
Shortly after finishing I found Rob and we grabbed some water and food. I tried to eat a granola bar and some chips but could only get a few bites down. We talked a little about the race and took some pictures. Then we found the beer tent, and that actually went down pretty well. (I only drank less than half of it, but it tasted better than food.) We didn't stay too long because it felt like it might start raining soon and we were getting cold standing around in our sweaty running clothes.
When I ran this race in 2009 I remember it taking me a long time to get out of Frederick because I had to drive past part of the race course which was still blocked off. This year that wasn't a problem at all and we were able to get home quickly.
I was able to check my official results, which read 1:51:11 (so about 1.5 minutes slower than what I recored on my watch.) While this was definitely on the slower end of my goal range, I was actually pretty happy with the results considering how awful I felt at times.
Race Recovery
I was just slightly sore the rest of the day on Sunday, but used my massage gun a bit to loosen things up. I felt fine by Monday, as if I had just done a long run rather than a race. This was probably because I wasn't able to run as fast as what I had trained for. I still stuck with my plan of taking at least a few days off from running. This worked out well as it was a very busy week at work. I did get out for a few walks with Grayson which felt nice.
Final thoughts
While this race didn't go exactly as planned, it was a learning experience in some ways. The longer I go without racing the harder it is for me to remember how to race well. I guess I also need to tweak my fueling plan, although I haven't quite figured out what caused my issues. As for the hip, it is just a reminder that I need to really keep working on my strength and stability. I have a feeling it will always be something that pops up from time to time especially if I'm not diligent about my prehab.
You may also like:
How to Successfully Taper for a Half-Marathon
7 Things You Need To Know Before Running Your First Half-Marathon
15 Tips for Successfully Running Your First Postpartum Half-Marathon
Have you ever had a race where your stomach didn't feel well?
What other goals do you set for races other than to PR?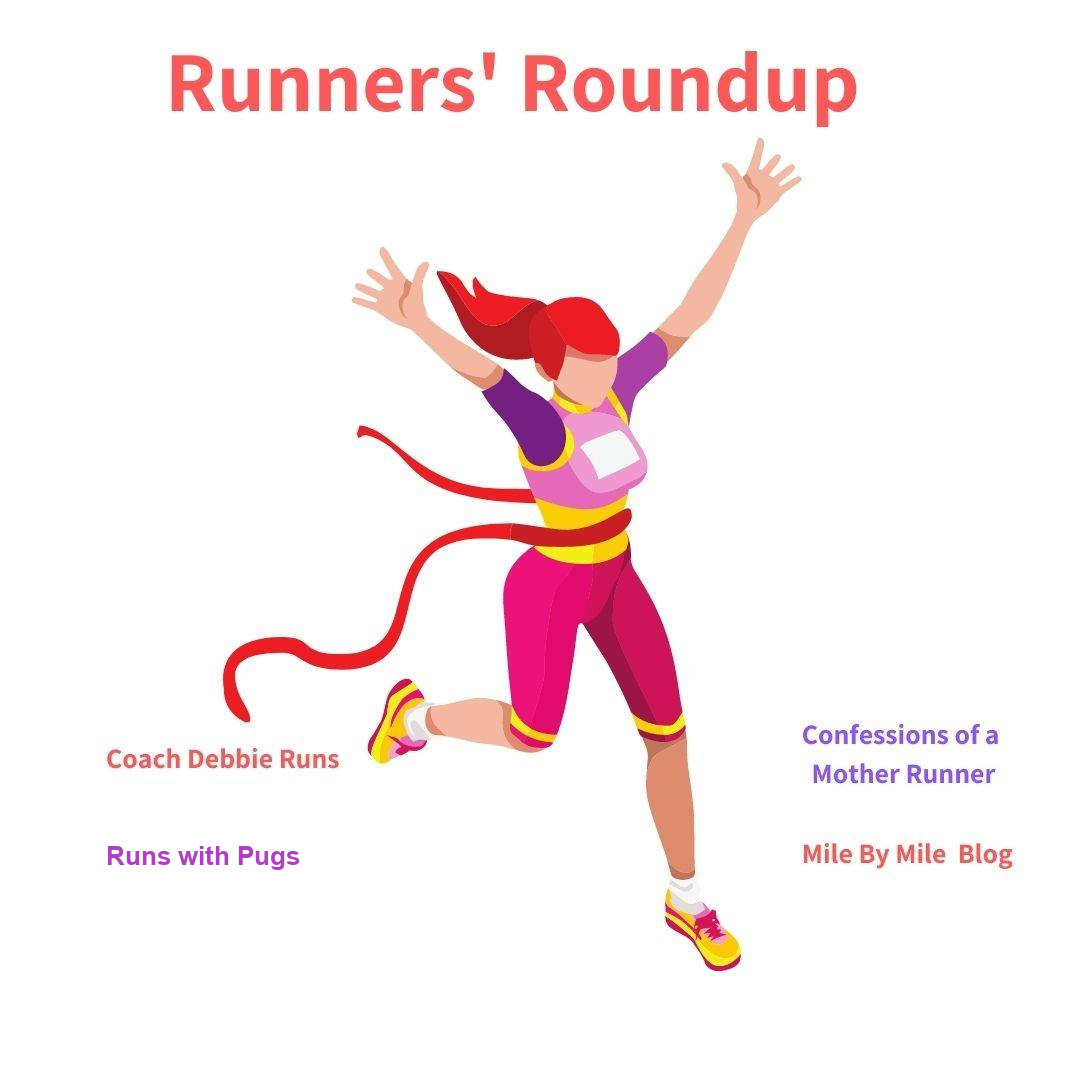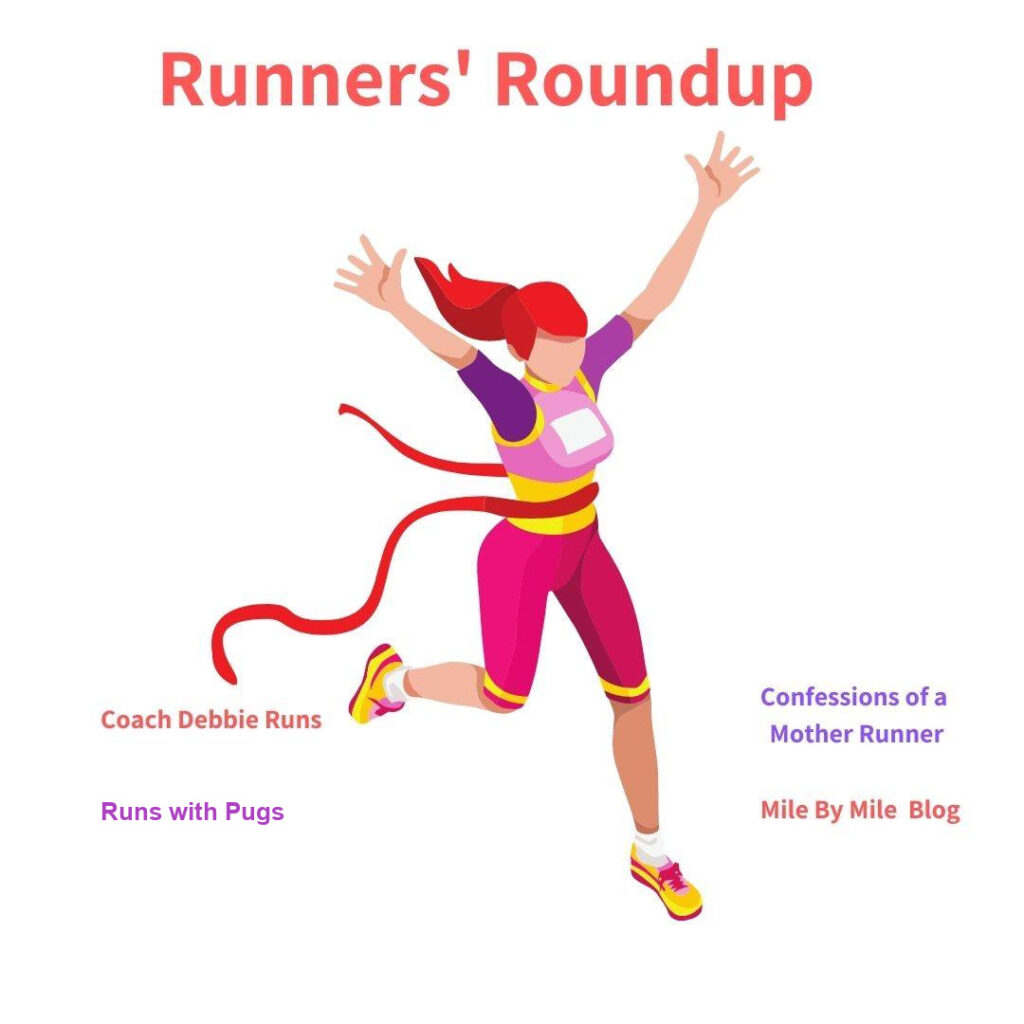 Now it's time for the Runners' Roundup! Link up your running and fitness posts below! Join myself, Coach Debbie Runs, Confessions of a Mother Runner and Runs with Pugs to post your favorite running tips, experiences, race and training recaps, workouts, gear, and coaching ideas.