Today I have a few random things to share with you about goodbyes, our "pet", and why I have my fingers crossed. Does it feel like a strange week to anyone else? I love having Monday off but I felt like the weekend was so busy that I don't know how I would have gotten everything done without a 3 day weekend! Now we start the long stretch with no breaks until Thanksgiving. It's weird to think about because it really should still be summer.
Goodbyes
Let's start with the goodbyes. And hellos. We decided to donate my car that I have had for 17 years (!) which means I have had it for exactly half of my life. If you remember for a while Rob and I were sharing this car, and then decided to get a new car last March. Since then Rob has been using the old car to drive to the light rail and back each day. It's been on it's last leg for way too long and requiring more maintenance than its worth. We decided it was time to say goodbye.
On Saturday we went to Honda and Rob picked out a Civic which we leased. So this week the old Honda will be donated to Catholic Charities. (They will come pick it up from us so we won't have to do anything). While it's sad to say goodbye, I don't want either of us to be driving it when it dies. It's nice to have 2 functional cars now. On Sunday we were able to head out and do separate errands, which was the first time we have ever done that! It felt super productive.
Our Pet
Neither of us are animal people and have no desire to ever get a pet. However, this little guy made himself at home on our deck. He has been living behind our grill for months now. Whenever we take the grill out he hops away and hides and then ends up back in the same spot. I guess if we are going to have a pet, one like this that stays outside, minds his own business, and doesn't need to be fed or cleaned is the way to go.
My Fingers are Crossed
Finally, why are my fingers crossed? Well, it's twofold. There may be a chance that I will be getting one of those sit-to-stand desks for work. It's been initially approved but there are some other departments and such that need to give the final ok, so I'm hoping it works out. Then I am also crossing my fingers that by standing more (and maybe actually working on my posture like I always say I will do) that it will help to resolve some of these back issues.
My chiro offered to write a note for me if I need it in order to get the desk approved, but hopefully I won't need that. I joked that on the days my back hurts I will stand and on the days my foot hurts I will sit. I wonder if he will be able to figure out how to write that in the note.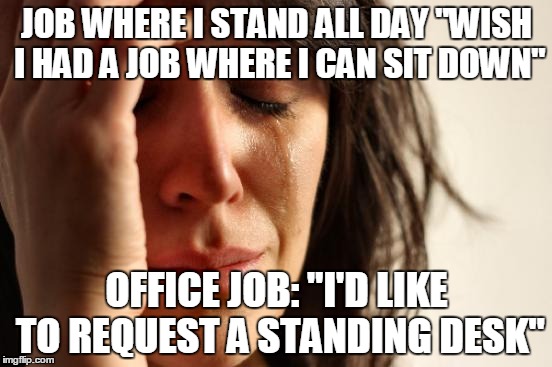 [Tweet "Goodbyes, Our Pet, and My Fingers are Crossed via @milebymilerun #thinkingoutloud"]
Do you have a standing desk at work? Would you want one?
Do you have any pets?
What is the longest that you have owned a car?
I'm linking up with Amanda for Thinking Out Loud!