I hope everyone who celebrates had a nice Thanksgiving! With just one month to go before my due date, I thought this would be a good day to do a quick update on how things are going. If you have no interest in pregnancy posts, feel free to skip this! Maybe you want to read about last week's workouts or how to adjust to running in the cold.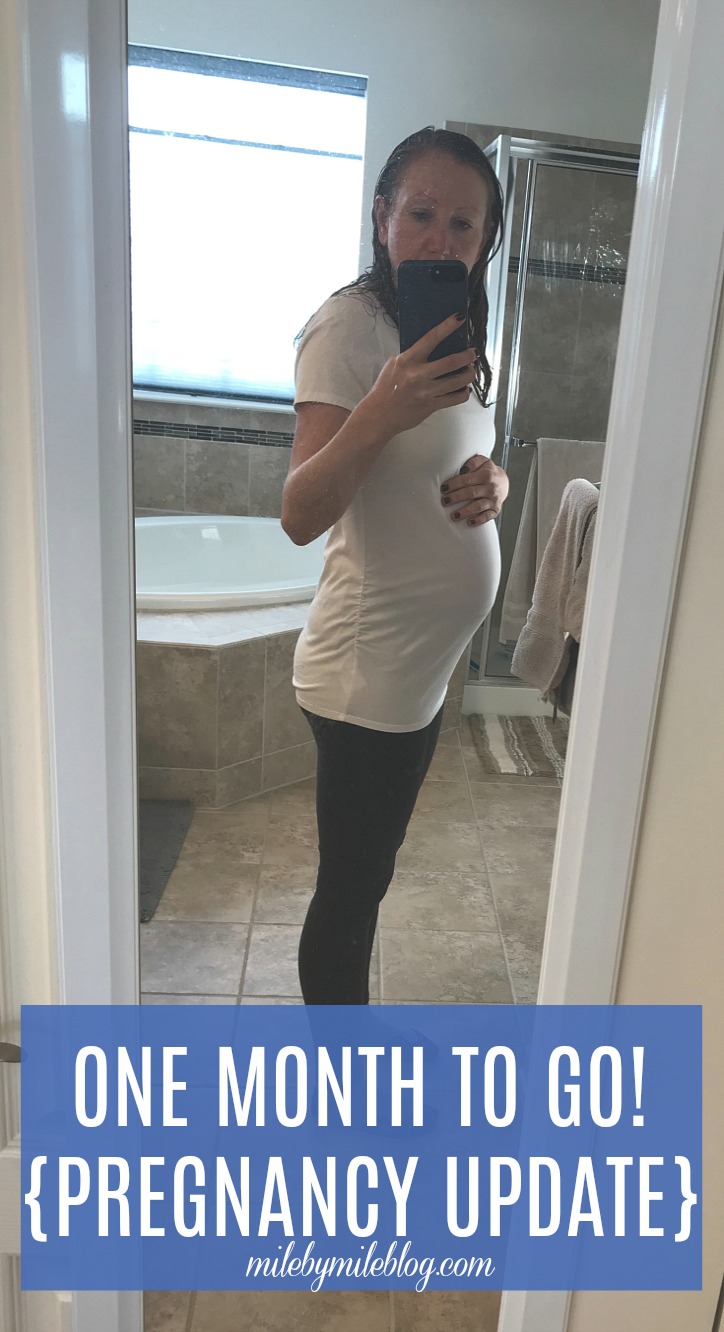 So anyway, I'm due a month from today or four weeks from Sunday. That's 30 days! And of course people like to tell me about how their first child came 3 or 4 weeks early. While I know that's not very likely, it sure is possible. I'm going to be closely monitored starting Monday (because of my old age of 35..) so that will be reassuring to have things checked on twice a week. Here's how things have been going lately.
Sleeping
My sleep has been all over the place. Some nights I sleep great. Other nights I wake up and can't fall back to sleep. I've been using this body pillow for months now and usually it helps, but sometimes it just feels restricting. It doesn't help that I've been warmer than usual so I tend to wake up hot. And I wake up to go to the bathroom at least twice a night.
Baby Prep
I feel like there is still SO much to do. We've taken some classes (childbirth, breastfeeding, and infant CPR) and have one more tomorrow (Infant care). So at least that will be done. The big stuff in the nursery is set up but we still need to hang stuff and get more decorations. We have a bunch of clothes, but not really enough stuff for the winter months. There's also a bunch of stuff we need to buy that we've been putting off until it gets closer. I've started figuring out what I need to pack in a hospital bag, but it isn't actually packed yet. We also need to install the car seat and get it inspected. Hoping that will happen this week. I'm starting to get the urge to nest (mostly because I feel like there is so much to get done) but I don't really have the energy to do things! I don't understand how people nest during the 3rd trimester.
Eating
My eating has been pretty much the same. People ask if I have cravings, and I really don't. I've definitely been eating more but it's just slightly bigger meals or an extra snack or two throughout the day. I thought it would be kind of fun to have cravings, so I guess we'll see if I get any over these last few weeks!
Working
I'm planning to keep working for as long as I can, probably up until my due date. My actual due date is the first Sunday of the holiday break (December 23rd) so that last Friday before the break feels like a good stopping point. Obviously, I can't control when the baby decides to come. I brought an exercise ball to work so I can alternate sitting on that during the day with sitting on my chair or using my standing desk. I find that sitting in the chair all day long bothers my hips.
Wearing
If I could I would wear sweatpants and a sweatshirt all day, every day. (But that's not much different from pre-pregnancy.) I've slowly built up a maternity wardrobe with most items being for the fall/winter. I got most of my stuff from Motherhood Maternity. They always have sales and coupons so it hasn't been that bad to buy new clothes. I also finally invested in maternity workout pants- 1 pair of capris and 1 pair of long tights. That should get me through the next month (and maybe my return to running whenever that is) if I don't wash them every day. I also have 2 tops that I got along with the ones I've stolen from Rob:) All the maternity workout stuff I bought was from GapFit and Old Navy.
Working Out
I won't say much about this because If you've been following my blog/Instagram you have probably seen my workouts lately. I'm still getting them done although it's getting harder! I just know I feel better when I get in some sort of a workout. I also hope they will help me with labor and also coming back after the baby is born.
So that's about it for now! The other thing I'm planning to do (if I have the time and energy) is make some meals to keep in the freezer. Hopefully when I get everything else done I'll make some time for that.
[Tweet "Just once month to go before my due date! Check out what's been going on during the 3rd trimester. @milebymilerun #pregnancy #fridayfive"]
Where did you shop for maternity clothes?
What are some good freezer meals to make in advance?
Have you ever slept with a body pillow?
Linking up with Fairytales and Fitness for the Friday 5!