For many runners, a post-race beer is a relaxing and rewarding ritual to celebrate a big accomplishment or fun event. But what about having a drink the night before a race or a hard run? Will this impact your performance? While it's hard to say for sure, there are some thing you can consider when deciding whether or not to indulge. Here's what you need to know about running and alcohol and how it affects performance.
The Effects of Alcohol on the Body
We know that alcohol can have negative effects on the body, such as dehydration and disrupted sleep. It can also impact how much glycogen our bodies can store, which we need for running longer distances. Another consideration is how it impacts recovery. Too much alcohol following a race can put our liver into overdrive, and it won't be able to support our recovery as well. Additionally, drinking alcohol can increase blood pressure and affect how well our heart is able to work during exercise. It's important to keep in mind that these effects are going to be impacted by the amount of alcohol consumed and how often it is consumed.
What are your running goals?
When considering if you should have a drink or not the night before a workout or race, think about your running goals. Are you just running for fun, or is this a really important workout or race? For runners who are training almost year round, we don't want to necessarily have to ALWAYS avoid indulging. Therefore, it's important to balance out times when we really need to run our best with times that we can be a little more laid back. If we are constantly restricting ourselves from doing things we enjoy, it may lead to burnout. On the other hand, if running is important to you and you want to make progress, there are certain sacrifices you may need to make in order to run your best.
Are you drinking in moderation?
There's obviously a big difference between having 1 glass of wine or 1 beer the evening before a run, or going out to a bar and drinking 10 beers late at night. You need to know your own body and what you can handle, but most guidelines will suggest limiting alcohol consumption to 1-2 drinks. Some people can have 2 drinks and feel totally fine the next day, and others will feel more sluggish and dehydrated, or may have other physical effects from the alcohol.
Consider why you are going to drink
Are you having a drink to relax? Is is a special occasion? Or is it more of a habit, or a way to cope with something negative going on in your life? I mean it's 2020 and I am certainly not placing judgement on anyone for drinking after a stressful day. But if you think about why you want to have a drink you may find that you can do something else instead if you are concerned about your running performance.
Can you still stay hydrated and get enough sleep?
If I am going to drink before a harder run or race, I make sure it is early enough in the evening that I can still get a good night's sleep. I may have a drink with dinner, around 6, and then focus on drinking plenty of water throughout the rest of the evening. If you decide to have a drink before you go to bed, make sure you are drinking water alongside your drink so that you don't end up dehydrated. If possible, drink at least a full glass of water before going to bed.
What about a post-run drink?
You may be wondering if it's ok to enjoy that free race beer or to celebrate a great run with a glass of wine. As I was doing some research into this, the main reason for avoiding a post-run drink was that your body will need to use energy to process the alcohol, rather than to support your recovery. As much as I appreciate this perspective, personally I don't see a problem with having drink after a run. (I'm not saying this should be every day, but once in awhile or after a big race.)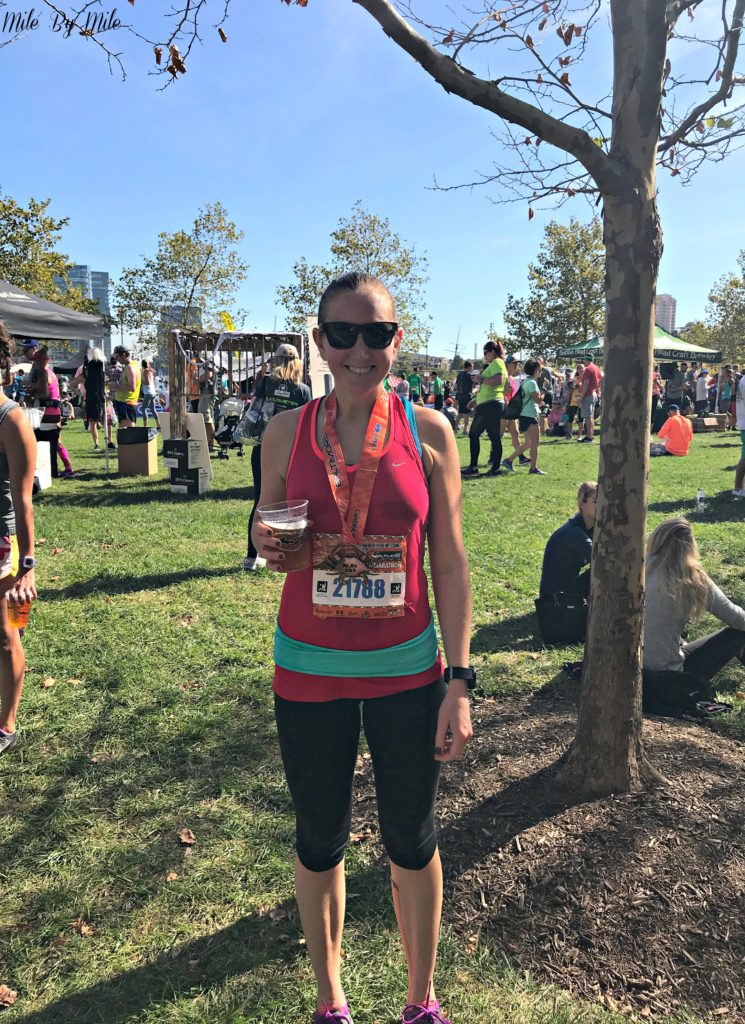 If you are recovering properly in other ways, like cooling down, drinking water, getting rest, etc., then I don't think that one drink is going to have a big impact on how you feel by the time you have your next hard run or workout. It was refreshing to read Laura's post about the benefits of beer for runners, including improving bone strength, antioxidants and carbohydrates to support recovery, and B-vitamins which provide multiple health benefits.
Everything in Moderation
Drinking alcohol before a run or race will have different effects on different runners. The key is to decide for you personally how it will effect you. If you decide to indulge, it's important to do so in moderation. We don't want running to completely take over our lives, and if you enjoy an occasional drink there are plenty of ways to do so and still run and race well.
You may also like:
Balancing Training and Life
5 Tips for the Taper Weeks
Taper Tips To Get You Ready To Run a Strong Race
Do you drink alcohol the night before a hard workout or race?
After a race do you celebrate with a drink?
Have you noticed if drinking impacts your performance or recovery?
Now it's time for the Runners' Roundup! Link up your running and fitness posts below! Join myself, Coach Debbie Runs, Confessions of a Mother Runner, Runs with Pugs , and Laura Norris Running to post your favorite running tips, experiences, race and training recaps, workouts, gear, and coaching ideas.
You are invited to the Inlinkz link party!