Do you have questions about the Virtual Race Resource Guide? Hopefully this information will be helpful! If not, send me an E-mail at milebymileblog (at) gmail.com
How much is the Virtual Race Resource Guide?
Right now it's on sale for $19.99!
What's included?
So much! Everything you need to train for and run a virtual race. Checklists, training plans, weekly E-mails, community support, and more.
Do I need to sign up for a race?
No, but you can! This can really help you with any goal, from a timed-trial, to a virtual race, or even an in-person race if one is available to you.
When do I need to do my race or timed-trial?
Whenever you want! The guide is yours forever, and you will get weekly E-mails for 12 weeks after you sign up.
What should I expect from the training plans?
The plans that are included are for 12 weeks of training. They are written for advanced runners with modifications for beginner and intermediate runners. You also have the option to upgrade and get an individualized training plan for $20.
What if I have more questions about the guide or training?
You can always E-mail me at milebymileblog (at) gmail.com! You will also get a free coaching call that can be used any time within 6 months of your purchase.
How do I sign up?
Head over to my Virtual Race Resource Guide Page!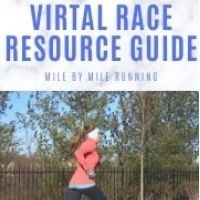 Virtual Race Resource Guide
3 training plan options for the 5k, 10k, or half-marathon
preparation guide
pre-race checklist
mental training tips
goal setting worksheet
and more!