Can you believe that its been almost 6 months since our lives were turned upside down? I probably haven't participated in 6 months of virtual coffee dates, but it's been 6 months of pretty much virtual everything. I really feel like time is not moving (as if I were just waiting for things to get back to normal) and then I blink and 6 months have gone by. In some ways March feels like a lifetime ago, but in other ways it's like how have we already been dealing with this for so long?
6 Months of Virtual Coffee Dates
I remember feeling really anxious the first month that everything shut down. Back then no one really knew how long this would go on for, so I think most people were ok staying home. Now I have much less anxiety about it (however, I rarely go out), it's more of a general distressed feeling that life will be different for a long, long time.
But let's not focus on the negative! There are a few good things that have happened over these 6 months. Here's what I would tell you on our virtual coffee date.
Running
Being home so much has really given me the opportunity to have more flexibility with my running. When I was going into the office I found it was really hard to run on those days because I had to start getting ready for work around 5:30, so I would be mostly ready when Grayson woke up at 6, and then I could get him fed and ready and eat breakfast before leaving for work.
Now I have more flexibility as I am home more. There are many things that have been hard about working from home and parenting at the same time, so I have tried to take advantage of being able to run more.
Technology
I've gained a new appreciation for technology this year. Could you imagine if this happened 15 years ago? Even just a few years ago we had less capabilities. Most people were able to adapt really easily to working remotely. It's been a learning curve but I think we will continue to operate differently even when things get back to normal.
I do worry and feel bad that Grayson has had no social interaction outside of the house or FaceTime (or meetings with my coworkers lol) but I am grateful that he can still see and interact with people regularly.
Flexibility
The word flexibility has taken on a whole new meeting these days. I've really had to learn to be flexible with my routine which isn't always easy for me. I don't do well focusing at night but most days I just can't get all my work done and need to do it after Grayson goes to bed. Each day I basically think about what things absolutely need to get done and which ones can only be done when Grayson is sleeping, and I prioritize those in the morning, at nap time, and after he goes to bed. Everything else I just try to get done as I can!
Self-Care
This has not been a priority at all for me these last few months. I really just have felt like I've been in survival mode. I still haven't had my hair cut (we're now at about 16 months if you're counting) and I've been thinking about just doing it myself. At this point, who cares what it looks like. I wear it up every day anyway.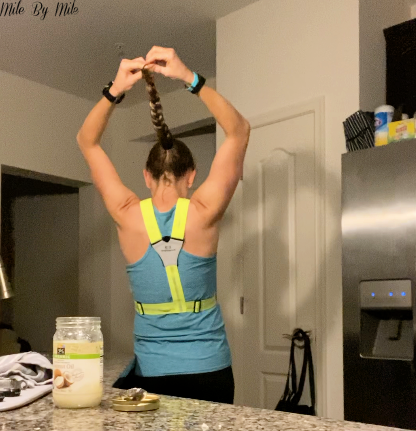 I have to go to the dentist this month. Not excited about that! I've had some issues on and off since March when my check-up was cancelled, so this is long overdue.
Thinking Ahead
As we head into the fall and winter months, I'm a little nervous about what's to come. Will we see huge spikes in cases because people are inside more, traveling, and seeing family for the holidays? Will the schools that opened stay opened or need to shut down again? What will our family be comfortable doing over the holidays? How will we manage Halloween? (At least more people will be wearing masks on that day!)
There are so many unknowns, but all we can do is take care of ourselves and try to stay positive. There are better days ahead at some point!
How have you adjusted to everything over the last 6 months?
What are some positive things that have happened this year?
Have you started to think about what you will do for the holidays this year?
I'm linking up with Fairytales and Fitness for Fridays with Fairytales and Fitness and Coco and Deborah for the Ultimate Coffee Date!