Thank you all so much for your comments on yesterday's post. I really appreciate all of your suggestions and will be taking a few days to think about what my plan will be. There is no better place to turn for advice on this stuff than the running blog community!
Today I will be doing something a little different, and sharing a spinning workout! This can be done at home if you have a bike, or you can sneak into the spin studio at your gym if there isn't a class going on. Some gyms have spin bikes out in the cardio section too!
Spinning is such a great workout, but I don't really have access to taking a class. Now that I have a bike at home, I have been enjoying doing my own workouts. Sometimes I like to just put on Pandora and match my effort to the music.
Last week I put together a motivating 90s playlist and came up with a workout that I thought I would share! This should be easy to follow if you have taken a spin class before. If you have never taken a spin class, it may take a few tries to figure out the appropriate effort. Just remember that the warm up should be at a really easy effort and the tracks later in the workout should feel more difficult.
I included links to the songs on YouTube. By the way, if you want a good chuckle, you should go ahead and watch some of these music videos (like MmmBop!)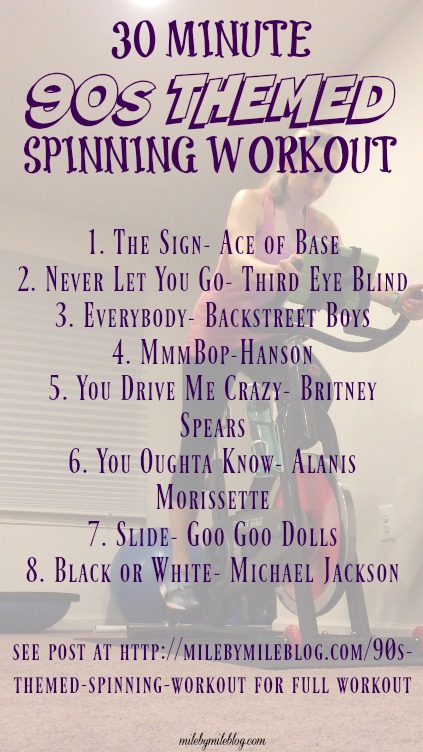 1. The Sign– Ace of Base (3:18)
Warm Up: Use this song to warm up and get your legs moving! When the chorus picks up, go a little faster.
2. Never Let You Go– Third Eye Blind (3:59)
Sprint Track: Increase the resistance just a bit from the warm up. Keep a steady pace, and during the chorus give it an all out sprint. Resistance should be low, but not so low that you don't have control over your legs.
3. Everybody (Backstreet's Back)– Backstreet Boys (4:07)
Steady Climb: Start with the same resistance you had for the sprint track. Gradually increase the resistance. Each time the chorus plays, increase the resistance and stand up for a heavier climb.
4. MmmBop– Hanson (3:53)
Standing Sprints: Lower the resistance so it's less than the climbing track. Make sure you have enough resistance to stand comfortably. Keep a moderate pace throughout the song. During the chorus increase the resistance a little, stand up, and sprint. When the chorus is over lower the resistance and sit back down.
5. You Drive Me Crazy– Britney Spears (3:17)
Moderate Climb. Increase the resistance slightly, so its difficult to keep the pace of the song while sitting. Aim to stay at a steady pace throughout the track.
6. You Oughta Know– Alanis Morissette (4:13)
Heavy Climb: Start with the same resistance from the last track. Increase resistance every 20 seconds. Stay sitting until it gets too hard to keep pedaling, then stand up and keep climbing/increasing resistance every 20 seconds.
7. Slide– Goo Goo Dolls (3:33)
Hard Sprint: Lower the resistance so its challenging to keep pace with the song. During the chorus, increase the resistance and sprint while remaining seated. After the chorus, lower the resistance slightly but not all the way.
8. Black or White– Michael Jackson (3:21)
Steady Ride/Cool down: Lower the resistance until it feels easy but you still feel like you are working. Ride at a steady pace for 2 minutes. Then, slowly starts lowering resistance and riding easy. Continue your cool down to another song if needed.
I hope you get in a good workout if you give this a try! And if you're not into spinning, you could always use this playlist for running or any other type of workout. (Just consider leaving the headphones at home if you are running outside!)
[Tweet "Try this #90s themed #spinning workout that will make you sweat & dance in your bike seat! @milebymilerun #workout"]
Do you take spin classes?
Every make up your own spinning workouts?
What is your favorite 90s song?
I'll be linking up with Kim, Steff and Janelle for the Tunes Tuesday link-up and Annmarie, Nicole, Michelle, and Jen for Wild Workout Wednesday!