Last week I had a running gait analysis done at the MedStar Harbor Hospital Sports Medicine Clinic. I have been to this clinic several times in the past- once after hip surgery, and then again 3 years ago when I was having problems with my piriformis. In 2012 I had a gait analysis done and worked with a PT for several months to addess imbalances. I got stronger but my symptoms persisted. I ended up stopping PT and began working with a chiro, and eventually got relief with dry needling.
This time around I started with a chiro and had lots of ART and a few dry needling sessions, and was doing my own strengthening. Considering that it had been 2 months since my marathon and I had taken some time off and kept my mileage low, I wasn't feeling as good as I would have liked. Even though I saw some improvements they were inconsistent. I would feel good for a few days, then something would bother me, then something different would bother me, and it felt like a never ending cycle. I felt like I couldn't start training again without being back to 100%.
So, I decided some PT wouldn't hurt and I figured I was due for another gait analysis which is included if I'm a PT patient. However, I needed a prescription from an ortho to go to PT, so that's where I started. I got an X-ray of my hips which looked fine and I think the Dr. was actually a little confused as to why I was there with such mild symptoms (and the day I went I felt fine). He agreed that PT and another gait analysis was a good option, and saw no reason why I couldn't continue running but suggested I avoid hills until I build up my glute strength. He also thought I might have a mild adductor strain, but nothing too concerning (basically, don't do anything that makes it hurt, which running doesn't. I notice it if I do boat pose in yoga or something like that).
I was able to get in to PT the next day and saw the same guy I worked with the last time so it was nice that he knew my history already. He had me do squats and then checked my ankle range of motion- he said both looked good. I did side planks and lifted my top leg to push into his hand- he said that it seemed like I had good hip strength. I got on the treadmill for the video analysis, and that's when everything fell apart.
Despite all the strength and mobility work I do, my form still suffered- and it wasn't like I had run a ton; I was only on the treadmill for 5 minutes or so.
Most noticeable was my lateral hip drop. My PT thinks that even though I have the strength in my hips, for some reason its not carrying over to my running. Those muscles aren't firing when they're supposed to.
My right arm swings out to the side, which may be a compensation for my hip drop.
I'm heel striking/overstriding again, which I hadn't been since switching to the Pure line 2 years ago.
I also have this weird heel whip going on, which I noticed in recent race photos and may be due to my tight external rotators (piriformis in particular). Those tight muscles could also be preventing my other hip muscles from working properly.
Next week I will talk more about what I'm working on in PT. So far a lot of my time there was spent getting manual work on my external rotators. I've also had the opportunity to run on the Alter-G treadmill, which was another reason why I felt like it was worth it to go back to PT for a bit. It's nice to get some of my weekly mileage in on there where there is less impact. Right now I've been doing 3 miles at 80% body weight. (I've still been running outside of PT, just keeping my mileage in the same 20-25 mpw range that I've been in for the past month).
Whew, that was alot of info! Any questions about anything? If you are in the Baltimore area this is a great place to go for physical therapy with alot of great technology.
Have you ever run on an Alter-G treadmill?
If you have had a gait analysis in the past, what did you learn from it?
PS: Don't forget to enter my PRO Compression giveaway!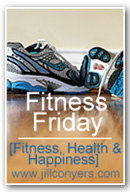 I'll be adding this post to Jill's Fitness Friday link-up!