1. I don't think I will need to point out that today is Thursday because you will figure it out as you read today's random post. It will probably be even more all over the place than usual because I am writing this at 9pm and I usually don't blog anytime after 7pm. Plus, had a glass of wine. Not enough to make this post really fun, but enough to produce extra scattered thoughts.
2. This feels like the longest week ever…that must be because a 3 day weekend is approaching. I'm crossing my fingers for some nice weather and maybe a chance at getting my pale skin a bit of color! I haven't looked ahead at this weekend's weather (it always changes anyway) but this week has been all over the place- hot and humid one day, rainy and cool another…so I have no idea what to expect.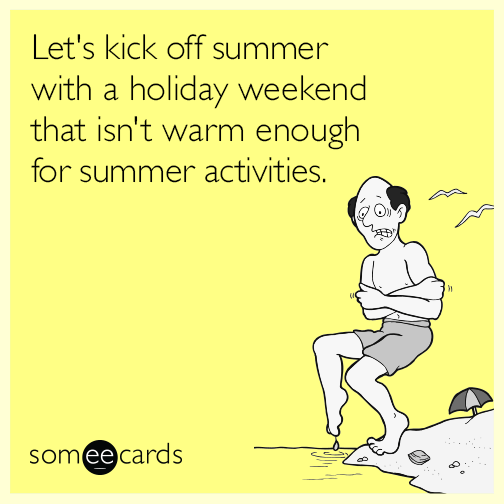 3. Just as I have no idea what to expect when I step outside to run in the morning. I didn't realize that on Tuesday it was going to rain but I walked outside and it was super misty and I felt like I was running in a rainforest. It felt good though, especially when it started drizzling at the end. However, I'm pretty sure a bug flew at my face at one point and that was not as fun. Pretty sure it stuck to my cheek and I spent the next quarter mile making sure I wiped it off.
4. Rob would like to thank you all for the birthday wishes yesterday! I don't think he ever would have imagined that people he has never met would be wishing him a happy birthday.
5. We celebrated last night by going out to dinner. Luckily Facebook reminded me that it was his birthday.
6. As promised, there was more dessert tonight, but it was brownies instead of cake.
7. Rob is a year older than me so whenever he turns a new age it gets me thinking about how I am approaching that age as well. (Well he is actually a year and a half older so I still have to turn 32 before I get to 33 which is what he turned yesterday). I then remembered that its been exactly 10 years since I graduated college. I have no idea where the time went!
10 years ago I would be just getting ready to go out at this time of night; now I am complaining that it's the middle of the night. So I think that's a good place to end this- the later it gets the worse my typing and thinking will get 😃
Thanks, Amanda!
How long have you been out of college for?
What is the latest time that you usually blog? Usual bed time?
Ever have bugs fly into your face while running?