Over the past few weeks I have mentioned that I started seeing a Rolfer at my chiropractor's office. What is Rolfing? Good question. It sounds like a made up word, not to be confused with "ROFL". I assure you that it's a real thing. I had read about it before my chiropractor mentioned it to me but I didn't realize it was covered by insurance. The providers I had come across charged about the same, or more, as a massage therapist and recommended about 10 treatments. That was why I never pursued it, even though I was intrigued. So knowing that this would be targeted specifically to address my injury, and I just had to pay a copay, I decided it was worth a try.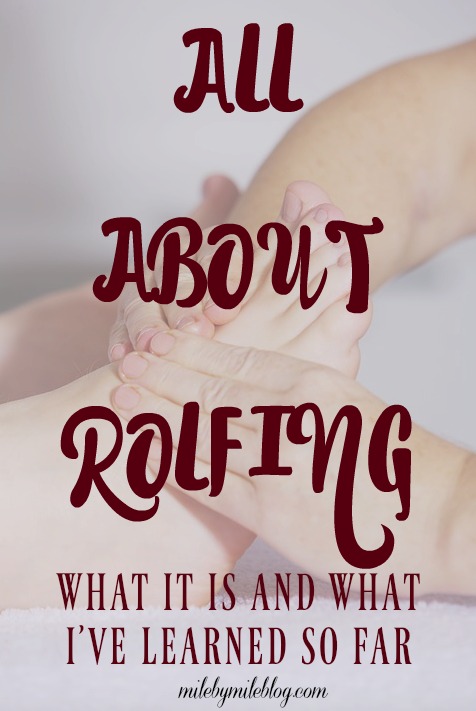 What is ROLFING?
According to the ROLF Institute of Structural Integration website, Rolfing is a form of bodywork that reorganizes the connective tissues, called fascia, that permeate the entire body. It was named by it's founder, Ida Rolf. Have you ever heard the quote "Where you think it is, it aint?" I have seen this quote on Instagram (referenced often by Stop Chasing Pain) and this is one of the philosophies behind Rolfing. Just because your foot hurts, doesn't mean that's where the problem is.
I like this chart that Perry Nickelston shared on Instagram: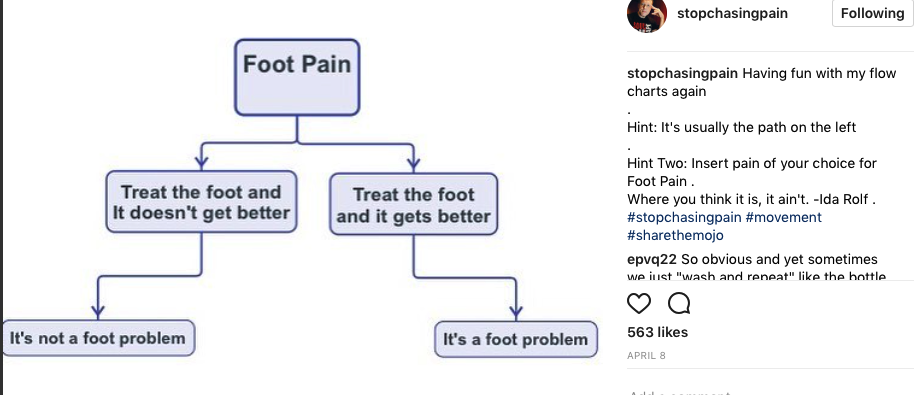 So basically the idea behind Rolfing is to realign the body and restore optimal functioning. Past injuries can play a huge part in how we move even if we don't realize it. To me the sessions have felt alot like massage, but I can tell that my therapist can recognize which areas need work. Not only does she work on helping to restore balance by physically treating the muscles, but we also talk about why certain areas may be off and how to address some of the issues I'm having.
What have I learned from ROLFING so far?
I went in and explained my ongoing foot/ankle dilemma. I also mentioned how my right SI Joint flares up once in a awhile. As we talked I received treatment on those areas. There were a few takeaways from the experience:
Obviously sitting all day is not helping the back issue. The more I can get up during the work day, the better.
I asked if she had any recommendations for shoes. We talked about about the benefits of natural movement. This includes allowing our feet to fully splay out and not wearing shoes with a heel that can bring the body out of alignment.
We talked about how the right side of my back is probably compensating for an issue on the left side. (Maybe weakness or tightness from my surgery.)
She thinks that my arches look much better of than most feet, especially for spending a lot of time in shoes. Some of the areas of my ankle are not moving well. She's been working on getting those spots loosened up.
She suggested walking around barefoot at home as much as I can handle. I should also think about spreading my toes when I walk and try to put equal weight on both sides.
My hips/legs are kind of out of alignment. This is probably because of all the stuff going on with my foot and back. She has ever so gently tried to help to get them back to neutral.
Our conversations and sessions have made me more aware of my body and how I'm moving. I've also been a lot more focused on my breathing both because of this and my strength program. I'm not sure it this will get me back to where I want to be, but its definitely an important piece of the puzzle.
Have you ever heard of ROLFING?
Would you consider trying something like this?
How do you think your past injuries affect you now?
I'm linking up with No Guilt Life, MCM Mama Runs, and Marcia's Healthy Slice for Tuesdays on the Run, and Rachel, Susie, Lora, and Debbie for the Coaches' Corner!