Have you considered how to recovery properly from a half-marathon? This is so important after running a hard race. Here are some tips to make sure you recover well so you can continue running!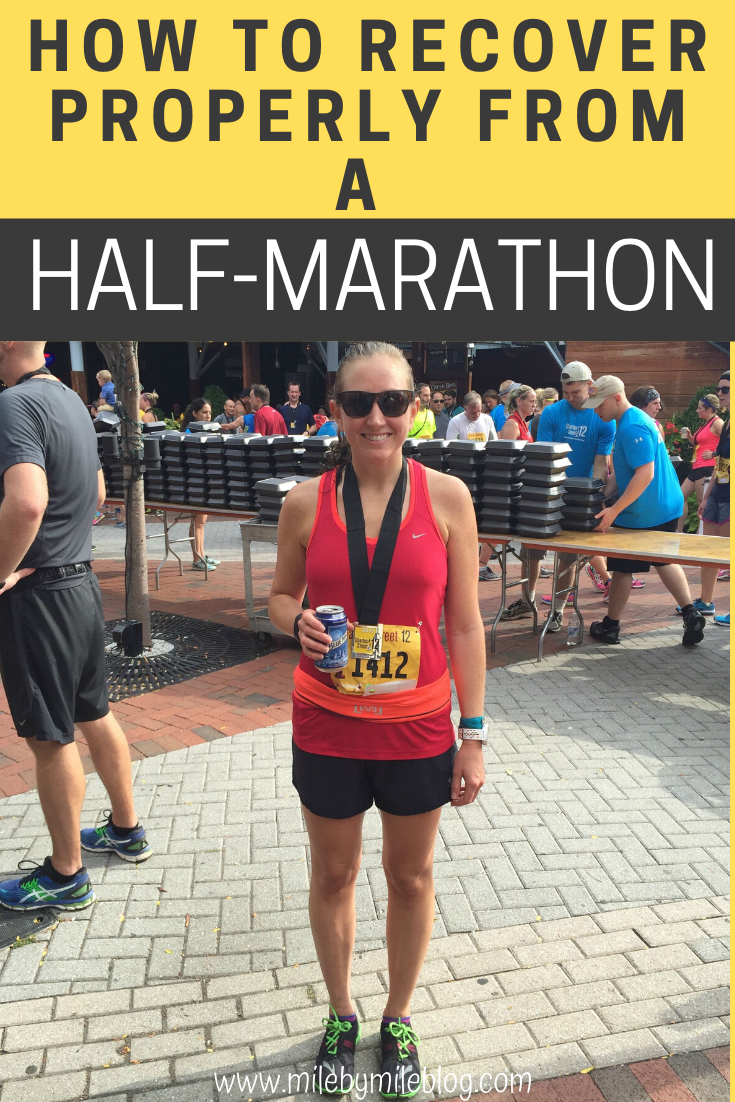 After running 13.1 miles on a more hilly course than I am used to, my body was feeling pretty sore. I was walking a little funny on Saturday and could feel tightness in my hips and hamstrings. I didn't stretch right after the race (I know I should but I always get wrapped up in everything else going on) so when we got back to the hotel I stretched for a few minutes before going to get breakfast. (Another poor recovery strategy…I didn't eat the recommended 3:1 carb/protein snack within 30 minutes of the race).
After I showered I spent some time with my foam roller and the sticks.It helped a little but I knew I would be sore from the race. Sometimes I take an ice bath after a long or hard run but I didn't do that on Saturday. It probably would have helped a little but it can take some time and I knew we had to check out of the hotel soon.
The rest of the day Saturday was spent relaxing. Around 5 we walked to church, and after church went to get pizza and beers with a friend.
While its great to enjoy the day of a race celebrating your accomplishment, its also important to focus on recovering properly. On Sunday I decided to get focused so I could get back to training as quickly as possible. I wrote down my initial plan for recovering from the half-marathon.
Recover properly from a half-marathon
The day after the race:
I think its fine to take a complete rest day, but because I will be traveling this week and wasn't sure if I would be able to get a yoga session in, I decided to take an easy class on Reflexion Yoga. I also took a warm bath in Epson salt. This is supposed to help relax sore muscles (and I think it helped!). I also did some more foam rolling and stretching, and wore compression socks. The best part of today's recovery was getting a much needed pedicure!

2 days after race:
If you are still sore, its probably good to take another rest day, do some yoga, or cross train. Remember that it's most important to always listen to your body! If I am feeling ok, I like to do an easy run of about 30 minutes. Keep up with the stretching and foam rolling! Maybe start incorporating strength training back into your routine if you took time off the week before the race like I did. I am always good about core and hip work but last week I missed a bunch of days.
All Week After a Race
Ease your way back into running. I try to only do easy runs and cross training. Its also important to focus on nutrition just like it was leading up to the race. Protein, fruits, and vegetables are key in my opinion (I seem to have no problem getting enough carbs, so I put my focus towards the foods that aren't as easy to incorporate into my diet). Especially with traveling this week, I know it will be challenging for me. Get back into strength training, and I can't say it enough: foam rolling and stretching.
I am also using this week to refocus and think about my next goals. Especially with this being the end of the fall running season, its important to make sure you are not burned out. If you are, take some time off.
Once I decide what my next goals are, I will be creating a plan of how to reach them.
Follow these tips and you will be well on your way to running and racing again! And don't forget to relax and enjoy yourself after all that training and racing!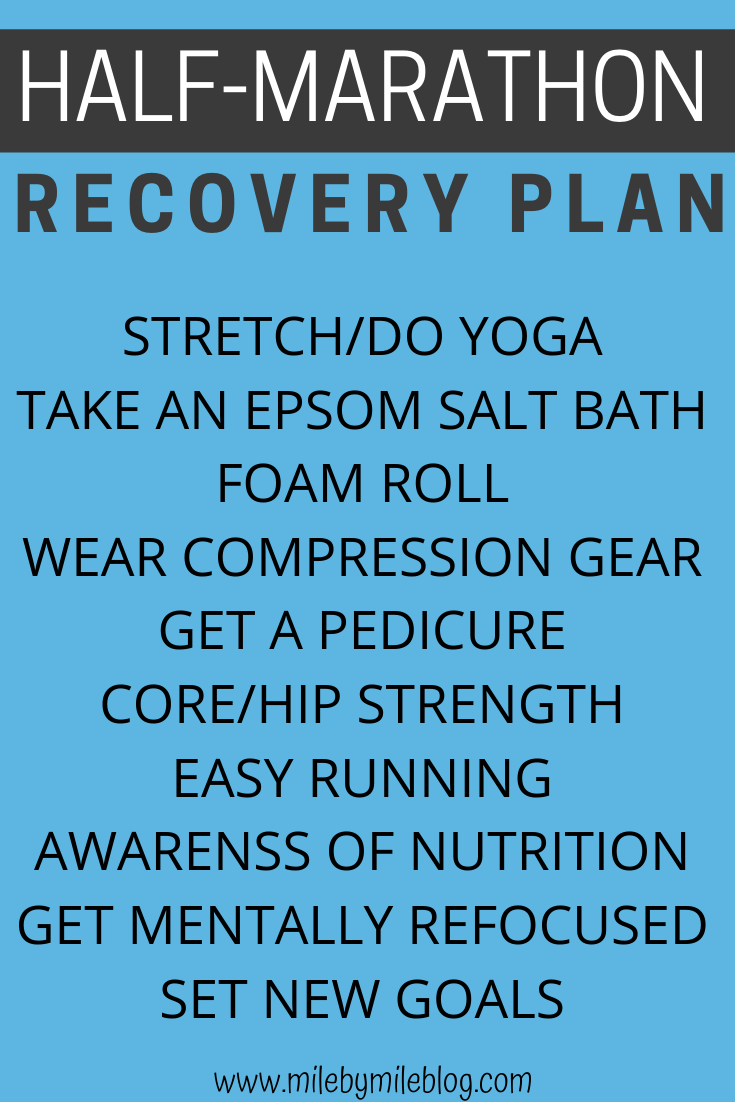 What are your strategies to recover properly from a half-marathon?
You may also like:
Top 5 Important Recovery Tips for Runners