I know must of us saw this survey on Hungry Runner Girl a few weeks ago, and I've wanted to share a blog post with my responses. Today was one of those days when I didn't have much else to say, so I figured it would be a good day to share my answers!
1. Would you rather run along a beach path or on a mountain trail? I love running on the beach, but I have never run along a mountain trail! So I can't really give a fair answer. Although I would definitely be nervous about things like major hills and wild animals on the mountain trail.
2. If you could choose the flavor of gatorade at your next race's aid stations, what would it be? I really only like lemon-lime gatorade. Fruit punch is ok too, but I would definitely spill it all over myself and then have red stains on my running clothes.
3. If I gave you a $100 gift card to a running store, what would be the first thing that you would purchase with it? I would try to buy as many things as possible with it, so maybe try to find a bunch of items that are on sale? I wouldn't want to spend it all on one item (which is what happens when I go into Lululemon with a gift card).
4. Do you prefer to follow a training plan or wake up and decide then how far and how fast you want to run? I love following a plan, but I am working on being more flexible about my training. I have been running with no plan for 3 months now!
5. Would you rather start your run with the uphill and end on the downhill or start your run with the downhill and end with the uphill? I like starting on the uphill since I will be going slow anyway. And by the end of my run the last thing I want to do is run up a hill.
6. When you can't run, what type of cross-training do you choose to do? If I had my way I would take spin classes, but my hips don't like spinning (I think because of the seated position and using my quads). I learned to sort of enjoy swimming when I took a few weeks off of running last March, and it wasn't so bad!
7. What is your preference—> Out and back, point to point or loop runs? I like loop runs but once in a while its nice to do an out and back- mentally, you can think about just getting to the halfway point and then you know you can turn around!
8. If you could recommend ANY running related item to a new runner, it would be a—? Probably a foam roller. I wish I knew about them when I started running!
9. Do you ever see any wild animals while out on your runs? Yep! Lately I see deer all the time, and sometimes foxes.
10. Ever gotten lost while out on a run? A few times, but not super lost, just confused for a few minute and maybe had to add on an extra mile. I've never had to call anyone to come find me or anything like that! I also run with my phone, so I can look up a map of how to get home.
11. If you could have one meal waiting and ready for you each time you got home from a run for the next 30 days… what would that meal be? Oh wow, that's a tough one. Since I run in the morning it would have to be some kind of breakfast. Probably some kind of eggs with bacon but I would also want something elaborate like waffles that I would never make for myself!
12. Capris or shorts… what do you run in most often? Short from about March through November. I may wear capris for a week or two but I find that with the crazy Baltimore weather I usually go straight from shorts to tights and back again.
13. At what mile (or how many minutes) into your run does your body start to feel like it is warming up and ready to go? It usually takes me just over a mile, or about 10 minutes. Sometimes two miles.
14. What do you do with your key when you run? Almost all of my running shorts and tights have a little pocket with a zipper, so I stick it in there!
15. If you could relive any race that you have done in the past, which one what it be? I don't know if I would want to relive any of my marathons because they are so long! So I would probably pick a shorter race. It would be fun to go back in time and experience my first race ever (Baltimore half-marathon 2007) again!
16. What type of run is your least favorite type of run? I would have to say some type of speed work involving longer intervals, like mile repeats. Notice I NEVER run mile repeats??? I think I did them twice during my marathon training last year, but I tend to avoid them. I should probably get over that.
17. What has been your biggest motivation lately to get out the door to get your run on? The fact that I CAN run, and that I know I feel a million times better after I start the day with a run.
18. When you go for a run, do you leave right from your front door or do you drive somewhere to start? I leave right from home, although I am thinking about checking out some trails that I would have to drive to!
19. When running in daylight—> are sunglasses a must or an annoyance? A must, especially on these humid summer days otherwise I get bugs in my eyes!
20. When you get tired, what keeps you from quitting? What doesn't kill you only makes you stronger😃
YOUR TURN! Pick some of the questions above and answer them in the comments, or share your answers in a blog post!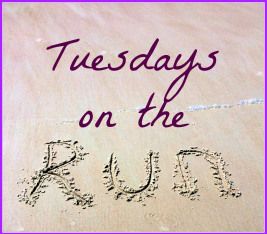 I'm linking up with April, Patty, and Erica for Tuesdays on the Run! And their topic today is "social shares" so here are my social media sites for you to follow if you're interested!
Twitter: https://twitter.com/Runningoutowine
Instagram: https://instagram.com/runningoutofwine/
Facebook: https://www.facebook.com/runningoutofwine1
Pinterest: https://www.pinterest.com/runningoutwine/