Most years I have written a running recap of the year with the highs, lows, and everything in between. Usually these recaps focus on training, races, PRs, and injuries. Last year there was no recap because I was busy taking care of a newborn. This year was all about the postpartum return to running.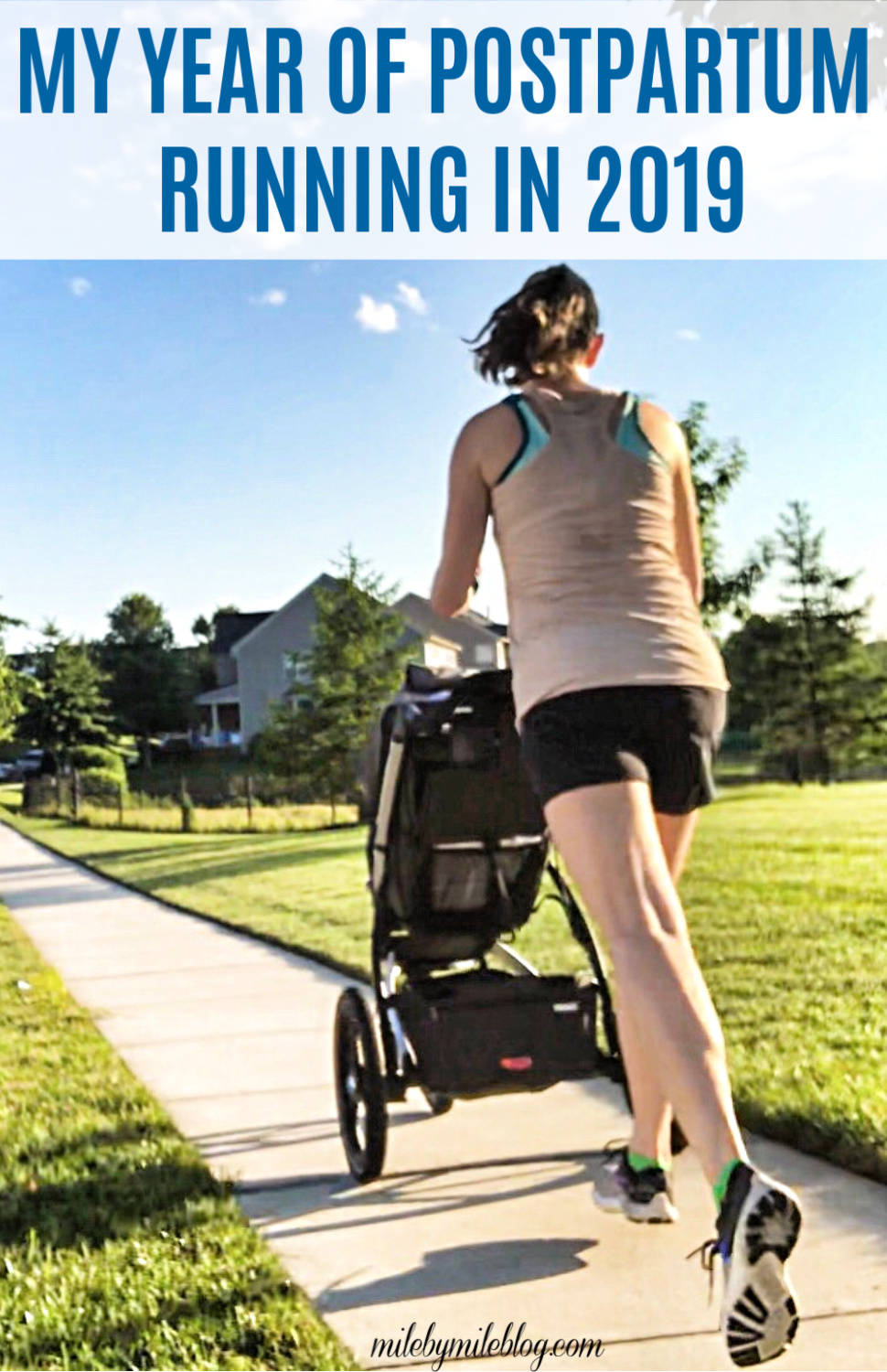 I wish I had a chance to write a recap of 2018 when running while pregnant was still fresh in my mind. Honestly, I was one of those people who really liked being pregnant and running while pregnant went really well for me. It was by no means easy, but from about weeks 14 through 36 it was really enjoyable. Postpartum running was much different for me. There were many factors that played into this including time limitations, breastfeeding, and c-section recovery.
Postpartum running was not a negative experience, just different. It taught me a lot and has left me excited for what I can eventually achieve. What you may notice about my year of postpartum running is that my progress was not linear. This was an important reminder that most of the time there are setbacks but it is usually better to accept them and focus on how to move forward than to push through which can lead to more problems.
The 4th Trimester: January-March
I was 100% happy to not do any physical activity during January. We got out for walks when the weather was nice. I also tried to walk on the treadmill when I had time. For the most part I took advantage of resting when I could and just cuddling Grayson as much as possible.
I was cleared to run again at about 5 1/2 weeks post c-section. This seemed pretty early to me. When I had hip surgery in 2010 it was about 12 weeks before I could run again. That even included weeks of PT leading up to running. So I took it slow and at around 8 weeks pp I tried a 1 mile run/walk on the treadmill. It just didn't feel great so I waited another week or so before trying to run again.
My next attempt at a run was much better. I ran outside and did 2 miles run/walk. From there I was able to very slowly build up to running about 5 miles in March. I was also following the Recore Program to build back core strength after pregnancy and my c-section.
Honestly, the physical part of returning to running was not the hardest part for me during this time period. First, I found it really challenging to schedule my runs between breastfeedings. Grayson was eating every 2 hours and would take a long time to eat. By the time I finished feeding him and got out the door I only had a limited amount of time to run before I needed to be back to feed him again. I also just didn't want to be away from him. (That plus a little guilt about being away from him.) 
You May Also Like: How to Get Rid of Mom Guilt
One Step Forward Two Steps Back: April-June
After I finally got into a bit of a groove at the end of March everything fell apart in April. A few weeks after going back to work I started getting plugged ducts. (This basically happens when you're not breastfeeding/pumping enough to remove the milk and it gets clogged). We were also having issues with Grayson's weight gain being a little slow and all of this was so stressful. I knew it would be best to not be running through all of this as my body did not need any extra stress. (Plus, I was exhausted!)
In mid-May we visited Rob's sister's family in Kansas City for a weekend and I went out for a short run after about a month off. I started building back up from there. That run was probably harder than some of my first runs back in February, but it reminded me of how good it feels to move and get outside.
There were definitely more ups and downs during this time period but overall I continued to make progress and increased my mileage again slowly. We were all in a better routine by this point too which helped a lot.
Making Progress: July-September
I was feeling good come the summer and decided I wanted to run a race so I signed up for the Charles Street 12 which is one of my favorite local races. I only trained for 7 weeks but I think at that point I had already done like an 8 mile run so I had a solid base.
Training for this race involved lots of early morning runs. I would get up at 4, pump, run, and be back by 6 for when Grayson would wake up. If I had a longer run then Rob would give him a bottle when he woke up. I was running about 4 days a week and strength training twice a week. About 1-2 of my runs each week were with the running stroller, which was nice because then I didn't have to run super early.
After the race I backed off for a few weeks and then ran a 5k in September. It was a strong race but reminded me that I had not been doing speed work this year!
Backing off and Practicing Patience: October-December
Initially I wanted to do another race in 2019, but it just wasn't in the cards. I couldn't find one that worked well with my schedule. Then I got sick (twice) and Grayson got sick. I was busier than before and my back was bothering me. I sort of just let go of any expectations with my running during this time and I think it was for the best.
There were some weeks that I only got in 1 run per week (but I did keep up with my strength training). I did some yoga when I was stressed. I tried to take Grayson on walks when the weather was nice. Everything stated feeling better towards the end of 2019 and I started 2020 very hopefully that this would be a good year of running for me.
What no one tells you about postpartum running
I was prepared for the challenges of running after a c-section. I've had surgery before as well as lots of injuries. I was willing take it slow and listen to my body.
What I as not prepared for was the emotional side of having a newborn at home. I felt the need to be taking care of him all the time, even though I often had help. Even if Rob or my mom was watching him while I went to run, it was really hard to leave him. It's hard to pinpoint exactly why. Maybe a little anxiety, a little guilt, and then mostly just being so attached to him. Of course those runs helped me to come back feeling refreshed and take even better care of him, but it was hard to take that first step out the door.
Running and Breastfeeding
I also didn't realize how much breastfeeding would affect my running. In the early days you are feeding around the clock and it can be hard to get time away (especially if you're not pumping). Even later on you need to always plan to pump or feed before a run. I had time constraints of how long I could run for based on when I needed to pump or feed him again.
(I think as a first time mom I went a little overboard with the pumping. Most people could probably be a little more relaxed and be just fine. During that time I was really nervous about plugged ducts or my supply dropping. I was very diligent about my pumping routine when training.)
Now that I have been breastfeeding for over a year it's definitely become much easier. I'm finally in the mindset that if my supply drops and I can no longer breastfeed that it will be ok. The hardest part now is that he still wakes up at 6 am and I really like feeding him when he wakes up (vs pumping). I haven't done many morning runs for this reason.
I know this is a post about running, not breastfeeding, but this was a huge part of my journey last year. At this point I haven't decided when I will wean (initially I assumed it would be 1 year but things are still going well and I'm not quite ready to stop) but I think it will be MUCH easier to train once I am done.
I ran about 500 miles in 2019, but its not about the numbers. While I am proud of my races and mileage I am more proud of navigating motherhood while figuring out how to continue making running a part of my life. It's a balancing act for sure.
How was your year of running in 2019?
For moms who returned to running after having a baby, what was the hardest part for you?
What are you looking forward to in 2020?
You may also like: How to Start Running Postpartum