A few weeks ago I shared some of my plans for making improvements in myself as a runner in the upcoming year. At that point, I didn't have any specific goals such as race times so my discussion was very broad- but still extremely important. I'll need to use those goals as a means to reach my bigger goals. Over the past week as I have my reflected on 2014 and read others' posts about their goals for 2015, I've been pushing myself to set some specific goals like I did last year. I thrive off having a plan and a schedule, so right now as I am not training for anything I am feeling very lost.
On New Years morning I went out for a long run. I ran 15 miles on the first day of 2015. I had a lot of quiet time to think about myself as a runner and a person and consider what I want to achieve in the next 12 months. I listened to a podcast about setting marathon goals. I thought about my goals for last year and what would be reasonable yet challenging to work towards this year.
I came home from my run in a very relaxing mindset, and after a warm shower and some food, I sat down with my new journal.
I had heard great things about this journal but its even better than I could have imagined. The key will be that I use in consistently, so hopefully I can do that. There is a section on goals and a page to jot down some of your intentions, what you want to achieve, how your want to feel, etc. I let me mind go and just wrote. I find myself noting things like "stay healthy and strong" , "inspire and help others", "relax", and "enjoy the process".
I also wrote some of the bigger goals that I have been too scared to say out loud. I want to run a sub 1:40 half. I want to BQ. I want to PR in the 5k and 10k. I want to run more miles and race more.
The time goals don't need to happen this year. I think we have been putting so much emphasis on 2015 as an amount of time to get things done, but why do those 12 months have to mark the amount of time we have to achieve something? Wouldn't it be better to work as long and hard as we have to, and reach our goals happy and satisfied? I realized that this time frame may have been what was holding me back from defining my goals. I don't know what 2015 will bring, and life doesn't always go as planned.
The other thing I realized was that goals shouldn't be determined and set on one day. We should be adding to them, adjusting them, revisiting them regularly. This also helped me to get over my fear of setting my goals. Just because I want to do something on January 1st doesn't mean it will be important to me 6 months from now.
My goal-related goal is to keep track of this stuff so that as the year goes on I can check in and at the end of the year it will be easier to see how I did.
Next steps: Come up with a potential race schedule, choose a book to read, and make my 1/2 marathon training plan—> preferable all while holding a plank.
Can you relate to the pressures of time-limited goals?
Do you usually adjust your goals as you go along?
I'm linking up today with Jill for the Fitness Friday Link-up.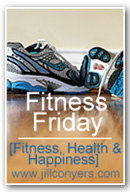 I'm also linking up with Eat, Pray, Run DC, Mar on the Run, and You Signed up for What for the Friday Five since the theme is 2015 goals (although I couldn't keep it at just 5!)

I'm also adding this post to the Tuesdays on the Run link-up with April, Patty, and Erika for since the theme is 2015 fitness goals!