Well let's see, its November, and I have been following the Running For Real Strength Training Plan since May…so, it took me 6 months to finally sit down and write a full post about it. The good news is that now I can give some real, in-depth feedback. Plus, I am back to running! It wouldn't have been very helpful if I tried to write about a strength training plan for runners when I wasn't actually running.
Running For Real Strength Training
Here's an overview of how the plan worked (at least for me- I was in the beta group when the program was piloted last spring. A few things may be different now.) After signing up for the plan, Tina and Drew send some videos of exercises and ask you to have someone record you doing them. There were 5 moves that we were asked to do. The videos get sent back to Drew so he can look at your form and imbalances. Around the same time, we got access to "Week Zero" exercises. These were basic, foundational skills that ALL runners should be doing, but probably aren't. For example, practicing proper breathing technique. There were also mobility exercises included in Week Zero. I still do many of these exercises a few times a week before a run or strength training session.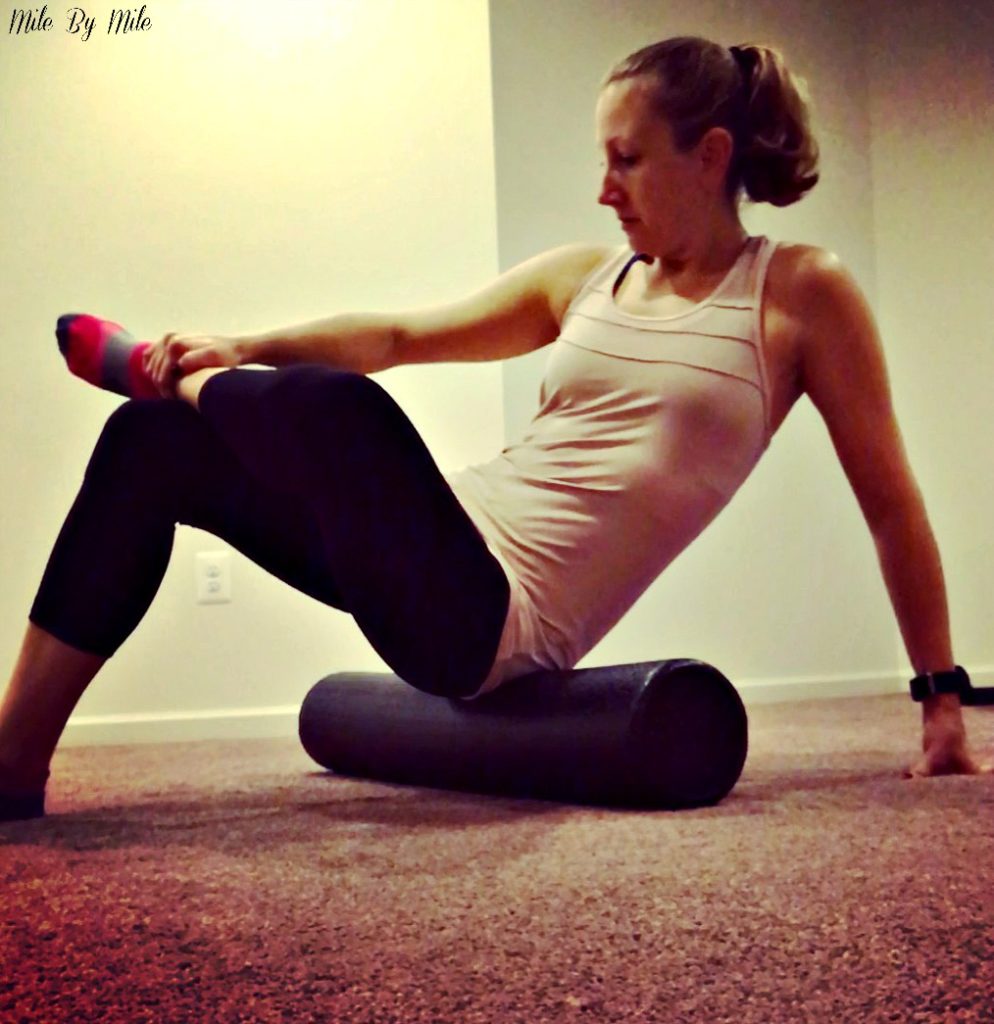 Training Plan
Once Drew reviews your videos he creates an individualized, 6 week strength training plan. You also get access to a private Facebook group with others who have signed up for the program. I think that once your invited to the group, that you continue to have access. So new people who sign up can ask questions from those who have already been through the program.
The plan is set up as follows: There are 2 days of workouts, and each day includes 3 sets of 3 exercises, that get repeated 3 times each. Drew includes a prescribed number of reps, rest time for after each exercise, and a recommended breathing pattern (if needed.) Typically these workouts take me about 50 minutes to an hour, including a warm up. You can learn more about the program here.
Videos
After signing up for the plan, you will get access to a private section of Tina's Running for Real website, which has all the videos of exercises and information about how to follow the plan. Your home page will have your current exercises, and then there are also links to parts like the Week Zero exercises. After the first 6 weeks the entire library is unlocked. At that point you will have access to all the videos and information about how to create your own plan. (Unless you want to continue working with Drew, which I highly recommend!)
Support
Drew, Tina, and the other members of the training group are SO supportive. As you probably know, I was injured when I started following this plan. It's been a bumpy road but Drew has been there to give me feedback and support along the way. After I started Phase 2 we set up a FaceTime session to talk about my progress. He even follows me on Instagram and will give feedback when I post pics of some of the exercises!
Injuries
Of course, this program is really great for preventing injury. What was really nice, was that I was able to follow the program even when I was currently injured. I felt like all the exercises were in line with what I had learned in PT, but it allowed me to incorporate full body exercises so that I didn't have to do 45 minutes of strength training PLUS 30 minutes of PT. Drew was also really mindful of my injury and how I was feeling along the way and took that into consideration while creating my plan. What other strength training program can do that?!
Here is an example: during Phase 2 I was doing hopping exercises on to and off of a step. This is not something I would have done on my own, in fear of making my foot worse. But I truly think those exercises helped it to feel better! Of course, I would have told Drew and stopped doing them if they hurt. But they felt fine and I think they helped me to build back some of the foot strength I had lost over the past year.
Progression
After my first 6 weeks was up, I considered using the website resources to create my own training plan. That thought lasted about 3 seconds before I knew I needed to keep working with Drew. He knows exactly how to create a personalized plan that makes sense and allows for appropriate progress. There are some exercises that I have done every week since May, and others that I only do for a 6 week period and then progress to something different. It leaves me feeling challenged, but also like I have time to master the exercises.
Form and Breathing
Since I started following this plan, I have realized that I never knew how to breathe properly while running or strength training (or doing anything!) This is still a work in progress, but I have really been trying to breathe properly while I run and lift. I also feel like the program has helped with my posture and running form. I feel like I run taller and am using my back muscles more throughout the day.
If it isn't already obvious, I have really loved following this plan and working with Drew and Tina. (And they are definitely not paying me to say that!) There were situations where I felt like Drew helped me with issues I was having more than any PT or chiropractor I had seen.
If you want to become a stronger runner or stop getting injured, I highly recommend giving this program a try. I have no doubts that following this plan consistently has allowed me to jump back into running so easily after my time off this summer. I'm excited to continue working with Tina and Drew for as long as possible!
What kind of strength training do you do?
Have you ever working with a personal trainer?
What questions do you have about the Running For Real Strength Training Plan?
I'm linking up with Patty, Erika, and Marcia for Tuesdays on the Run, Rachel, Lora, and Debbie for the Coaches' Corner and Annmarie and Nicole,for Wild Workout Wednesday!