As promised, I'm back today to talk a bit about my weekend in Arkansas. For those of you who don't know, Rob's sister lives there with her husband (they're both named Shannon!) and they just had a baby in April. This was our first time getting to visit them since the baby's been born so we were so excited to finally meet her! Here's a quick recap of the weekend, mostly in pictures:
Coffee and some blogging before our first flight took off, and some drinks later in the day on our flight from Atlanta to Fayetteville.
We had lunch in Bentonville and then explored the Walmart museum. There was also a street fair in the square so we walked around there for a bit.
We spent the rest of the weekend relaxing at the house, had a few beers/wine and played some corn hole…
And of course we got to spend lots of time with baby Finley, and the Shannons even asked us to be her Godparents! We were so honored!

As I mentioned yesterday, we got to run on a trail that was pretty close to where we were staying. However, we got out later than we should have which meant the sun was already strong and it was HOT. (There were some shaded spots, but not many.) We also weren't well hydrated from traveling the day before, and didn't bring any water with us on our run. We made so many rookie mistakes! The week before had been much cooler in Baltimore (50-60 degrees), which made running in 80 degree temps feel extra difficult!
When I read that the topic for "Tuesdays On The Run" this week was hot weather running, I thought I would share some links that may help you to make some smarter choices than we did this weekend.
Runners World: Running in the Heat
Hungry Runner Girl's Tips for Running in the Heat
The Cookie Chrunicle's: Adjusting to Warm Weather Running
5 Ways Heat Affects Running Performance
Runner's Connect: Run Better in the Heat
And last year I wrote this post about Why Summer Running Isn't So Bad
This week is going to be in the 90s here in Maryland, so I guess it's time for me to take some of this advice and prepare for the heat!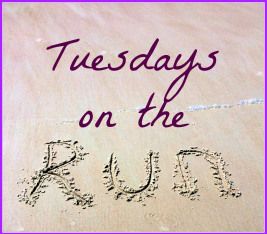 Thanks to April, Patty, and Erica for hosting the link-up!
Have you had to run in the heat yet this season?
Any tips for surviving the hot weather?