It's that day of the week where we take some time to think out loud! I'm a little short on time this week, so forgive me if this isn't well thought out or logical in any way. As usual, thanks Amanda!
1. It's been pretty tough adjusting back to a regular week of work. I'm not surprised by this…while it feels good to be back to a schedule, I also feel like it's weird to not have as much time as I did last week!
2. I've been having a really hard time lately with picking out what to wear to work. Maybe this is because I spent the majority of the past week in pajamas. Or maybe because I would like to wear leggings every day. I usually try to plan what I am going to wear each day while I shower, but I never end up wearing what I planned.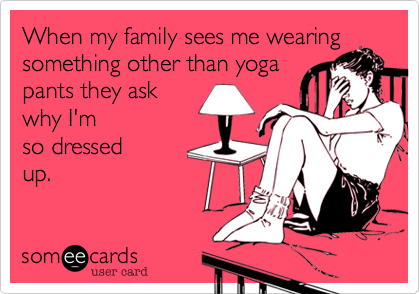 3. I finally watched Parenthood for the first time ever last night. I plopped myself on the couch after dinner with a glass of wine and Rob found it on Netflix. It kept my attention and I enjoyed it, but it wasn't what I expected. Not sure what I expected, but maybe something funnier/not as serious? But I think I will watch a few more episodes before I decide for sure how I feel about it.
4. My other evening activity lately has been browsing Pinterest. It's the perfect form of social media when you are trying to think about beginner to decorate a house. I also feel like I just recently "figured it out". I've heard others' say that they don't really get it, and it does take some time. But follow the right people and you will love it and probably get addicted!
5. The potholes around the city have been crazy lately! They always seem worse after the winter, but there is one road/bridge that I take to PT and I feel like I am in a game of Mario Kart while I am driving there!
6. My office at school is next to the gym, where they play music everyday. I'm pretty much used to the noise by now, but they play the same songs over and over. Today was Michael Jackson, so I've had Billie Jean in my head all evening.

7. Even though I'm not running the DC half this weekend, I still need to venture down there at some point to pick up our packets. (The plan had been that I would go after work since I can leave much earlier than Rob). It is such a hassle to get from Baltimore to DC during the week, especially at rush hour. But I guess I might as well get the free shirt out of the deal.
That's about all for this week! Have a great Thursday!
-Do you watch Parenthood?
-What was your favorite video game of the 90s? (I was a Sonic fan)
-Would you wear the race shirt if you didn't actually run in the race? (If it's a good shirt, then yes!)