Two virtual races in one week? In the middle of a run streak? Not sure how this all happened but it did. As I said in my Instagram post the other day, "If you always wait for perfect conditions you will never get anything done". Conditions weren't perfect but I pulled off a virtual stroller 5k and MCM 10k race week.
Weekly Run Down: Virtual Stroller 5k and MCM 10k Race Week
Monday: Strength Training + 3.5 Miles
Tuesday: 6 Miles + Core
Wednesday: Strength Training + 3.7 Stroller Miles
Thursday: 4 Stroller Miles (including stroller 5k) + Core/Glutes
Friday: 1.2 Stroller Miles and Walking
Saturday: 8.5 Miles with MCM 10k
Sunday: 3.6 Stroller Miles
Weekly Recap
I knew I would be trying to do these virtual races this week so I completed my strength training workouts early in the week. If I was actually racing and not doing virtual races I probably would have skipped these workouts this week. This was also the "Run Happy Family Fall Virtual Race Series" on Instagram. Other than the virtual 5k, there were other free events that families could do, along with other activities. I also participated in a "Mother Runner Chat" on Thursday night,
Virtual 5k Stroller Race
I ran another virtual 5k stroller race back in July, so my goal was to beat that time. Running hard with the stroller is so much different that running alone!
I had a hard time deciding when to do this because of my 10k and strength workouts. At first I was going to do it Wednesday even though I was also lifting, but then Rob decided to go in late to work and run with us. So I ran it on Thursday.
It was pretty warm out for this time of year and super foggy/misty, but still better than it was when I ran this over the summer. I only warmed up for about 5 minutes but we had to stop about 4 times for various reasons, so I was a little worried about how the actual "race" would go.
I tried to stick to the flattest route possible, but this meant dealing with lots of turns. Grayson did great during the first 2 miles and by mile 3 was asking for his snack. I managed to open his pouch while running and handed it to him to eat. We ended up finishing in 25:04, with a PR of 25 seconds!
Virtual MCM 10k Race
I ran this on Saturday, which was not ideal because the stroller race was only two days earlier. But the stroller race felt more like a workout that a race, and I really just wanted to get this 10k done. I debated between Saturday and Sunday- Saturday would be warmer but Sunday had a chance of rain. I went with Saturday because I like getting my long runs done early in the weekend and I was feeling good enough on Friday after a shakeout run and some foam rolling.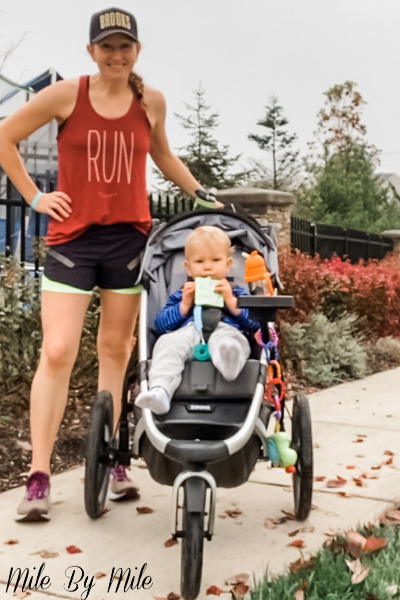 It was 62 degrees with 95% humidity when I ran. When I first walked out the door I thought "oh, it's not that warm" but once I started to run I could really feel the humidity. During the first mile of the race my Koala Clip started to slide around on my back and I was worried it would fall out. I grabbed it and ended up holding my phone in my hand throughout the run rather than messing with it to put it back on. My tank top was loose and my sports bra was cut low in the back, so I really needed to push it down and make sure it was securely inside of my sports bra. Lesson learned for next time I wear that combo!
Early in the run I passed about 6 deer who were just hanging out in the middle of the road. I had to slow down quite a bit to make sure I didn't run into one of them! It's crazy how unphased they are when they see me running by, even with a headlamp on.
My paces were all over the place and I know they are impacted by all the turning I do on my route. But this was the easiest place to do a virtual race because there are no traffic lights, very few cars, and minimal hills. While I definitely pushed myself hard, my legs were tired from everything else I did this week, and I was also impacted by the humidity.
What's next?
Well I have a few more days of my run streak then I will be taking a nice rest day! (or two!) This week will be all easy runs and I'll probably keep the mileage relatively low. After that, I have no idea what's next. Part of me wants to try the 10k again in cooler conditions and with fresher legs. But another part of me wants to leave that distance alone for a while! I'm sure something will come up that I will decide to do before the holidays.
You may also like:
How Not To Run A Virtual Half-Marathon
Can You Set a New PR in a Virtual Race?
How To Train for a 10k Race: For Beginners to Advanced Runners
Have you ever done two races in one week?
Do you plan to do your virtual races in ideal conditions?
Will you be doing any challenges or races during the rest of 2020?
I'm linking up with Deborah and Kim for the Weekly Run Down!