Whenever a runner hears about stroller running, they typically think of the challenges that pushing extra weight can add. I think that most runners, whether or not they have ever run with a stroller, can imagine that this would be harder than regular running. I've been running with a stroller for 8 months and I have learned that there are many challenges to running with a stroller that have nothing to do with the extra weight!
I thought that sharing this might give some insight into the challenges that go into stroller running. I certainly didn't think about most of these things beforehand!
The Challenges of Stroller Running
I think it goes without saying that running with a stroller is harder than running solo. Laura had a great guest post on her blog about Training for a Marathon with a Stroller. If you want more info about strategies for training with a stroller you can check that out! For today, I'm going to talk about all the other logistical pieces.
Planning for a stroller Run
There is so much planning that goes into running with a stroller! Especially when you're first getting started. Where will you run that you won't need to deal with traffic? What time of day is best to run around your baby's schedule? What will you need to bring? Is it too hot or too cold? What will your baby wear? These factors are all important and need to be considered before starting a stroller run!
Prepping for a Stroller Run
Once you actually have a plan, you need to prepare for the run. This might mean packing up what you will need in the stroller beforehand. Not only will you need your own gear and accessories, but you will probably also needs some things for the baby. If you need to drive somewhere to run then you need to fold up the stroller and put it in your car. It also helps to make sure you baby is fed before heading out to avoid making a stop or ending the run early.
Entertaining Your Baby
Once you are actually out there it can be hard to keep your little one happy! Maybe they will sleep, but maybe not. By the time we started running with Grayson in the stroller he was about 6.5 months old. We had him on a pretty good sleep routine and I didn't want him to nap during our runs for a few reasons. First, it might take him so long to fall asleep that by the time he did it would be time to go home. I also knew I wouldn't be running far enough to allow him to get in a long nap. And finally, I wanted him to nap in the crib so I could take advantage of nap time to get other things done!
I didn't have to do anything to prevent him from falling asleep, I would just take him out about an hour after he woke up in the morning and make sure we were done well before his next nap. There has only been one time ever that he fell asleep in the jogging stroller, and I ended up doing 7 miles that day.
Adjusting Your Run
Based on how your baby is doing on the run, you may need to make some adjustments. There will be frequent stops and you may even need to end your run early once in awhile. I try to talk to him as much as possible and I let him have a pacifier while we are out. I also put toys in there with him but only ones that I can attach to the stroller (so they don't end up on the sidewalk). He really doesn't play with them much.
I am not sure if certain ages are generally harder or easier for stroller running with a little one. I think for us this age (14 months) is a little harder than when he was and infant because he is so much more active and doesn't want to sit still. And there aren't many toys that can actually keep him entertained in there.
Maintaining Good Running Form
When you're not trying to entertain your baby, or stopping to replace his pacifier, or trying to decide if he's hungry or needs to go home, you also need to make sure you are maintaining good running form! I find that I am much more likely to hunch over when I run with the stroller. When I'm not too distracted I try to think about keeping my shoulders down and chest open. I also try to switch hands frequently so I'm not always pushing with the same one.
Returning from a Stroller Run
When you get home the fun doesn't end! You are tired and sweaty but your baby is itching to get out of the stroller and move on to the next activity. I try to make sure I keep my stuff as organized as possible so it's ready to go for my next stroller run. Sometimes I just change really quickly so that I'm not in sweaty clothes anymore, and just shower during his next nap. This allows him some time to move around and play after sitting in the stroller for awhile.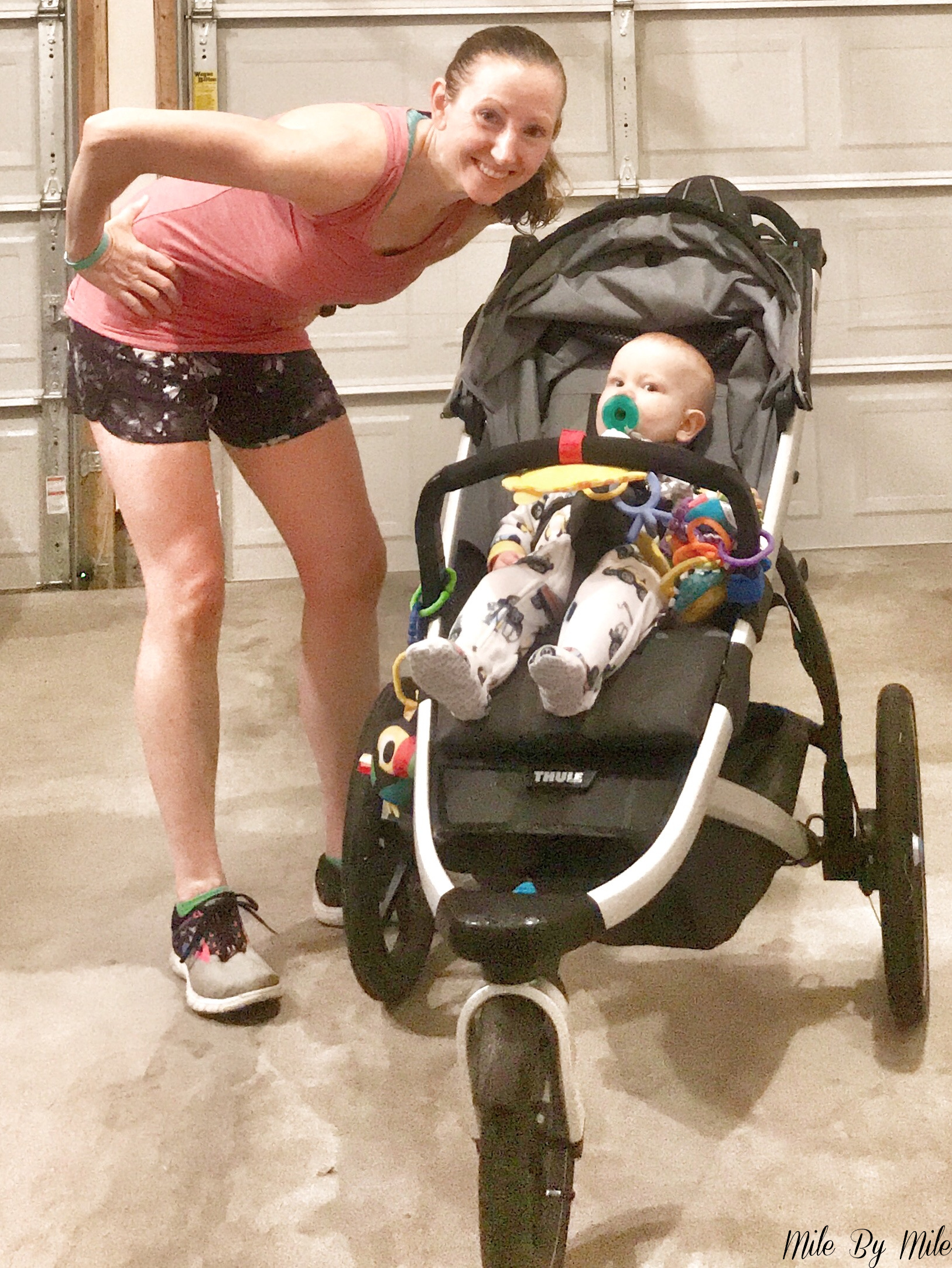 As you can see, there are a lot of added challenges to running with a stroller! I stay close to home in case we need to end the run early and so that we don't need to bring many supplies with us. (I don't bring diapers or milk or anything. If we needed anything like that we could be home within a few minutes.) It's probably different if you are doing a long run or driving somewhere for your run.
It's definitely a nice option to be able to do stroller runs, but they also make me appreciate my solo runs even more. It can be really hard to relax on these kinds of runs!
You may also like:
My Year of Postpartum Running in 2019
My Top 10 Tips for Running (or not) During Pregnancy
How to Run with a Jogging Stroller
Have you ever run with a stroller?
Do any of these challenges surprise you?
What do you think would be the hardest part of stroller running?
What are some other topics you are interested in for the Runners' Roundup?
RUNNERS' ROUNDUP
Now it's time for the Runners' Roundup! Link up your running and fitness posts below! Join myself, Coach Debbie Runs, Confessions of a Mother Runner, Runs with Pugs, Running on Happy, and Faux Runner to post your favorite running tips, experiences, race and training recaps, workouts, gear, and coaching ideas.
You are invited to the Inlinkz link party!