I'm back with my second edition of "What I Ate Wednesday" thanks to Jenn at Peas and Crayons!
This week I'll be sharing what I ate on Monday (my first day of marathon training) keeping it as close to Paleo as possible. If you make it to the end you will find a recipe for Monday's dinner! (pork chops, butternut squash, and asparagus)
What I Ate on Monday:
Monday was a harder run day- I actually had to already make changes to my schedule but since it was only week 1 it's not a big deal. I realized I couldn't get a 13 miler in on Saturday without waking up at 4am…which I didn't want to do since I will be expected to stay up late on Saturday night. (I'm heading to NYC for one of my best friend's bachelorettes parties!) Anyway, I figured I would rather get up really early on Friday to do 13 before work, and get a good night's sleep on Friday night. So I moved my harder days to Monday and Wednesday instead of Tuesday and Thursday like I had planned. Anyway…back to the food!
Breakfast
I woke up at 5 and drank water, coffee, and nuun, and ate a banana while I got ready to run.
I warmed up and got out the door within about 30 minutes. I ran 6.5 miles: 1 mile warm up, 3 at marathon goal pace, and then 1.5 mile of hill repeats and a cool down mile. Garmin was being silly again so tried to run off feel.
When I got home I did the myrtle routine and then made a smoothie and drank more water at 7am:
Smoothie had banana, raspberries, spinach, ginger, almond butter, glucose, and orange juice.
I spent some time foam rolling and then showered and got ready for work. Then I made breakfast around 8am (or breakfast #3 but who's counting?)
2 eggs, nitrate free bacon, plantains, tomatoes, mushrooms, onions, and peppers. With more water and more coffee.
Snack
Around 10:30 I got hungry and ate a pear at work.
Lunch
Lunch was around 12:15. Salad with spring mix, flat iron steak, tomatoes, cucumber, olive oil and balsamic
Followed by some grapes
And blueberries a few hours later
Around 3:30 I had almonds, cashews and raisins while driving to the chiropractor
Dinner
I wasn't really sure what I was going to do with the pork chops I had planned for dinner, but I came up with a recipe that I thought came out really well! Dinner was eaten around 6:30:
Pork chops, butternut squash, asparagus, with some (natural, no sugar added) applesauce on the side. Oh yea, and a glass of sauvignon blanc with dinner:) Then around 8 I had a black bean brownie:
So, now for the recipe I promised:
[yumprint-recipe id='5′]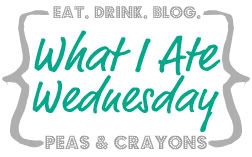 Do you like to snack as much as I do?
Do you eat differently on days you have tough workouts versus days you have easy runs?