It's Thursday, aka the day when we get to see inside lots of other bloggers' minds and read about all their random thoughts! It always makes me feel a little better to know I'm not the only one whose mind goes to some strange places…
So what's been going on lately? The taper is pretty much in full swing now so there's not much to talk about as far as running goes. Or at least I'll avoid sharing all my worries/fears/excitement…yes I think there is some excitement underneath everything else.
I went to yoga this week, and it may have been my last class before the race, but I still haven't decided if I will go at all next week. I forgot to tell you guys that for the past like 6 weeks or so the instructors have been giving us a cold lavender towel to put over our eyes during savasana. It's such a nice treat! Now if I ever go to a class and they don't give us one of those fancy towels I'm gonna be really disappointed.
I've also been continuing to work on crow. Some days it goes better than others. Over the last few classes we have also been practicing headstands and handstands. I feel like I've actually been attempting inversions quite a bit lately (although not successfully) and my wrist was kind of sore yesterday. I went do push ups and it hurt…oh well, an excuse to not do push-ups this week I guess!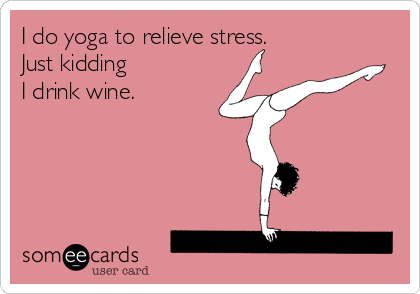 I started to feel like I had the very, very beginnings of a cold this week. Do you know the feeling before you actually start to get a cold, and you know that you will either fight it off or you will end up sick? So on Tuesday night I went to bed at 8pm, and woke up feeling much better. I need to knock on wood when I say this, but I haven't gotten sick since I started eating mostly paleo back around June. I think the last time I didn't feel well was May and that was allergies.
As much as I have tried to resist it, I feel like its really the holiday season now. I've been starting to look for Christmas gifts, and we are doing Thanksgiving Part 1 with my parents this Saturday (since the weekend before Thanksgiving is the race). We are also gonna put up our tree and decorate on Sunday. There's no turning back now…
The weather is not exactly matching up with the impending holidays season. Well, it really can't decide what it wants to do. On Monday it was barely 40 degrees in the morning and on Wednesday it was 60 and humid (and super foggy!).
So on a more random note, I have been really enjoying eating raisins lately. I just don't like when they stick together and how they make my fingers sticky.
Also, I bring olive oil to put on my salad for lunch in a separate little container. It always leaks in my lunch bag and everything gets greasy. On Wednesday it got really bad, but I brought some of these cookie dough snack bars and they also make my fingers greasy because of the coconut oil. (But they are SO good!) I think I need to stop trying to type and do other things while I eat since my fingers are always sticky or greasy.
What is the coolest yoga pose that you can do?
When was the last time that you were sick?
Do you like raisins? Does it bother you if your fingers get sticky?
Thanks to Amanda for hosting the link-up! Head over to Running With Spoons to find out what everyone else is thinking about!