Hi there! I hope everyone who celebrated yesterday had a nice Thanksgiving. We are actually planning to celebrate tomorrow. My dad had back surgery on Tuesday so we didn't want to plan anything for yesterday not knowing how his recovery would be going. Rob and I went over there and just hung out with my parents but kept it low-key. My sister and her new husband will join us tomorrow for big, home-cooked meal!
So can we just talk about the fact that it's the last Friday in November which means December is right around the corner? How is that possible?! I should also start out this runfessions post by saying that I haven't runfessed since June! Oops!
1. Running Fuel
For the past few weeks I have headed out for my long runs without a clear plan in mind. Therefore, I didn't bring any fuel! Big mistake when you end up running 10-11 miles. I mean, I was ok, but I feel like it kind of throws me off to not take anything for that long. But really, I just haven't felt like carrying water in the cold. And I don't like taking gels without water, so that's probably the real issue.
I did eat oatmeal before my run this past weekend, and I think that helped me power through my long run workout. However, I did have some cramps in the beginning, probably from eating too soon before the run. (I usually just have a banana and honey stinger waffle).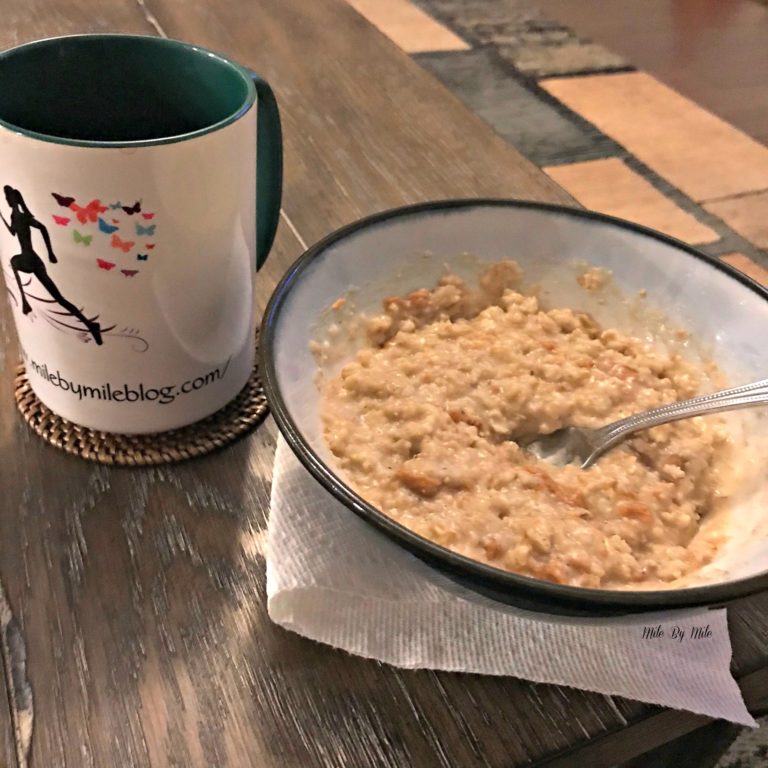 2. 5k Fear
I shared on Instagram yesterday that I ran a 5k Turkey Trot. How was I more nervous to run a 5k than a half marathon? Does this happen to anyone else? I think it's the pace that scares me, even though I tell myself there's no pressure. No matter what, if you are running a 5k hard, it's going to hurt! It was one of my slowest 5ks, but I also had no idea what kind of pace I could hold for that distance. You have to start back somewhere, right? More about this race next week…
3. Cold Weather Adjustment
I think I've finally adjusted to running in the cold- and I think I like it. What I don't like is the wind. I actually contemplated a 10k last weekend but when I saw wind gusts of up to 50mph I decided against it. I am actually kind of enjoying temps in the 30s, plus I feel like it's helped me to get some of my speed back.
4. Gym Update
I am embarrassed to share how long it's been since I went to the gym (4 weeks) but the really bad part is I think I have only gone twice in the past 2 months. I keep thinking I should freeze my membership (so I would pay $10 a month during the time that I wasn't going and then wouldn't have to pay another joining fee, while my usual membership is $25 per month). I don't know, I will definitely need to reevaluate this whole gym membership thing after the winter passes.
5. Running Shoes
Is it bad that I have absolutely no idea how many miles I have put on my Brooks' Launch running shoes? I got them last January, but I have worn other shoes too. Those are the ones I have worn the most consistently this year up until October. I think I have run about 500 miles this year, so I guess they could be past their prime? Whenever I wear them I think that they feel a little worn out but the soles look completely fine (they aren't worn down at all!) I think part of the problem is that I like my other shoes better (Levitates and Pure Flow 6s). I guess I will just either stop wearing them or only wear them for really short runs.
On another note, has anyone tried the Brooks Anthems? I am part of a Brooks Facebook Group and someone posted about these and how they are similar to the Flows. How have I never heard of them?? And they are only $70! I might need to give them a try.
[Tweet "November runfessions are up on the blog! Join in and share yours for the month! @milebymilerun #runfessions #weeklywrap"]
Don't forget to enter my Holiday Running Gift Giveaway!
What do you have to runfess this month?
How do you keep track of your running shoe mileage?
Do you get your money's worth from a gym membership?
Thanks to Marcia for hosing Runfessions and Lacey, Meranda, and Rachel for the Friday Five 2.0!