The Baltimore Running Festival will always be a special event for me, mostly because it was my first race in 2007! This means I have been racing for 10 years. I've participated in the BRF 6 times now and I can remember exactly why I didn't participate those other years.
The first time I did this race I ran it in 1:53:09. Then, when I returned in 2011, I ran it in the exact same time!! So part of me was like "wouldn't it be cool if I could do that again?" since I knew it would not be a day for a PR. I ended up running it in 1:52:51, so 18 seconds faster.
Anyway, as you probably know I was not in half-marathon racing shape at all. I knew I could cover the distance, but not at a half-marathon racing pace. (My fastest half-marathons were on this course in 2014 and 2015 while training for full marathons.) It was also a warm day and the race didn't start until 9:45, so it was over 70 degrees for most of the run. This is also a very hilly course, which makes it even more challenging. This year they changed the finish line location so it would end down near the inner harbor. Somehow this new route added on a few extra hills at the end! Usually I look forward to the last 3 miles because they are all downhill, but that was no longer the case.
Pre-Race
On Saturday morning I woke up around 5:15 and drank some coffee. At 6am I made some oatmeal with peanut butter. Fueling for this race is tricky with such a late start!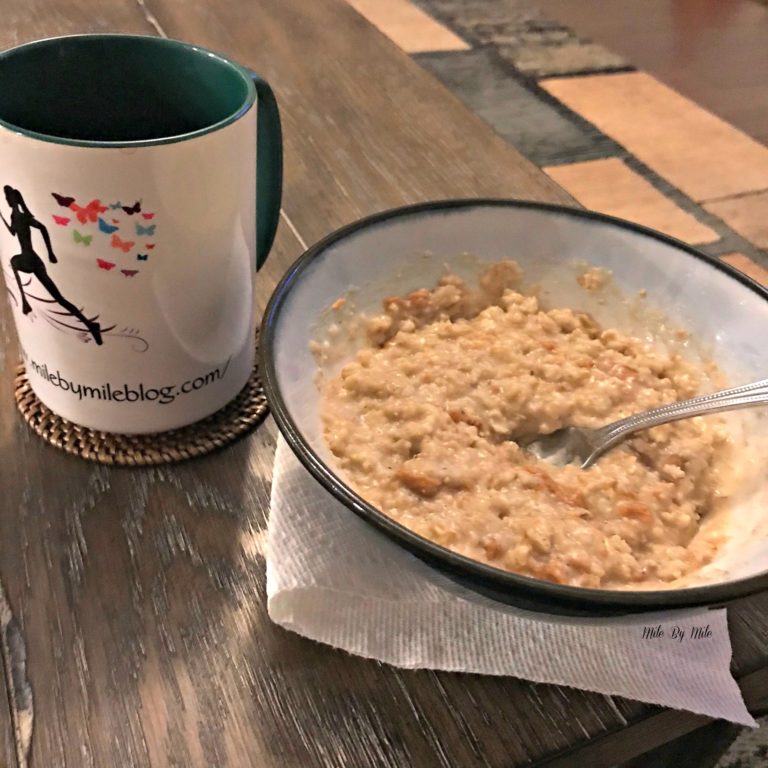 Around 7:15 Rob and I took the light rail downtown. We hung out at his office where we had another cup of coffee and a little more fuel until it was time to line up for the race. During this time we were also watched the news on his computer and followed along as the marathon and 5k started earlier in the morning.
We lined up around 9:25, and I was in corral 2 based on the predicted pace I entered when I registered (8:45). After corral 1 took off, we start walking up to the stat, and no one seemed to want to be in the front so I ended up at the front of the group. It was nice to not be as boxed in at the start!
Miles 1-6
I had no idea how to pace that first mile, but ended up running it in about 8:12 which was probably too fast. Luckily I don't think it really affected me later. I got a cramp around mile 2 which was weird- I don't think that's happened in a long time!
The first few miles went by quickly and weren't too bad. I felt like for all the uphill, we got a nice downhill to make up for it. The first time I really felt like I was struggling was around mile 6, when there was a long and steady climb for what seemed like a full mile.
Miles 7-13.1
I enjoyed running around the lake, which is flat. I had been taking water at every water station and was glad I did! By mile 8 I was really starting to hurt, but just trying to get to mile 10 when I thought it would be all downhill to the finish.
Miles 11 and 12 had some surprise hills. The kind you see from a distance and just hope you are turning before you reach it. It was all I could do to just keep running at this point in the race. After mile 12.5 I knew where I was and that it was pretty much downhill/flat to the finish, so I gave one final push to get to the end.
I looked at my watch at mile 13 to see if I was near that 1:53:09 time, and saw that I was far enough under it that I would beat my slowest course times. That was good enough for me! I made it through the finish line and saw Rob and immediately started complaining about the added hills and heat. He completely agreed with me and we joked that we were glad we both did the race because we probably wouldn't believe each other if we both hadn't experienced it.
Post-Race
We grabbed some food and sat down in the shade to hydrate and eat. Then we wandered over to find the beer, which was pretty far away. The new finish area was fun, but really big. We hung out for a good hour and didn't even see anyone we knew.
After enjoying our two beers each we hobbled back to his office to get some stuff we left there. The downtown area was packed so we headed back on the light rail and grabbed lunch in our neighborhood. With such a late start time, the race basically took all day! We didnt' get home until after 3.
Race Reflections
While this wasn't even close to a PR for me, I knew that wasn't even possible going into it. However, I really felt like I paced well based on my fitness and the conditions, and I was able to push myself in a way I haven't done in two years.
Being at the start line of the Baltimore Running Festival always gives me chills, thinking about what it was like that first time I raced, and everything I have experienced since that day. This race brings out the best of the city, where all communities come together to cheer on runners. The crowd support is like no other race I've ever done.
Being out there again under these circumstances made me realize just how different of a runner I am, and while I have had many setbacks, I can still push through when things are challenging.
At this point I'm not sure what's next. I kind of liked the strategy of not training and just jumping into a race at the last minute. While I love the process of training, I end up putting a lot of pressure on myself and often run more than I should just to follow a plan. So while I would like to do another race this fall, I'm not going to commit to anything at this point. I'll just enjoy this fun crab medal until I earn another one!
[Tweet "Baltimore Running Festival Half-Marathon Race Recap is up via @milebymilerun #baltrunfest"]
You can read my other Baltimore Running Festival Race Recaps here:
Have you ever done a race without properly training?
What is the hilliest and/or hottest race you have ever done?
How do you feel about late race start times?
I'm linking up with No Guilt Life, MCM Mama Runs, and Marcia's Healthy Slice for Tuesdays on the Run and Rachel, Susie, Lora, and Debbie for the Coaches' Corner!