Week 3 of base building is complete which means there's only one more week until training begins! Training won't look much different than what I'm doing now. I will just start doing harder workouts that are more specific for the half-marathon distance while building my mileage and increasing my long run.
This week I added in another short run on Friday, but ran 1 less mile for my long run. This way I wasn't increasing my weekly mileage too quickly. Besides, I don't need to worry about my long run being very long right now.
Here is how the week looked overall.
Weekly Run Down
Monday: Strength Training
Tuesday: Rest
Wednesday: 3.25 miles with 6 x 90 second hills + Core Work
Thursday: 20 minutes spinning + Strength Training
Friday: Yoga + 3 Stroller Miles
Saturday: 6 miles
Sunday: 3.5 miles
I was only on the treadmill once this week, and it was intentional. My plan called for 6 x 90 seconds of hills and it's so much easier to control the incline on the treadmill rather than trying to find the perfect hill outside. Also, the hills make my time on the treadmill go by faster.
I almost had to take my Saturday run indoors due to ice, but I found that the sidewalks weren't slippery like the streets. It had rained the night before and the temperature was below freezing. I didn't even realize that it was icy so once I was all dressed and out there I really didn't want to turn around and go back inside. After my run I stepped onto my deck to take a picture and it was a sheet of ice! I turned back inside and was glad I didn't encounter the same conditions on my run.
On Friday I took Grayson out in the stroller for 3 miles. This was my "extra" run. I would like to do a 4th run on either Thursdays or Fridays, ideally with the stroller. (Not because I like torturing myself with the stroller, but because it means I can get other workouts done in the morning before he wakes up. And I hate giving up my time during his naps to work out! There are so many other things to do.) I would have preferred to do this on Thursday but it was too cold, so I moved it to Friday.
On Sunday it was a little cold/windy for a stroller run so I ended up giving up nap time. However, that meant I got a solo run in the daylight which was a nice treat. I did 3.5 miles nice and easy.
Other than running, I also kept up with my two strength training sessions, spinning, and yoga. Honestly, it feels like alot and I will probably drop the spinning or yoga once the mileage picks up. However, if I feel like I need to cut back on mileage then I already have these other workouts built into my plan.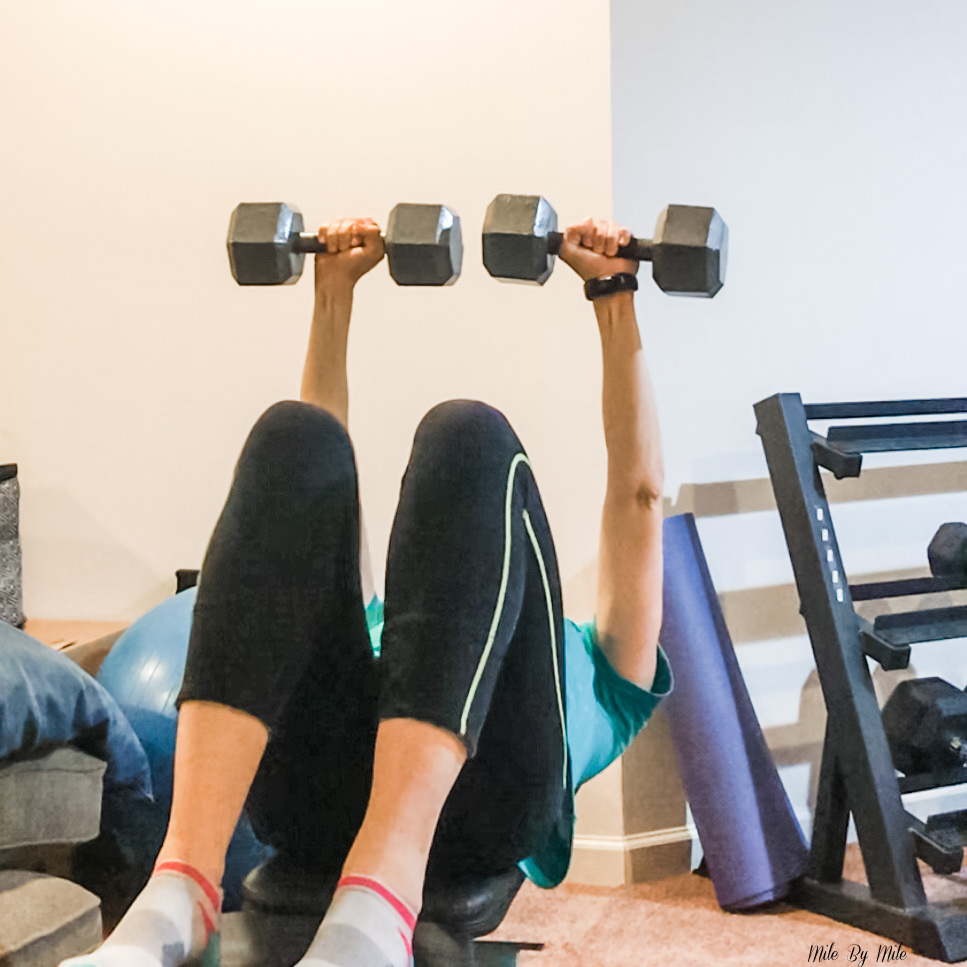 I broke out my Bosu for the first time in awhile this week! It's so versatile and it was a great way to change things up for my planks. I need to remember to use it more often.
[Tweet "Base building week 3 is complete! Just 1 more week to go before half-marathon training officially begins. @milebymilerun #running #training #runchat"]
Also, I am so excited to be co-hosting a new link-up called the Runners' Roundup! (Formerly the Running Coaches' Corner.) Join us on Wednesdays to post your favorite running tips, experiences, race and training recaps, workouts, gear, and coaching ideas. The new link-up is hosted by myself, Coach Debbie Runs, Confessions of a Mother Runner, Runs with Pugs, Running on Happy, and Faux Runner! Hope to see you there!
How were your workouts last week?
Have you dealt with icy/slick running conditions lately?
Would you rather do a hill workout on the treadmill or outside?
You may also like:
Base Building Begins
Base Building Week 2
I'm linking up with Deborah and Kim for the Weekly Run Down!