Over the years I've been very loyal to one brand of running shoes. When I hurt my foot a few years ago I tried out some different brands but nothing worked. I went back to my original shoes and figured those were the only ones what would work for me. But this year for Christmas I decided to ask for something new, and now I'm officially cheating on my running shoe brand!
I probably started wearing Brooks running shoes around 2010 or so. Honestly, I can't really remember. When I first started running I didn't put much thought into my shoes but I did think I needed a lot of support. I would get fitted at a running shoe store and I wore orthotics at the time.
Going Lighter
In 2013 I read [amazon_textlink asin='1620871599′ text='"Anatomy for Runners"' template='ProductLink' store='milebymileblo-20′ marketplace='US' link_id='c610eecb-8390-4936-9d14-870bb741883c'] (affiliate link) by Jay DiCharry and started thinking differently about running shoes. This was around the time when lighter shoes were out on the market and I started wearing the Brooks Pure Flow. These worked well for me as they were lighter, had a lower drop, but I was able to make the transition to them without any issues.
Shoe Issues
One problem I have had basically since I started running is that I get a black toenail every single summer. Usually it's on the left foot, but it's happened on the right too. I've gone to bigger sizes but it hasn't helped. When the shoe gets too big my foot starts sliding around too much.
Besides that, I loved my Brooks. I've been wearing the Pure Flows and Levitates for a few years now. Before that I wore the Launches and Ravennas. I needed new shoes last fall and got the new model of Levitates. Unfortunately I didn't love the updates that were made. Every once in awhile the shoe would rub my ankle in a weird way. Sometimes they felt fine, but other times it was a little annoying. The Pure Flows were still working for me (and still are) but I hadn't tried any updated models and was a little nervous for how they would feel.
Testing out Newtons
So for Christmas this year I asked for a pair of Newtons. I have been curious about them for awhile because they have a wider toe box. Otherwise they seem similar to the Pure Flows. I got the [amazon_textlink asin='B07JG68S5C' text='Gravities' template='ProductLink' store='milebymileblo-20′ marketplace='US' link_id='f1fbe567-9b50-45a8-b337-e80fc3b4c699′] (affiliate link) which have a 3 mm drop.
When I first put them on they felt a little weird. They have lugs on the bottom that help to keep your foot in a neutral position. When I started running in them they immediately felt great! I did have to adjust the laces a bit after that first run but otherwise I was totally sold. I've done all my runs since Christmas in them (other than one when I was traveling right after Christmas because I was nervous to bring a brand new pair of running shoes).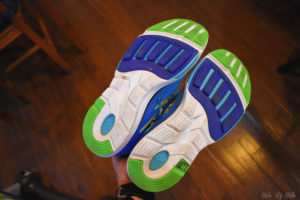 I am really sad to be cheating on my Brooks. While I plan to continue to wear them (definitely the Pure Flows) I am also glad that I found another brand that I like.
The real test of thew Newtons will be to see how my feet hold up in the summer. If I can go without losing any toenails this year then they will be my new shoe for summer running. (Unless of course, they go making changes to their models!)
You can read more about my shoe saga here:
Breaking Up With My Brooks
I Take It All Back
Let's Talk About Running Shoes
Are you loyal to one brand of running shoes?
Have you ever tried Newtons?
Do you get black toenails or lose toenails often?
I'm linking up with Fairytales and Fitness for Fridays with Fairytales and Fitness, Marcia's Healthy Slice for Runfessions, and Coco and Deborah for the February Ultimate Coffee Date!
Today is the last day to save on coaching services for spring races! Find out more info on my coaching page!
Also, I wanted to share that I will be co-hosting the Runners' Roundup link-up on Wednesdays starting next week! This is an updated link-up that was previously the Coaches Corner. Stop by and link up your running or fitness posts with myself, Coach Debbie Runs, Confessions of a Mother Runner, Runs with Pugs, Running on Happy, and Faux Runner!