The Charles Street 12 was held over Labor Day weekend this year, after being held in early August the two previous years. I think we were all hopeful for cooler temps for this race with it being closer to fall, but the Baltimore summer humidity still lingered. Otherwise, it was a great event once again! I ran this race last year and you can read my recap here. This time around I felt like I was in much different shape than last year (partly due to having been sick, also partly because I have already started marathon training) but it still went really well.
Race Highlights
I ran a 1:33:43 (2 seconds slower than last year), 7:49 pace
137th/1859, 10th in 30-39 female age group
It's net downhill, but still really challenging
I knew a ton of people running this race, but only saw a few…more on that later
It was once again such an organized event, especially for one including a lot of confusing logistics
Fueling: I ate oatmeal and a banana at 5:15, and a honey stinger waffle at 7:00. On the course I took two Hammergels at miles 4.5 and 10.
It was 73 degrees at the start, with 83% humidity, but there was cloud cover and a breeze
Ok, so now for some race details.
Race Logistics
Last year was a little simpler because we were living down in the city where the race finished, so we didn't need a car. This year we had to drive downtown and park in a garage, and then take a shuttle to the start. (It's a point to point course starting north of Baltimore and finishing in the city near the Inner Harbor.)
We were up around 4:45 and out the door at 5:45. This got us to the garage a little after 6, and on a shuttle by about 6:25.
There were so many busses waiting to take runners up to the start, so it was nice that we didn't have to wait very long!
When we go up to the starting area we warmed up and used the bathroom before heading to the start line.
The race started right on time, and I was right around the 1:35 pacers, so there was enough room to run at a comfortable pace immediately without being boxed in. However, the first few miles involve some of the tougher hills, so I didn't want to start out too fast.
The miles flew by as they did last year, although my legs felt rather heavy the whole time. The downhills felt great, while the uphills were a bit of a struggle, and I still coughed quite a bit out on the course.
About halfway through I felt a blister forming on my little toe of my left foot, which was really annoying. It was also so humid that my sunglasses kept fogging up. These were more just little "annoyances" though, that I can't really complain about.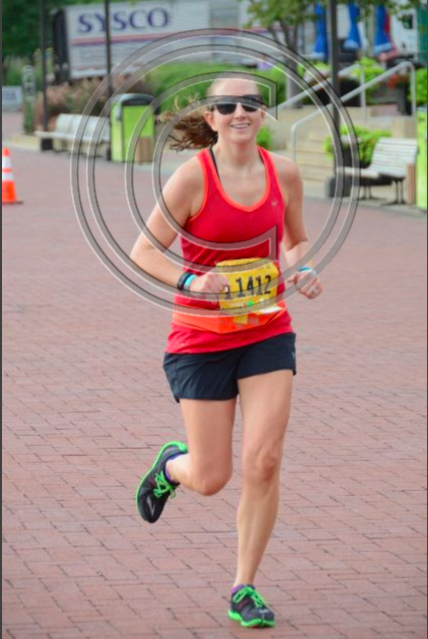 I remembered from last year how tough the last 2 miles felt- they were rather flat, but felt hard after our legs were trashed from the first 10 miles of hills. It was just as much of struggle this year. Luckily, the last mile is along the harbor and there is a ton of crowd support and lots of photographers, so that mile goes by pretty quickly.
There were once again boxed lunches at the finish along with a free beer, of course!
I also ran into my PT who I was working with last winter/spring- it was great to be able to give him a positive update and tell him I was just able to run a tough 12 mile race at almost the same pace as last year!
Race Performance
After struggling through my 10k last weekend, I wasn't sure what to expect from this race. While the course is net downhill, it is still very challenging. The meds I took this week were helping, but my chest was still not 100% and I still had a cough.
My coach recommended I go into the race with Plan A- to run a 7:50 pace (but start out slower as I warmed up and dealt with the initial hills). Plan B was to run goal marathon pace (~8:20).
I was able to hold the 7:50 pace (7:49 to be exact!) although my splits were far from even due to the hills. But effort-wise, it was right on track.
Most of this race was a mental challenge, I think because I haven't run this pace in a while. As I was sick for most of August, I have rarely been running faster than a 9 minute mile. I was pleasantly surprised that I still had this in me and being sick wasn't as big of a setback as it could have been.
If I had known I was so close to a PR, I probably could have cut 3 seconds off my time. However, getting through those last 2 miles was such a struggle that all I did was try to hold on to my pace and push hard at the end. I have to admit I was annoyed when I realized how close I came, but got over it pretty quickly when I realized how well I did considering all the other factors.
Running Friends
As I said, I knew alot of people doing this race (I think close to 20 between friends from blogging, instagram, and work. I figured I would run into a bunch of those people, but didn't see as many as I would have liked.
I saw Sarah and Lauren briefly before the race started, and then didn't realize it but I was standing right behind Amanda when I started the race! I got to hang out with Salt for a bit at the finish, and then met up with a friend from work. Meredith also came over to say hi- it was great to meet her after we have been following each other on instagram for awhile now! (and we were both sick leading up to the race).
Congrats to everyone else who ran! Especially Amber and Amanda who both placed 3rd in their age groups! I know there were also a lot of PRs at this race, so awesome job everyone!!
Rob shaved over a minute off his time, and we realized he has improved his times in every race he has run this year compared to last year. When I figure out his secret I will let you know..we are thinking it involves a generous amount of alcohol and unlimited rest days.
Overall, a great race and fun event! If you are going to make the trip to Baltimore for a race, I would highly recommend this one. Now, it's time to get focused on building mileage for marathon training!
[Tweet "Check out the #chuck12 race recap via @runningoutowine- a fun event hosted by @charmcityrun! #charmcityrun"]
When you are racing, do you look at your watch to figure out if you can PR?
Have you ever run a 12 mile race?
Are there are similar race events where you live?