Most runners know that it is important to strength train to improve running economy, prevent injuries, and maintain or improve good running form. However, when you are focused on running and training it can be difficult to add strength training into your routine. This is especially true if you are also trying to cross-train, stretch, and foam roll regularly. Let's talk about some ways to combine running and strength training workouts into your routine.
How Often Should Runners Strength Train?
I think this depends on a few factors. First, how long are your strength training workouts? If you are doing full body workouts that take 40-60 minutes, you could strength train twice a week. If you are doing shorter workouts you may want to aim for three sessions per week. You will also want to consider where you are with your running training. If you are in the middle of a hard training cycle focused on an upcoming race, then running should be your priority. However, during your off-season you may want to increase your strength training and decrease your running. Generally, 2-3 strength training sessions per week is ideal, but 1 is better than nothing!
You may also like: Should runners do pilates?
What should strength training sessions look like?
There are many different ways for runners to strength train. Ideally, you should try to focus on full body exercises using free weights (vs machines at a gym). You can use dumbbells, kettlebells, resistance bands, a stability ball, TRX, etc. Rather than focusing on specific body parts, think about the action that you are focusing on. The six basic movement patterns are the squat, hinge, lunge, push, pull, and carry. There are many ways to do these movements, but you need to make sure you are using proper form.
You may also like: Pulse Squats and 12 Squat Variations to Try Before Your Next Run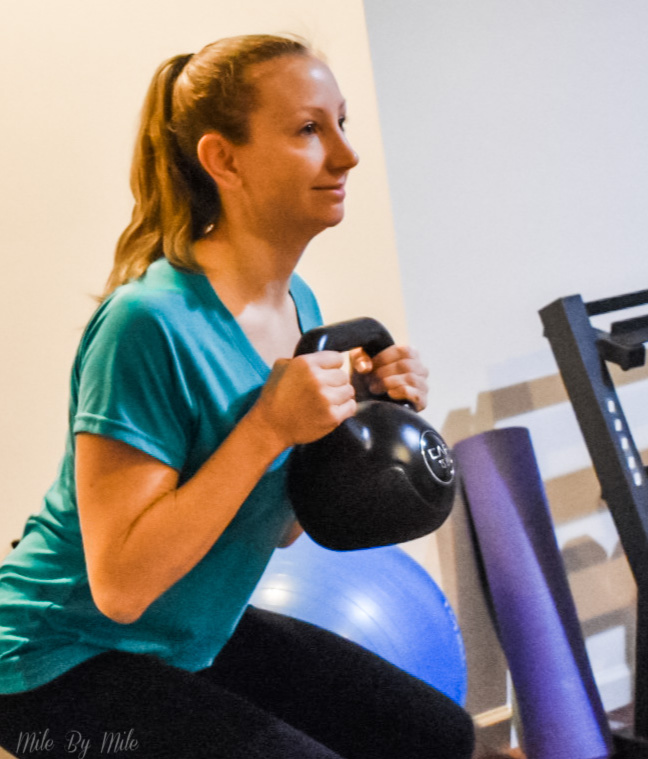 When should strength train sessions take place?
This is where it can get tricky for runners. Ideally, you are not strength training the day before a tough workout. If you are not training for a race you could strength train on your non-running days. If you are training, you could try doing your strength training the same day as a hard workout (for example, doing a track workout in the morning and strength train in the evening). However, that may not work with your schedule. If you are doing two strength training sessions per week, you could make one heavier/harder and make sure that is followed by an easy run or rest day. For the other session, if it is not quite as hard you may be ok to do a workout or long run the next day.
Another option is to do your strength workout before an easy run. This shouldn't affect your run performance since it is an easy run and you will want to keep it slow anyway. In fact, it may be a good warm-up before your run and help you to keep the run easy if your legs are a little tired.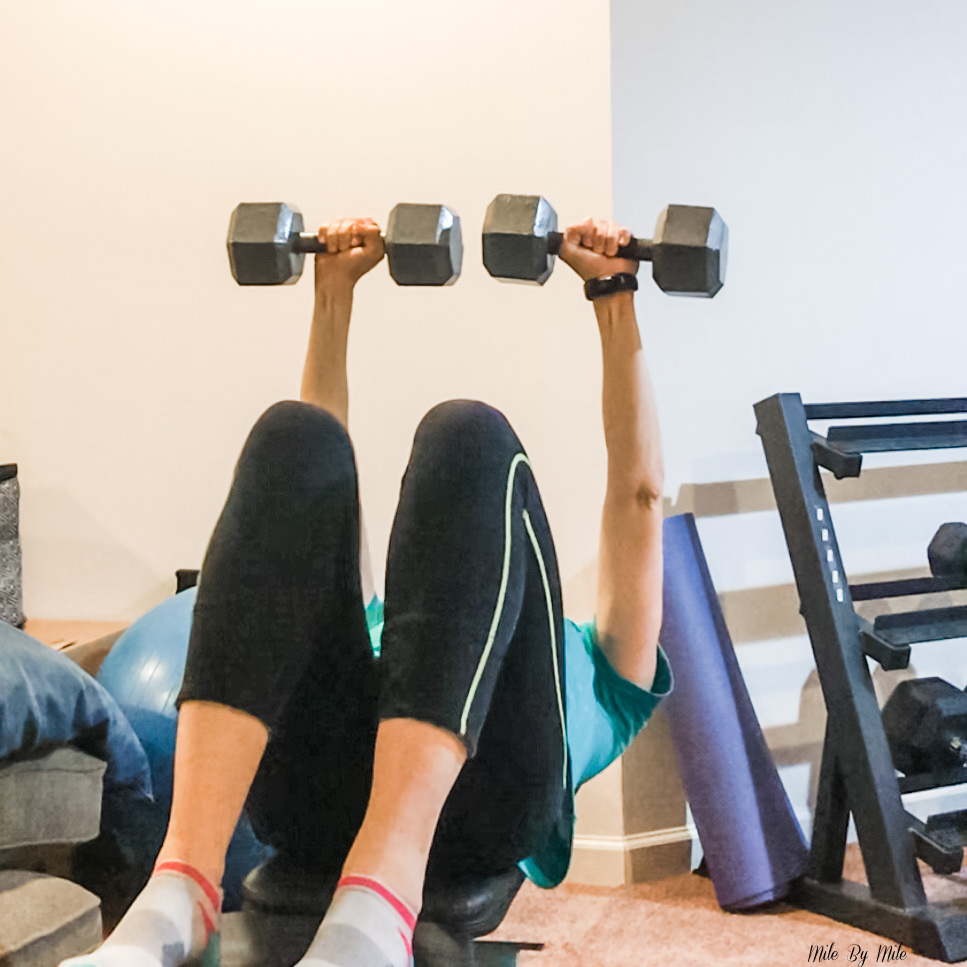 What about weight and reps?
Research has shown that lifting heavier weights for less repetitions is more beneficial that light resistance. For many exercises, you may only do 6-8 reps. Give yourself enough time in between sets to recover to ensure that you can use proper form on the next set. For certain exercises like squats you may do 10-12 reps. If you are including planks or other static holds you can hold the position for breaths versus time (i.e. 10 breaths.)
If you are new to strength training this may be difficult to figure out on your own. You may want to consider finding a strength coach to at least help you get started. You want to make sure that you are including the right exercises and using correct form.
You may also like: 5 Minute Upper Body Add-On Workout
Should you do extra core workouts?
A good strength training program will train your core when you are doing full body exercises. You can include core-specific exercises within your strength training plan. Currently, I do additional core work (outside of my 2 strength training sessions) for a few reasons. First, I don't have time to include as many core-focused exercises as I would like in my strength training routine. I usually do one per session, such as planks or dead bugs. Second, I know that my core is particularly weak after pregnancy. Finally, I find that doing some extra core work helps me to feel like I am activating my core muscles more often and using them during my workouts. This may just be in my head, but it works for me.
Examples of running and strength training schedules
Here are two examples of running and strength training schedules. The first is for someone who is not training (just running to keep a strong base). The second is for someone who is training for a distance race.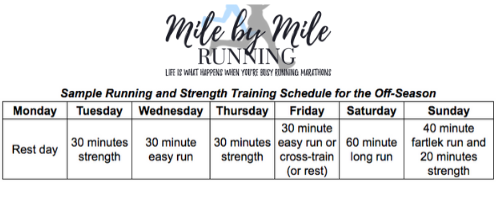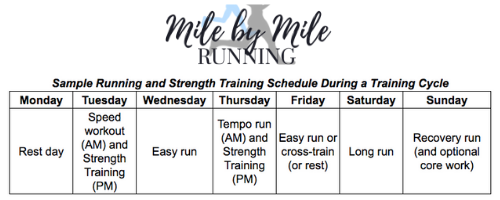 I also created a free 4 week training plan focused on combining running and strength training. You can go here to download a printable version of the running and strength training plan!
When it comes to running and strength training, both are important. How much you do of each will depend on where you are in your training. Once you see the benefits of strength training it becomes obvious that it needs be an an ongoing part of any running training plan.
You may also like:
5 Reasons for Runners to Love Strength Training
Upper Body Strength for Runners
How do you combine running and strength training workouts?
How many times per week do you strength train?
Do you do separate core workouts?
Need more help coming up with a running plan that includes strength training workouts? A running coach can help! You can also check out my training plans and resource guides. I am a coach on team Run to the Finish where one of our other coaches created a 12 week heavy lifting plan! You can check it out here or get access if you sign up for coaching.
Runner's Roundup
Now it's time for the Runners' Roundup! Link up your running and fitness posts below! Join myself, Coach Debbie Runs, Confessions of a Mother Runner, and Runs with Pugs to post your favorite running tips, experiences, race and training recaps, workouts, gear, and coaching ideas.