Running with a jogging stroller is challenging in many ways. From keeping a child happy, to pushing extra weight, to worrying about the weather, it's definitely harder than running alone! One other issue is running form. Running with a stroller is different than running alone, but its important to run with proper form when using a jogging stroller.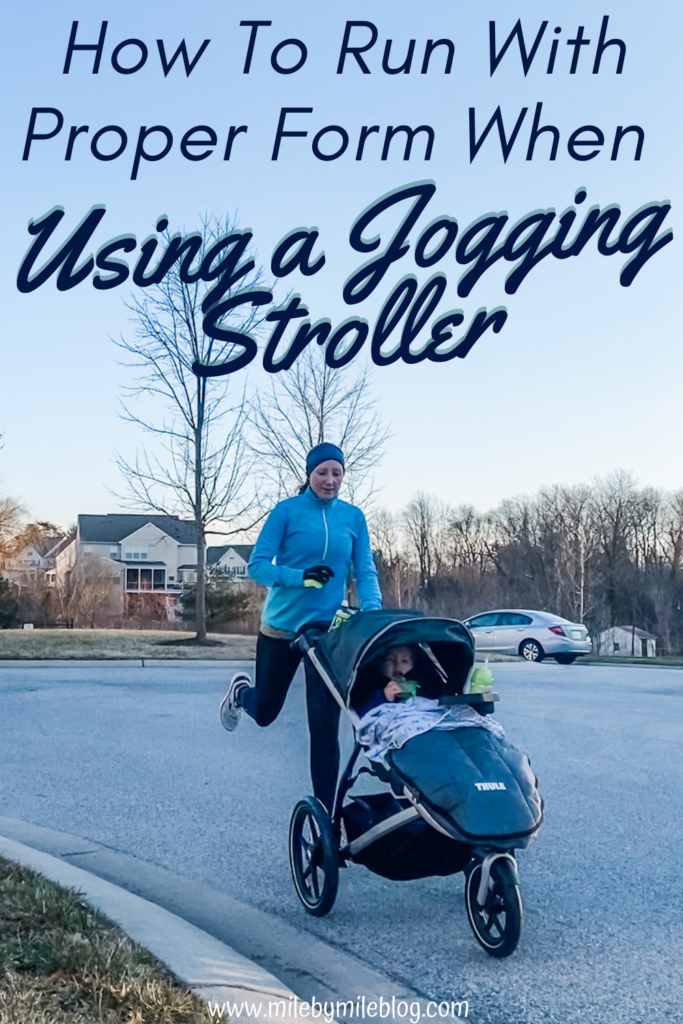 I know that many of you who read my blog don't run with a stroller, but I did try to include some general form tips as well!
You may also like: How to Fix Your Running Form
Hold on lightly
When holding onto the handlebars, don't grip them too hard. A good jogging stroller will sort of move on it's own so you don't need to use a death grip. Just hold on enough to steer it appropriately.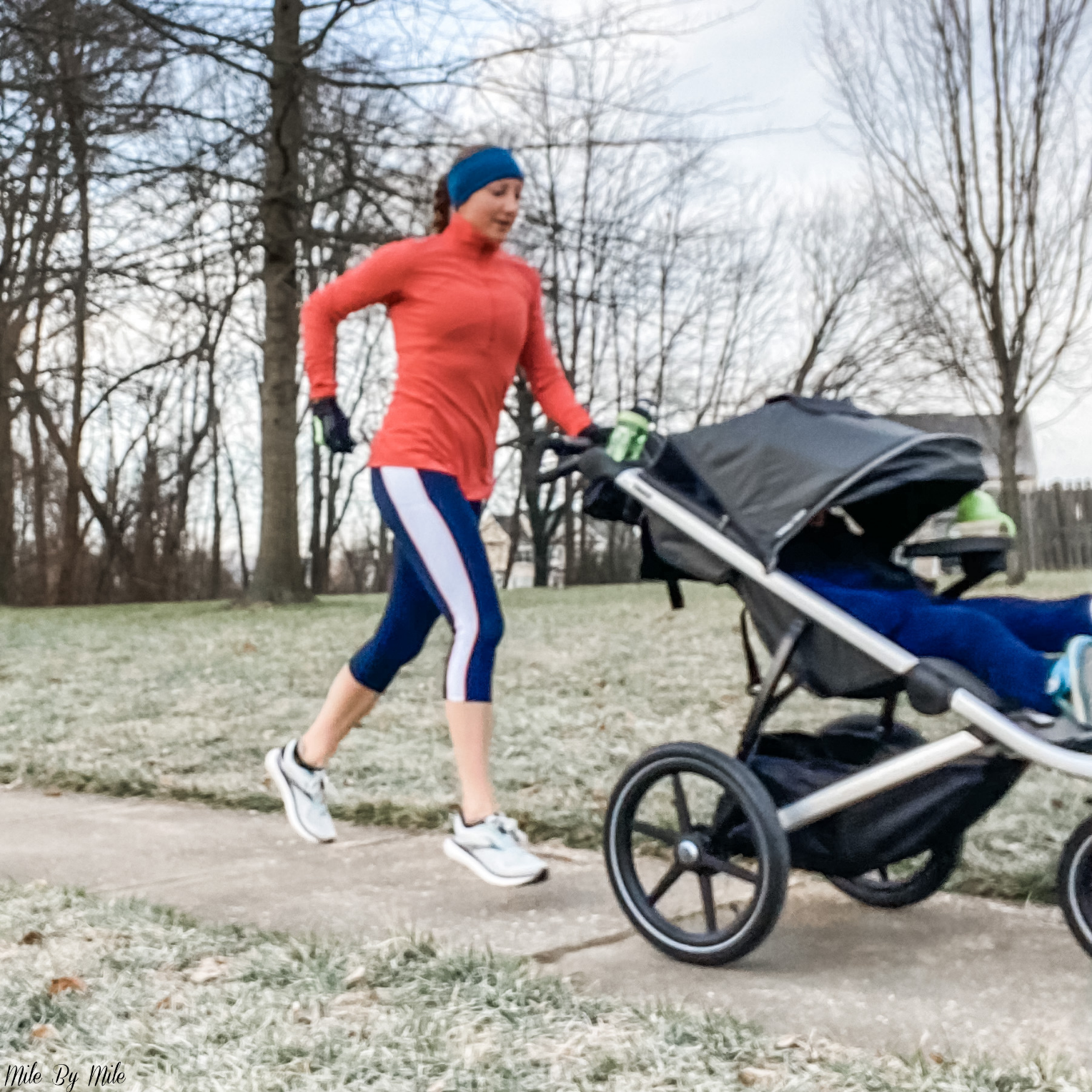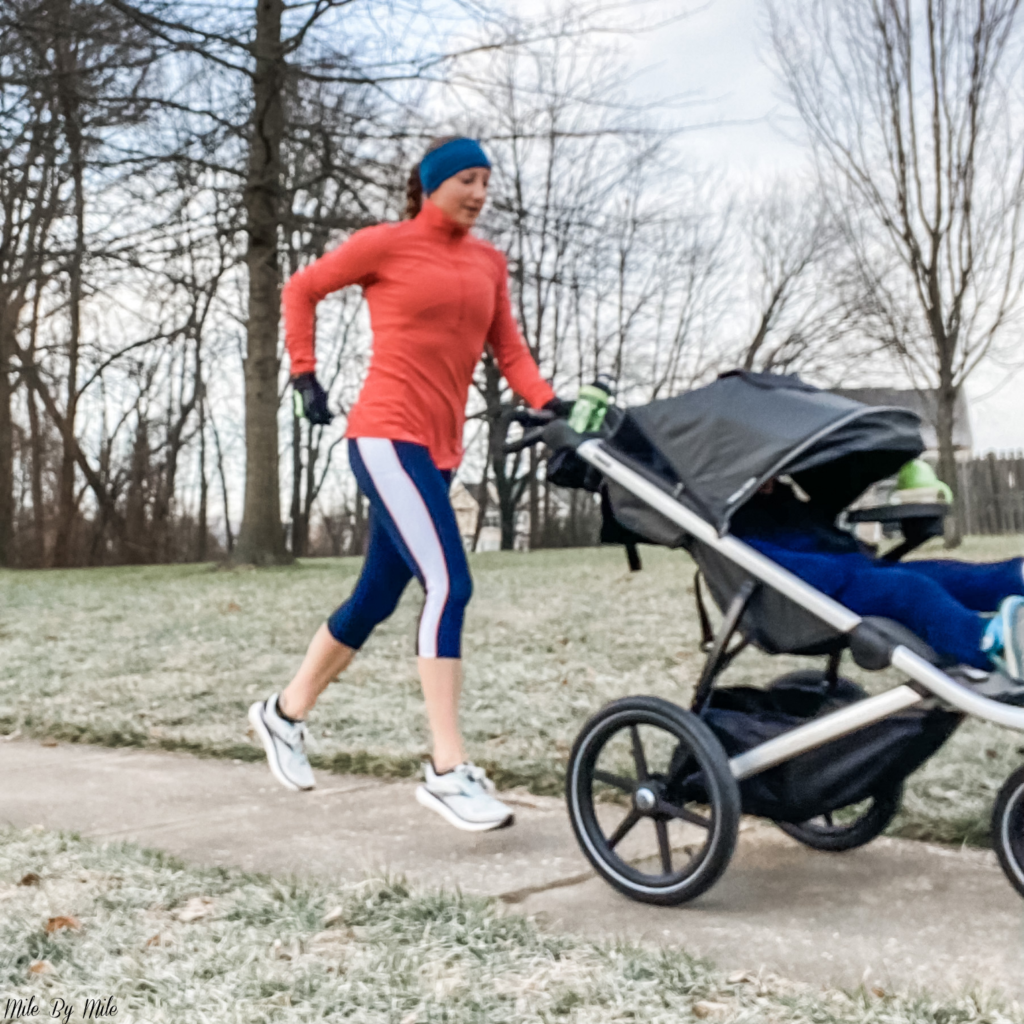 Switch hands regularly
Most runners use one hand on the jogging stroller. This allows you to swing your other arm in a regular running motion. Switch the hand you are pushing with every few minutes. There are times that I tend to push with two hands, like if I'm going up a hill or making tight turns.
Use the strap
The jogging stroller should have a strap on the handlebars that can go around your wrist. This prevents the stroller from rolling away from you if you were to lose your grip on the handlebars. It's a little annoying to switch as you switch hands, but it's a good safety precaution.
Keep shoulders down and at your side
I have noticed that as I get tired I hunch over and pull up my shoulders. Try to relax them and keep them in line with your body rather than ahead of you.
Keep the stroller close to you and elbows bent
Run with the stroller pretty close to you, not out ahead of you. If your arms are straight, try bending your elbows which will force you to bring the stroller closer. Be mindful of this especially on downhills. You may actually feel like you are pulling the stroller when going down a hill but you want to make sure you maintain control of it by keeping it close to you.
Straight body with slight lean from ankles
I have noticed that sometimes when I am pushing the stroller I end up leaning forward with my upper body as I am trying to push it. It's better to think about keeping your body straight, with a slight lean from the ankles. Don't push your butt out- instead, it may feel like it is slightly tucked (enough to engage your glutes). This is an important form cue for when you are not running with a stroller too!
Drive with hips/glutes
It can be tempting to push the stroller with your upper body, but it is much more efficient to get your momentum from the hips and glutes. This will happen more naturally if you are following some of the cues I mentioned about like having proper body alignment. There are some great glute exercise you can do to build strength that Laura mentioned in her stroller running post.
Keep feet pointing straight ahead
If your form is falling apart you may notice that you start running with your feet pointing out to the side. You will get better push-off from your glutes if you keep your feet pointing straight ahead. Again, this also means you will keep to make sure you are keeping your whole body aligned property.
Use a quick cadence
Since you are keeping the stroller close to you, it's important that you don't overstride which may cause you to kick the stroller. By slightly increasing your cadence it can help to shorten your stride and lead to better form.
Try to keep your usual running form
Aside from having one hand on the stroller, try to keep your form similar to what it would be if you were running without a stroller. A few cues that I've already mentioned are important in general: shoulders relaxed, elbows bent, body aligned with slight lean from the ankles, and pushing off from your hips/glutes with your feet pointing forward.
You may also like: 8 Tips to Make Running With a Jogging Stroller Easier
Slow down and check your form
When in doubt, take a moment every once in awhile to slow down and check in on how your form feels. It may be easier to keep good form if you are running slower. That's ok! It's better to use good form and run slower than to try to run too fast and risk an injury. The same thing goes for running without a stroller.
You may also like:
What Makes Stroller Running So Challenging? (Besides Pushing Extra Weight!)
What It's Like To Stroller Run With a 1 Year Old
How To Dress Babies and Toddlers For Stroller Runs in the Cold
If you run with a stroller, do you find that your form is different?
Have you ever worked on improving your running form in general?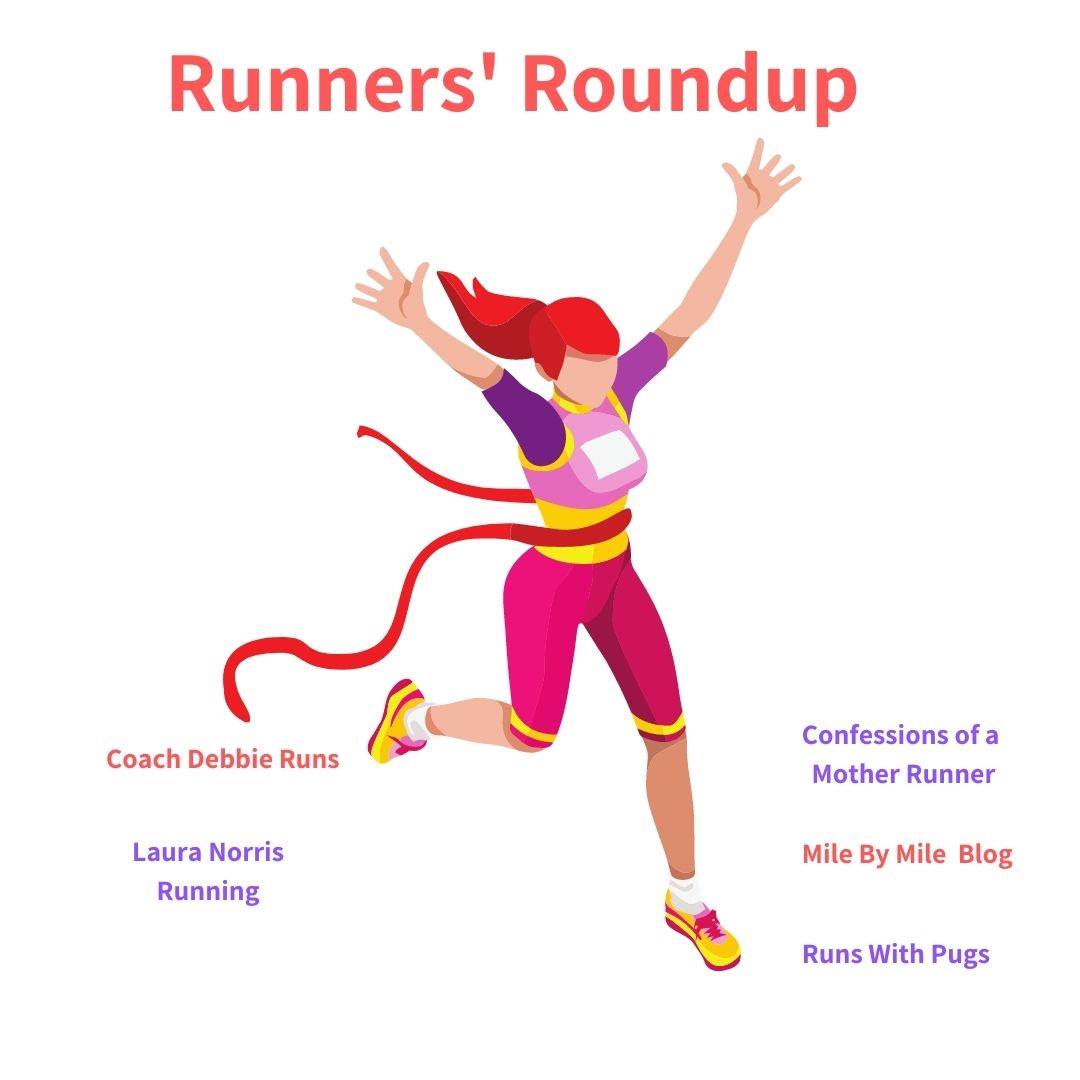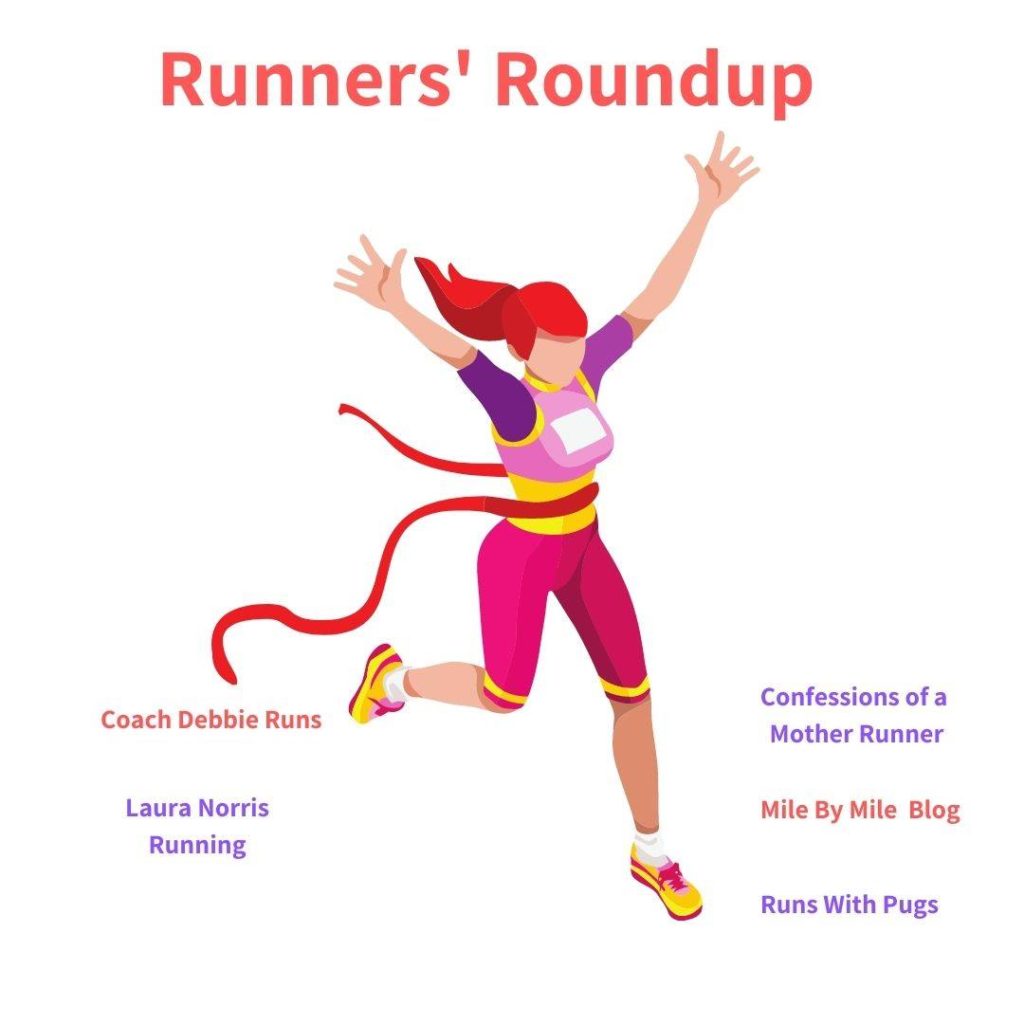 Now it's time for the Runners' Roundup! Link up your running and fitness posts below! Join myself, Coach Debbie Runs, Confessions of a Mother Runner, Runs with Pugs , and Laura Norris Running to post your favorite running tips, experiences, race and training recaps, workouts, gear, and coaching ideas.