It's been a few months since I wrote specifically about stroller running. I have now been running with a stroller for a full year! The whole experience has changed so much in that year. I know it will continue to change as my son gets older, but I thought I would share what it's been like recently to stroller run with a 1 year old.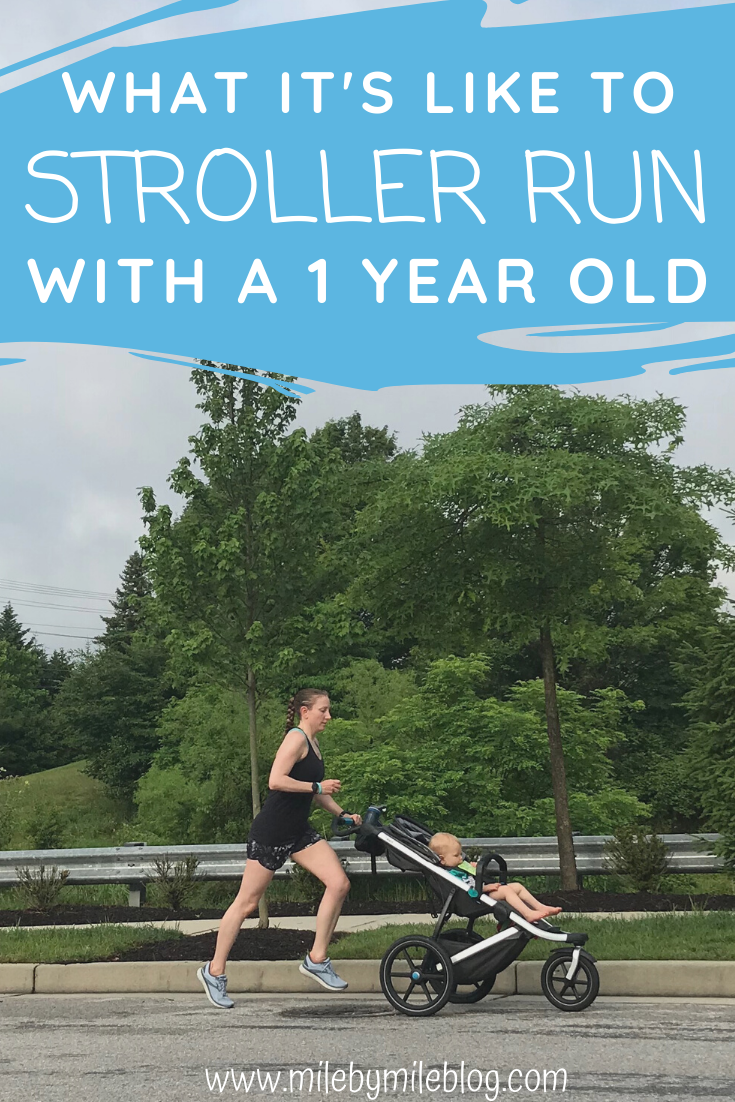 Around the time Grayson turned 1 (mid-December) I found that running with him in the stroller became more challenging. He was still going down for a morning nap no later than 9 am so I needed to go early enough that he wouldn't be overtired and start falling asleep on our run. (My worry was he would fall asleep in the stroller and then not nap at home.) I wasn't training for anything and the weather wasn't great so we were only going out for stroller runs a few times a month.
Once the weather started to improve and we became quarantined I wanted to run with him more. But he had started walking and had no interest in sitting in the stroller while I ran. He would fuss pretty much the whole time (it wasn't necessarily crying, but more that he would make noises indicating he was unhappy). Toys didn't help and I was not yet comfortable giving him snacks in there.
Now he is 18 months old and does so much better in there! I think there are a few things that have helped him to enjoy it more.
What has changed now that he is 18 months old
-he is bored of being in the house (aren't we all…)
-during the rest of the day he runs around so much that this is a nice break for him.
-he is a little bigger and has more control over his body in the stroller, so he can move and look around easier.
-I started giving him some snacks- so far only cut up berries and pouches. I don't like that I can't see his face while he is eating in there. Soon I will give him more than that but this is working for now.
-He's learned that runs or walks are part of our routine.
-He "communicates" more- even though he's not talking, he has a better understanding of what I am saying and he can say a few words or try to talk back to me, so it's almost like we are chatting on our runs.

What It's Like to Stroller Run with a 1 year Old
He makes a game out of throwing his shoes and hat out of the stroller. Around the 1.5 mile mark is when it starts (or 15 minutes in if we are walking).
The stroller becomes covered in food. Berries are crushed into the seat. The pouch I give him explodes everywhere.
The stroller feels heavy to push. Especially uphill. When I started running with a stroller I barely noticed the weight when I was running on flat terrain. I've asked this a million times but how in the world do people run with double strollers?
We run for 15 minutes straight and then stop every 4-5 minutes for the rest of the run.
When I try to take a picture he freaks out because he wants my phone.
He gets upset when we run past our house so I can round out my run to the nearest mile.
When we get home he needs to make sure that I put all my running stuff back where it belongs. It's good to have someone to keep me in line I guess.
After the run, he needs to refuel more than I do. Seriously, I try to eat something and he ends up eating it all, plus whatever snacks I've given him. This kid would eat all day if I let him. (Hmm maybe that has something to do with the stroller feeling so heavy…)
I don't run a ton of stroller miles, and I really don't want to push my luck with how things have been going lately. I'm sure things will be different in a few months. It will be interesting when he is talking more to see what he has to say about going on these runs. Before I know it I will probably be getting criticized for running too slow or not bringing the right snacks.
You may also like:
A New Running Challenge for this Summer
My Year of Postpartum Running in 2019
How to Run with a Jogging Stroller
What questions do you have about stroller running with a 1 year old?
Would you rather run with a baby or a chatty toddler?
Are you impressed that on all of these stroller runs we have not lost any shoes or hats yet? 😉
Now it's time for the Runners' Roundup! Link up your running and fitness posts below! Join myself, Coach Debbie Runs, Confessions of a Mother Runner, Runs with Pugs, Running on Happy and Organic Runner Mom to post your favorite running tips, experiences, race and training recaps, workouts, gear, and coaching ideas.
You are invited to the Inlinkz link party!