On Sunday we ran in the Molly Murphy Memorial 5k, a race to raise awareness for anxiety and depression in young adults. This was our second year participating in this race; however, last year the race was held in July. Somehow this year's race was hotter even though it was a few weeks earlier in the season.
I didn't have any real goals for this race other than to just push myself and try to run faster than I did in my 5k a few weeks ago.
We arrived a little after 7am to get our bibs and warm up. Rob and I ran about 2 miles and realized how hot is was already. When you are dripping with sweat from a warm-up run that is never a good sign!

The course starts on a track. This year we ran around the track once, then out on the streets, and finished with another lap around the track. (Last year we ran two laps at the beginning and two at the end.)
There's not much to say about the actual race, except that I was hurting pretty bad after the first 1/2 mile (which was flat and downhill). I realized I was running a 6:40 pace and knew I had gone out too fast. Either way, we started hitting some hills and then I was really done. It was all I could do to hang onto a 7:20-7:30 pace for the last two miles.
When we turned around at the halfway point, I realized I was the second female and there was a good distance between myself and the third female. So I just focused on keeping that lead.
I finished in 22:15, which was 10 seconds faster than my 5k in May but 35 seconds slower than my time for this race last year. 2nd female and 8th place overall.
They were serving Italian Ices at the finish which tasted amazing. I had gone through two bottles of water but they weren't very cold, so the ice was perfect.
My sister and her friend also ran (we actually found our about the race because my sister's coworker helps to organize it).
We hung out until the awards were announced. Rob was first in his age group, and as the second female I won a gift certificate for some acupuncture sessions!
I'm pretty sure we were the only runners not wearing pink…
This was both a physically and mentally challenging race for me, but I really didn't put any pressure on myself so I am happy enough with how it went. We may run another 5k in July, and I am sure it will be just as hot for that one! These summer races only make us faster in the fall, right?
How much do your race times suffer when you run in the heat?
What was the best post-run treat you ever had at a race?
Have you ever had acupuncture? I did it once and didn't notice any benefits, but I heard you really have to go a few times.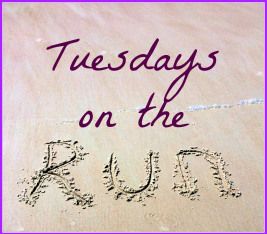 I'm linking up with April, Patty, and Erica for Tuesdays on the Run!