The Charles Street 12 is getting so close now! I should probably clarify; when I write these posts I am counting the weeks left of training including the one I am recapping. My race is on August 31st, so as I am writing this there are actually only 2 more weeks to go!
This was another solid week of training. I ran my highest mileage and now I will back off a bit before the race.. The highlights of this week included two stroller runs, a long tempo run, and a 12 mile run with a fast finish.
I had a weird schedule this week so I moved around my workouts once again. Usually I go into the office Mondays and Tuesdays, work from home on Wednesdays, and am off on Thursdays and Fridays. My mom watches Grayson on the days I work. This week she was on vacation so I took most of the week off. I worked from home a bit to get some things done that were time sensitive. Rob was off on Wednesday because we had a doctor's appointment for Grayson, so I went into the office early for a few hours before the appointment.
I've enjoyed doing an easy run with the stroller on one of my days off instead of running early on the treadmill. This always allows me to sleep in a bit. Ya know, until 5:40. (He usually wakes up between 6 and 6:30 and I like to get up before him for coffee and breakfast).
Monday: Strength training
We also went for a walk in the morning. There is a playground nearby so we stopped to use the swing. It was sunny and I didn't bring him a hat so we didn't stay for long.
Tuesday: 6.25 miles with 30 minutes at tempo pace (7:59 average for tempo portion of run)
For some reason I was less intimidated by this week's workout than by last week's 2 x 15 minute tempo run. Maybe because I knew I was able to complete the one last week and this was the same just without a break? I ran this on hills and then purposely finished the last 10 minutes on flatter terrain. I am hoping doing that will help me to prepare for the end of the race. While the course is a net downhill, the last 2 miles are flat which always feels really challenging.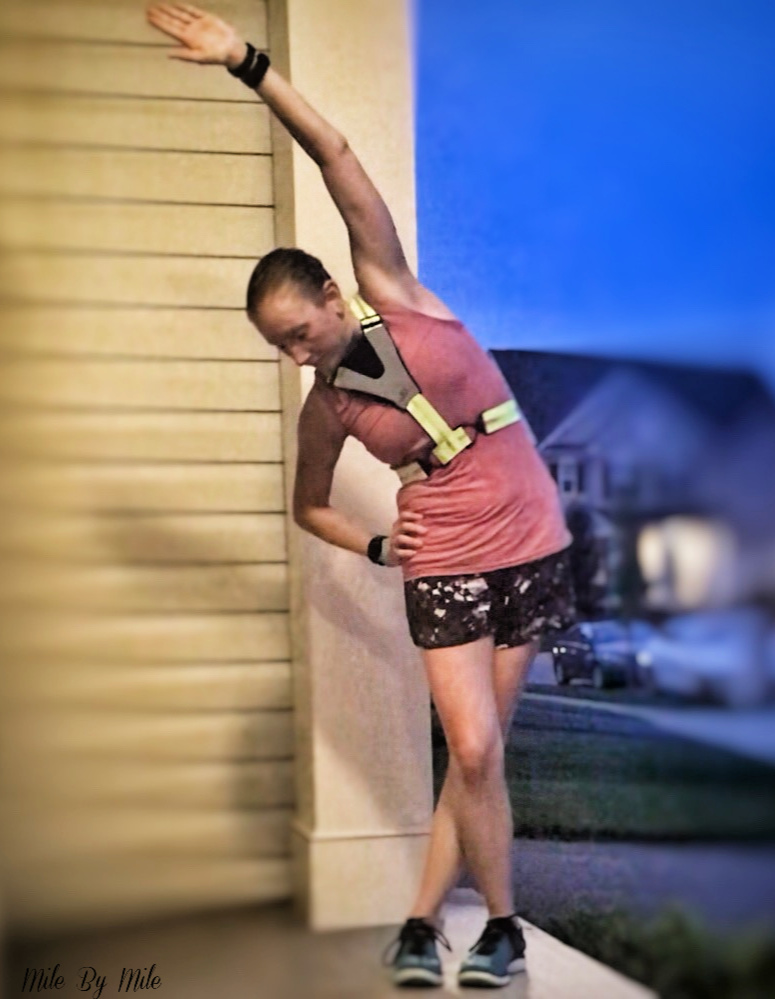 Wednesday: Rest day
Thursday: 3.1 mile stroller run
It was overcast so I think Grayson enjoyed being able to look around instead of covered up by the top of the stroller.
Friday: Strength training
We went for another morning walk. He has been teething all week and this was the hardest day for him, so I couldn't get much of a smile for this picture.
Saturday: 12 mile long run with a fast finish
Ugh, this weather! I really hope it cools off a bit in the next few weeks. While I don't want to wish away summer, this humidity is really tough for running. I struggled a lot on this run but actually felt the best during the last few miles when I picked up the pace to 8:06 and 7:58. Isn't it nice when you can distract yourself at the end of a long run and finish strong?
Sunday: 4 miles with the stroller
It was another warm and humid morning. We almost skipped this run but ended up glad we got out there. It's sort of becoming our Sunday morning tradition to do a family run now!
While I am feeling confident about how my training has gone, I have to say that I am worried about how the weather could impact how I run. I feel like other summers I could still run pretty well in the heat and humidity but this year I'm not where I used to be. While I don't have a specific goal for the race at this point, I know I will have to lower my expectations if it is as hot and humid as it was today.
Just 2 more weeks of training to go! Next weekend's long run is only 8 miles, so that will be a nice break!
How were your workouts last week?
Do you run outside no matter how warm/humid it is?
Any weekly traditions that involve running?
I'm linking up with Deborah and Kim for the Weekly Run Down!