Happy Thursday, everyone! Please bear with my today while I take some time to complain/vent! Do you know that when I went to write that sentence I had no idea if it was "bear with me" or "bare with me"? So of course I turned to google:
Answer:
Bear with me is a standard expression used as a request for forbearance or patience.
Ex: Please bear with me a moment so I can find the homework exercise for you!

Bare with me would be an invitation to undress.

(from here)
So now that we have that cleared up, let's move on. Luckily over at Amanda's blog Thursday's are for Thinking Out Loud, so that's what we will be doing today. So now that we have that cleared up, let's move on. Luckily over at Amanda's blog Thursday's are for Thinking Out Loud, so that's what we will be doing to
So now that we have that cleared up, let's move on. Luckily over at Amanda's blog Thursday's are for Thinking Out Loud, so that's what we will be doing today.
1. It's really winter now. Which means I am back to complaining about the weather. I think I make it a few months in the spring and fall where I am content with the weather but all winter and summer I seem to have one issue or another. I should probably have moved somewhere with milder temps, but it's too late now.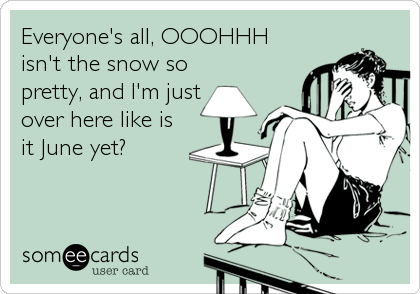 2. We got a few inches of snow on Monday, which doesn't sound too bad, but Baltimore doesn't know how to salt or plow the roads. Almost all of the other school systems besides Baltimore city were closed, and we didn't even have a "delay"- however, it took some of the teachers 4 hours to get in (which should have been a 30 minute commute) and buses were an hour and a half late. One of our buses got into a minor accident. There was a bad accident in the other county that had opened school not too far outside of Baltimore.
It took alot to get a snow day when I was growing up in NY, so I'm not saying that everything should close all the time- it would just be nice if the roads could be salted and cleared a bit when we knew it would snow during rush hour.
3. Snow on Tuesday means icy sidewalks for the rest of the week. I learned this lesson quickly last winter. The day of the snow it's usually fine for running, but then it melts and freezes and becomes a big mess. Plus we are supposed to get some freezing temps with crazy wind chills this week, so I guess I'll be taking my workouts indoors.
4. My planned fartlek workout didn't happen on Tuesday (see above). I decided it really wasn't worth falling down and risking a real injury. Usually it doesn't even take snow for me to fall, so I figured it would be best to keep it at a slow, controlled pace.
5. On Wednesday morning I ran on the treadmill and took body pump. I have actually been doing my short easy run before class on the treadmill for the past few weeks, even though I hate the treadmill and avoid it at all costs. I decided this year to prepare for having to run on the treadmill in bad weather by practicing. I know that might sound weird, but when I run on one regularly it actually gets a little more comfortable. The added bonus today was being in front of a TV with the news station on. It was constantly reading off all the school delays…I waited patiently for 30 minutes for Baltimore City to show up but no such luck.
I always run much slower on the treadmill than outside. Especially for the first mile.
6. My workouts so far this week have consisted of running, body pump, barre, and yoga. It's amazing how much harder everything else feels to me compared to running. After body pump it hurt to blow-dry my hair.
7. I have been doing pretty good with my New Year's goal to plank 5 days a week. I have been trying to hold them for about 2 minutes or until I start to shake. Considering last summer I was able to plank for 5 minutes I know that I have really been slacking on my planks lately, which is why this is a good goal. I just need to keep up with it all year!
8. Lately I have been feeling more than ever like there are not enough hours in the day. I wake up earlier and earlier and still don't get everything done. Part of it may be the adjustment back after the break, or I just keep putting more things on my plate. Between running, working, blogging, "other workouts" (like yoga or barre that I do after work) and cooking Whole30 meals (which are mostly new to me) I just feel like I never stop running around. I guess that's a good thing because these are all things I want to do and I'm pretty sure I function my best when I am busy.
source
This is so true. Rob does not understand how I am CONSTANTLY doing something or thinking about something or planning something.
9. I'm pretty sure January is my least favorite month. But February is a close tie. It's probably a good thing I am doing the Whole30 or I would probably end up drinking way too much wine over the next month.
9 seems like a weird amount of things to share, but that's the kind of day/week it is I think. Thanks for listening to my complaining and be sure to check out what everyone else is thinking about today!

Do you do alot of complaining in the winter?
Did you get alot of snow days when you were in school?
What is your least favorite month?