This was another week of working from home, parenting, and running. I am at the point where I pretty much lose track of what day it is. I only know when it's the weekend because Rob is home on those days. Otherwise the days and weeks just blend together. I feel very grateful to have running to take my mind off of everything! Also, blogging gives me something to focus on other than work and the coronavirus. I guess you can say these days I'm training for life and virtual races.
Weekly Run Down
Monday: Strength Training + Foam Rolling
Tuesday: 5 Miles
Wednesday: Strength Training + 2 Miles
Thursday: 20 Minutes Yoga
Friday: 8.5 Miles with Rambling Runner's Virtual 10k
Saturday: 6.5 Miles
Sunday: 4 miles
Rambling Runner's Virtual 10k
I did another virtual race this week, this time a 10k. My past 10k was in April 2016. Based on my recent 5k and other workouts I've done lately I was aiming to run around a 7:30-7:40 pace. I wanted to get this done on Friday, but it was really windy out. My first 2 miles had some hills and between the hills and the wind those miles were in the 7:40s. I got frustrated but figured I had already put in 2 miles and I should keep going.
Once things flattened out more I settled into a steadier pace. I ran some laps around a block which meant I only got a headwind in certain directions, so I got a break pretty often. I was able to really push it at the end, with my last mile at 7:06. This meant my overall average pace came to 7:29.
Somehow my time was 46:28, which is about 30 seconds faster than my PR. I looked back on my recap of that race and at the time I had said that I was long overdue for a 10k PR. I sort of felt that way again after 4 years. This is a distance that I can run pretty well in training runs but it doesn't always go well in races.
Yoga
This week's yoga practice was focused on backbends. It felt good to open up my back and hips after working from home for the past few weeks. I have just been working wherever is convenient- the couch, the kitchen table, dining room table, etc. I haven't been in my office because I am on so many calls when Grayson naps and the office is right next to his room, so I don't want him to hear me.
Strength Training
This was week 2 of following a new strength workout from Lift Run Perform. I'm still liking these workouts and they feel effective. Now that I am used to the exercises I need to work on increasing my weights.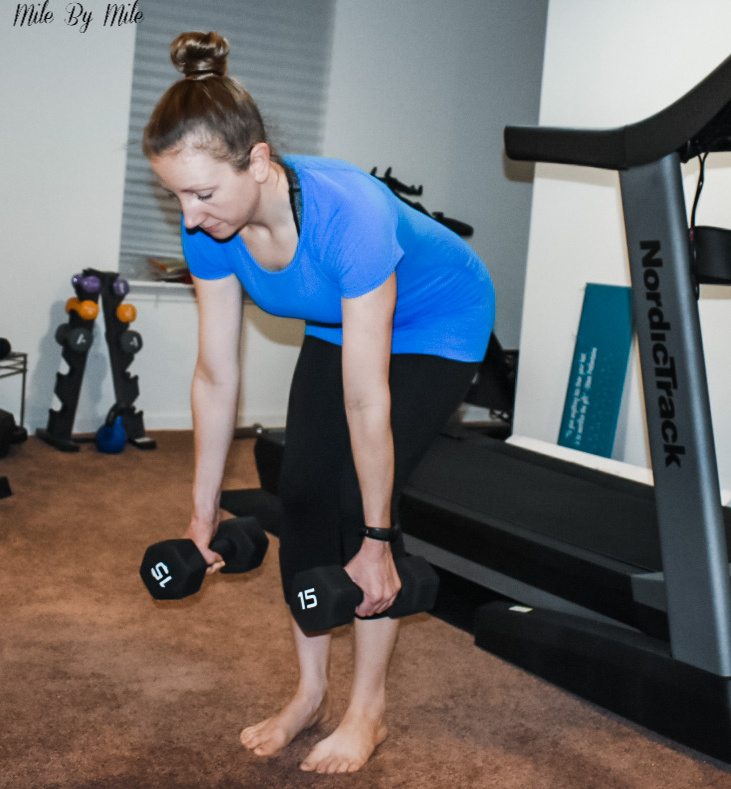 Weekend Running
I was planning to run 7 miles early on Saturday. I got up at 4:30, and Rob was getting up too and told me he was going to go to the grocery store at 6. I didn't think I would have enough time to get ready and be back before 6 when he needed to leave, so I decided to run after feeding Grayson and after Rob got back.
It took forever to get out the door but I finally started my run at 7:45. I needed to be back to feed him again before his nap at 9, so I figured I would just run for an hour. This got me 6.5 miles. It definitely helped me to loosen up my legs after the previous day's hard run.
On Sunday I ran 4 easy miles early and it was nice to see the sunrise.
What's Next
The next race of the Rambling Runner's Series is a half-marathon the weekend of 4/17-4/19. I am not sure if I will run a half on my own or not. I am also considering doing another 5k or 10k with my local running store, Charm City Run, as a virtual race These aren't free but you pay the cost of the distance ($5, $10, or $13) and it's all donated to the Maryland Food Bank or University of Maryland Medical Center. Doing one of those races would allow me to repeat once of the distances I already ran and really focus on my speed for now. On the other hand, I love long distances so I wouldn't mind doing a half, I just think it will be really hard to "race" a half on my own.
Also, as a Brooks' Ambassador I have access to a group training plan for a half-marathon in June. I'm thinking of following along with that loosely so I can virtually train with some of the other ambassadors. However, I'll need to modify my training if I do any other races.
[Tweet "A virtual 10k is a fun way to start of another weekend of being quarantined! Check out the rest of my workouts from last week too. @milebymilerun #weeklyrundown"]
So that's about it for my week! It's been great have running to (sort of) take my mind off of everything else thats going on. It seems like I'm not the only one!
How were your workouts last week?
Have you done any virtual races?
Are you using running to take your mind off everything else right now?
I'm linking up with Deborah and Kim for the Weekly Run Down!