This week started out well but ended not so great. If you follow me on Instagram you may have already read about my blister saga. I'll explain more as I go through the week, but it's always something, right? Oh, and I also broke the bracket of my Garmin which holds the band in place. I am sending it in for repairs because it's still under warranty and there is a tiny crack on the screen that would be nice to have fixed. Luckily I still have my old Garmin so I have been using that for now.
I traveled for work from Wednesday to Friday which made things a little trickier. I made sure to get in my two strength training sessions before I left. Even though I packed a lacrosse ball and stick, I felt like I wasn't able to get in the same quality of mobility work as what I am used to. That paired with sitting in a small conference room all day was not a good combo.
Monday: Soft tissue work, Strength training Week 3 Day 1
I'm still enjoying my strength training routine and feel like I am getting more used to the workouts. It takes a full hour between my warm up and the exercises.
Tuesday: Soft tissue work, 3 miles, static mobility
After Monday was when my week started to get crazy. Monday was my only day in the office all week, and I ended up being there later than planned. Then on Tuesday I was at a conference all day and had to come home, get some work done, and get ready to go away the next morning. I was glad to squeeze in a run before the day started- I really needed it!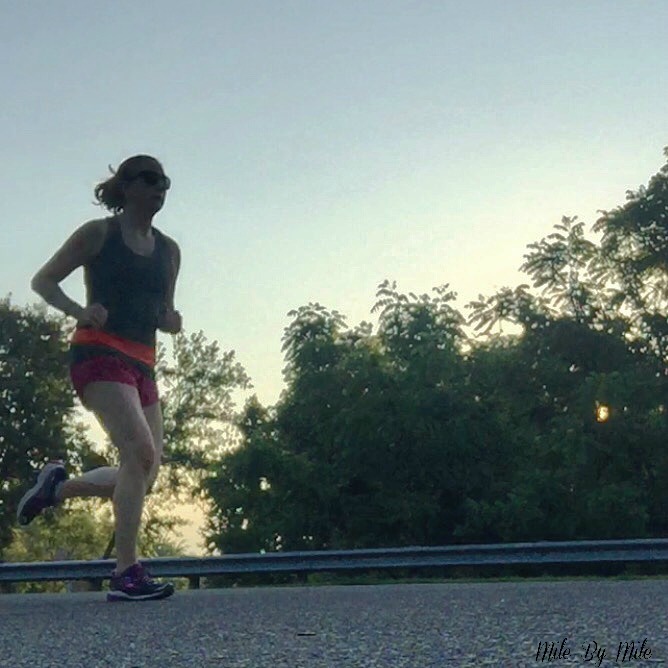 Wednesday: Soft tissue work, Strength training Week 3 Day 2
I started out the day by getting in my second strength training session of the week. Then I headed to the Eastern shore for work. (Not the beach part of the shore- there was no water nearby.) It was a productive trip but I felt like it was nonstop between being in meetings all day and then going out to dinner with coworkers.
Thursday: Dynamic mobility, 4.3 miles, some static mobility/soft tissue work
I woke up itching to run. Since the hotel was basically on a highway, I drove down the street to a Panera and parked there while I went running in the nearby town. It was SO humid, but my body felt good and strong. I did an out and back, but went a little too far. At mile 3 I started to feel a blister on my left heel. It got worse and worse as I finished the run. When I got close to my car and stopped to walk I realized it hurt even more to walk than run. I hobbled back to the car, got breakfast and Panera, and got back to the hotel as quickly as possible to take off my running shoes. Luckily the rest of the day was spent in sandals.
After my run I asked Instagram for tips on dealing with a blister. After getting some great suggestions I made a trip to CVS later in the day and stocked up on Second Skin, blister band aids, large band aids, and tape.
That night we drove out to St. Michael's for dinner, which was on the water, so that was a nice end to the day!
Friday: Dynamic mobility, 3 miles
When I woke up I covered the blistered area with all the products I had purchased the day before. When I put on my running shoes it felt fine! I was hopeful that by protecting the area that I could still run. This time I drove to a different parking lot and did a 3 mile out and pack. Well, 2 miles in and the blister started hurting again, even though it was still covered up. I was mad at myself for making it worse, but honestly I was SO desperate for running those days with being stuck in a conference room all day.
Saturday: Rest
I was exhausted from traveling and had a ton of stuff to do (groceries, cleaning, errands, laundry, etc.) so it worked out to make this a rest day. The blister was starting to heal but was feeling tight when I walked as the area would get stretched out.
Sunday: Rest
My heel was still feeling tender and I didn't want to aggravate in any more. Rob and I did go for a short walk after breakfast.
Now I need to figure out what to do about shoes. Will I be able to continue wearing these or have to start over? I was able to wear them for a week with no problems before the blister started, but I feel like once it got humid that's when the blister happened. For now I'm just trying to let it heal and then I'll figure everything else out.
[Tweet "It feels like there is always something holding me back from running! See this week's recap for more details via @milebymilerun #weeklywrap"]
Have you ever gotten a really bad blister from running shoes?
Was it really humid this week where you live?
Do you ever have to travel for work? If so, do you go running while you are away?
Linking up with Holly , Tricia, and Zenaida for the Weekly Wrap!