This post was inspired by Sunday's post which got me thinking about how some of the things I typically eat have changed over the past year. It's funny because a year ago I thought I was doing really well with my nutrition. I don't think I was doing "bad" but I think there is always room for improvement. So the theme of this weeks "What I Ate Wednesday" is "Then and Now".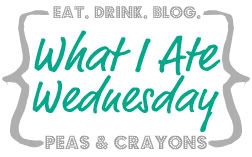 Breakfast Then
Last year I was eating a Honey Stinger Waffle before I would go running. I would get back and drink chocolate milk and then make a smoothie.
Breakfast Now
If I eat before I run it's usually a banana. Then I come home and make a smoothie and have eggs with veggies for breakfast.
Lunch Then
I used to eat a turkey sandwich every single day. Usually with a flavored chobani yogurt and an apple.
Lunch Now
These days I usually have some sort of salad or leftovers. My lunches always include meat and some sort of vegetables.
Dinner Then
This actually hasn't changed much except that we don't have as many grains. It used to be quite a bit of chicken but I always made a vegetable too. Starches rotated between cous cous, rice, pasta, and potatoes.
Dinner Now
Now we usually eat either salmon, steak, ground turkey, ground beef, chicken, or pork. Instead of grains I made lots of squashes and other vegetables. Also some kind of green vegetable most days.
Snacks Then
I used to rely more on packaged snacks like Luna Bars. After dinner snacks were brownies, cookies, or ice cream- all with lots of added sugar. I'm all about having stuff like that in moderation but looking back we were eating it a little too often.
Snacks Now
I eat alot of fruit as snacks, and I have learned to baked without using sugar. The only packaged bar I eat regularly are Lara Bars.
How has your eating changed over the past year?
Do you change how you eat without realizing it, or do you have to make an effort?