Are you a morning runner, or do you prefer to sleep in and get your miles done later in the day? You may already know that I've been a morning runner for over a decade, and couldn't imagine it any other way. However, I know not everyone is a morning person. Still, there are some good reasons to consider becoming a morning runner, at least a few days a week!
1. It's easier to plan meals around your runs
Some runners are fine with running first thing in the morning on an empty stomach, others need a light breakfast before heading out the door. Either way running in the morning simplifies the pre-run meal. There are plenty of light breakfasts or pre-run snacks that can be eaten quickly before a morning run. If you can run on an empty stomach, then you can look forward to a nice big breakfast when you get back!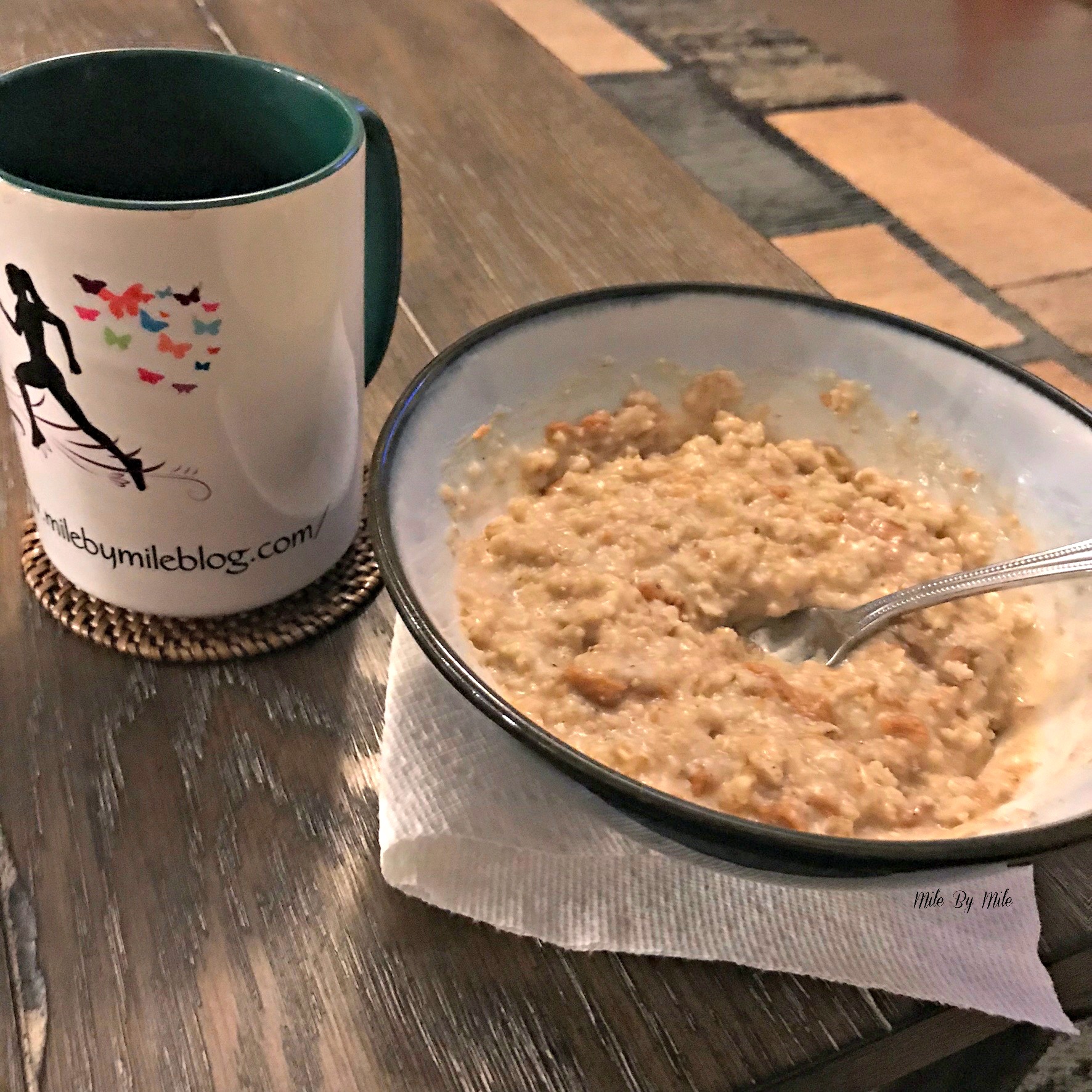 I usually eat a banana and or honey stinger waffle and drink some coffee before running in the morning. I can eat right before heading out the door, but you may need to experiment to see if you need some time to digest. Some other quick pre-morning run ideas are toast with peanut butter, a small bowl of cereal/oatmeal, or a granola bar.
2. It becomes part of your morning routine
I don't know about you, but my afternoons are hectic. Trying to finish up work at a reasonable time, navigating traffic, trying to get dinner on the table…. Now that I'm a mom things are even trickier in the afternoons and evenings. I couldn't imagine trying to squeeze in a run along with all of that. Morning is the easiest time to create a consistent routine if you wake up around the same time every day. You can spend your morning hours in a way that works for you, without having to deal with other things getting in the way.
3. Get it out of the way and make it a priority
Going along with #3, if you run first thing in the morning it becomes a priority. You run, it's done, and you can get on with your day. If you wait until later there is a chance something will come up and you won't be able to run. You may also end up thinking about it all day- it's a nice feeling to know it's done before the day even gets started!
Also, if you run in the morning and still have some extra time in the afternoon or evening, try to get in some core work or strength training!
You may also like Core Strength For Runners
4. You will have more energy all day
People who don't run in the mornings don't understand this, but it's so true. I have so much more energy when I run or work out in the morning. Plus you will have bragging rights at work when people are complaining about having to get their steps in or go to the gym after work.
5. If you miss your run, there's time to make it up later
There may be some days when you over-sleep or the weather is too cold/icy/windy etc. in the mornings to run. The good news is that if something gets in the way of your morning run, you can always try to move it to later in the day! If you initially plan to run in the evening and for some reason you can't, then you're out of luck for that day.
Looking for other tips for fitting in your run? Check out these 5 ways to find time to run this summer.
Summer is a great time to work on transitioning to running in the morning. There's more daylight and you will beat some of the heat! And don't be afraid to opt for the treadmill. It's a necessarily evil in many places.
You may also like:
5 Workouts to Help you Prepare for your next 5k
Running Workout Roundup for the Off-Season
5 Workouts for Speedy Spring Running
Are you a morning runner?
If so, how did you become one?
If not, what's holding you back?
I'm linking up with My First 5K and More, Running With Attitude, Run Laugh Eat Pie, Runs with Pugs, and Zenaida for Fit Five Friday!