During the summer I don't mind running in the rain. In fact, I sometimes enjoy it! This wasn't always the case. This is actually the first summer that I've really embraced running in the rain and have run outside rather that on the treadmill when it's raining. There are a few tips that can make running in the rain more enjoyable all year long. I won't promise that I will be running outside if it's raining and 35 degrees, but I do plan to continue embracing it well into the fall months this year.
9 Tips for Running in the Rain
1. Make sure there is no chance of lightning
First and foremost, you want to stay safe. Check the weather to make sure that there won't be any thunder and lightning during your run. If you are confident you can run outside but are concerned that maybe some storms will sneak up on you, stay close to home so you can return quickly if needed.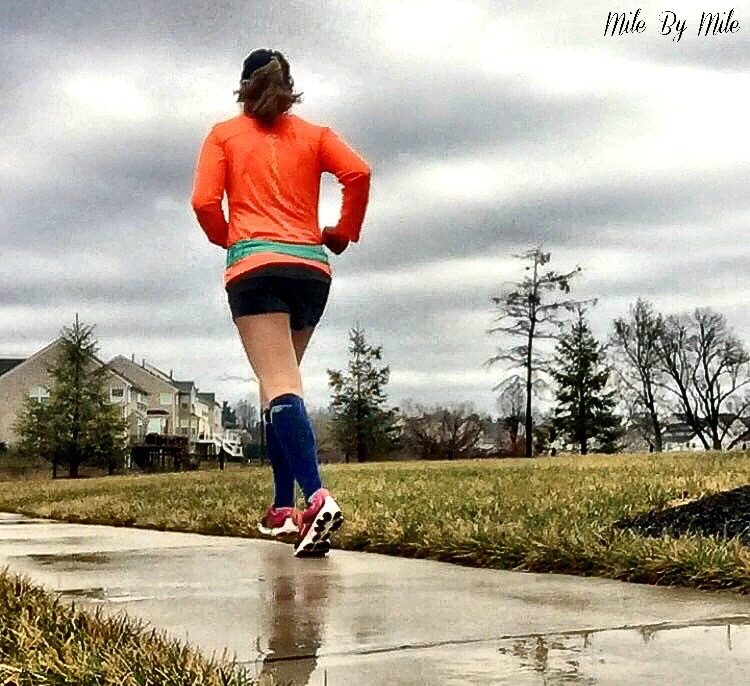 Also, if you are running in the rain in the colder months make sure that ice won't be an issue.
2. Wear something to cover your eyes
I always wear a hat when I run in the rain, but I've actually heard that some people where sunglasses to keep the rain out of your eyes. Just make sure you can still see where you are going!
3. Don't forget the body glide!
Back in 2013 I ran the Houston Marathon in 40 something degrees and pouring rain. Before we left for our trip we thought it would be in the 50s and dry for the race, and we were heading to Hawaii for our honeymoon after the race. So I didn't have great clothing options to wear on race day. I had on some combination of a tank top with arm sleeves and a jacket. Thanks to the way the tank top was rubbing against my arms I ended up with some of the worst chafing of my life. I remember crying in the shower that day and it was painful for days into my trip.
Lesson learned: ALWAYS wear body glide on any compromised areas when running in the rain.
4. Plan out your shoe choices
If it's raining hard and you will be out running for a while, your shoes will inevitably get pretty wet. Make sure you have another pair of shoes to wear for your next run. Consider wearing older shoes when you run in the rain that you don't run in as often. You can stick paper towels in your shoes after your run to help them dry faster.
5. Make sure you are seen
Morning and evening runners are (hopefully) already dressing to be seen, with bright colors, headlamps, visibility vests, etc. Even if it's daytime when you're running in the rain, make sure that you can be seen. It will be harder for drivers to see in general if it's raining hard.
6. Wear the right clothes
Cotton is not your friend. I repeat, cotton is not your friend. Try to find clothes that are somewhat tight fitting and also sweat-wicking. Dress warm enough for running in the rain, but not too warm that you will overheat. Also make sure you are wearing a good quality pair of performance socks. For rainy runs I like to wear toe socks that helps to prevent blisters.
7. Keep your electronics safe
If you run with a phone, make sure it won't get wet. I usually keep mine in my Koala clip case under my shirt and sports bra. However, if it's raining really hard I'll put it in a ziplock bag and then in a flip belt or in my hydration pack (if I'm doing a long run).
8. Stay hydrated
When it's raining it can be easy to forget about hydration, so make it a point to hydrate before and after your run, and to bring something with you if you are doing a longer run.
9. Try not to let the rain distract you from your running
If you're not used to running in the rain, you may be worrying about all of these things and not as much on your run. Try to stick to your normal routine of a pre-run warm up and post-run stretch and cool down. Focus on maintaining good form but also be mindful of slipping when it's wet outside. You may need to adjust you paces while running in the rain, and that's ok!
Final Thoughts on Running in the Rain
It will be much different running in a light, misty rain in the summer when it's 70 degrees than running in a cold, windy, winter downpour in when it's 40 degree. Stay within your own comfort zone and make your own decisions about what weather you are comfortable running in. If you hate running in the rain, don't force it and look for other options instead (moving around your schedule, running indoors on a treadmill, or doing another indoor workout). If you do decide to run in the rain, try to make the most of it and have fun!
How do you feel about running in the rain?
Any other tips you have for rainy runs?
Do you run in the rain all year long or just during certain seasons?
You may also like:
5 Tips for Adjusting to Running in the Heat
Essential Running Gear for Late Summer and Fall
Tips for Preventing and Treating Blisters from Running Shoes
Now it's time for the Runners' Roundup! Link up your running and fitness posts below! Join myself, Coach Debbie Runs, Confessions of a Mother Runner, Runs with Pugs , and Laura Norris Running to post your favorite running tips, experiences, race and training recaps, workouts, gear, and coaching ideas.
You are invited to the Inlinkz link party!