After last weekend I had a bit of a shift in my mindset about my foot injury. I started to think about the things I can control to help it to heal as quickly as possible. Not only that, but I am also trying to get back to some habits that will help my overall health- the ones that I actually do better with when I am following a training plan. I needed this reminder: Focus on the things you can control.
Focus on the things you can control
Rather than laying on the couch in the mornings while I blog and drink my coffee, I'm trying to be a little more active by kneeling. I may avoid standing barefoot (especially on my hardwood floors) but kneeling on a pillow is much better than laying slumped into the couch.
Making Good Habits
I've gotten back to foam rolling each evening. I only do about 5-10 minutes, but it's a good way to get out the kinks from the day. I found that when I am not doing much running, I have zero motivation to foam roll. However, I believe that anyone, even those who are not runners, can benefit from self-myofascial release.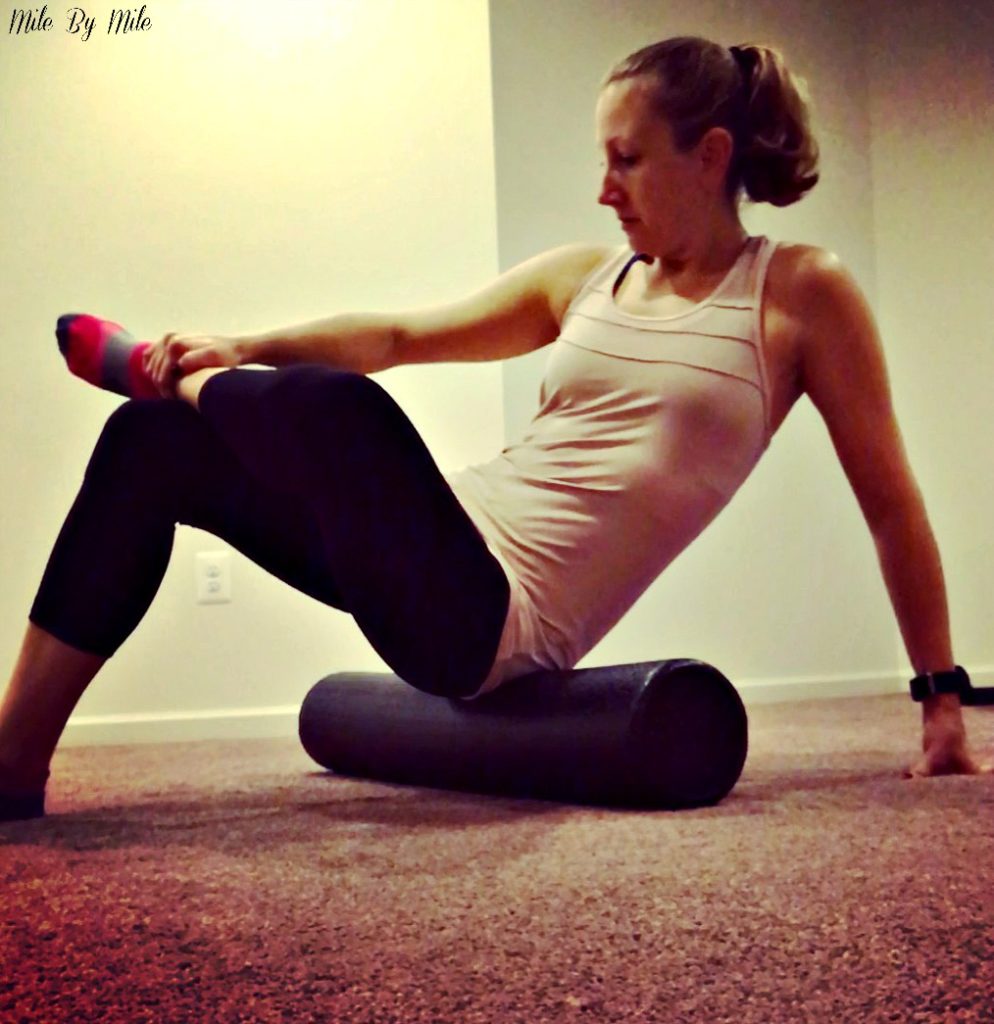 Since being back from vacation, I've gotten into a routine once again. I have found that there is something I can do each day to be active and feel good. These PT exercises are time consuming, but I start with those and then if I have time I do something else.
Foot Support
I'll also be supporting my feet with proper shoes and tape. When I went to PT on Tuesday I actually worked with two different therapists (the one I started seeing a few weeks ago was actually leaving). One of the guys I met with this week is a runner and gave me lots of information that I found really helpful. I liked that they worked together (there were about 3 patients in the room, with 2 PTs and an assistant) so you get some different perspectives as needed.
We had a long discussion about shoes and while I am still not sure what the long term answer is, right now I will be taping my foot to add arch support until I build enough strength for my foot to do it on its own. I think I have narrowed down my work shoes to 2 pairs that feel the best, but I do want to make a trip to DSW and try on some more.
Having a plan
I think that the more I have a plan for recovery, and understanding of the problem, the better I feel. Looking back on the past 2 months I have started developing some theories about where I may have gone wrong. While these are just theories, at least they can guide me to try something different moving forward.
Last Week's Workouts
Monday: PT exercises, core work
Tuesday: AM: PT exercises, upper body PM: PT appointment with new exercises
Wednesday: PT exercises plus 20 minute run/walk (2 minute run, 1 minute walk)
Thursday: PT exercises, TRX workout
Friday: PT exercises, lower body and stability ball core workout
Saturday: PT Exercises, 35 minute run/walk (2 minute run, 1 minute walk)
Sunday: Rest
Not the most exciting week. but it felt good to be back in a routine. I go back to PT on Monday and may do some running there and work on form. That kind of sounds like a joke right now because I don't even feel like my body remembers how to run most days! I guess this is the best time to retrain the correct muscles to fire, if I can figure out how to do that.
Goals for next week
Run/walk 3 times with at least 1 day off from running in between each, go on a search for better work shoes, foam roll every day, and keep up with PT work.
[Tweet "Focus on the things you can control @runningoutowine #weeklywrap #running #injuredrunner"]
How were your workouts last week?
Do you ever try to just focus on what you can control?
Do you foam roll even when you're not training?