This week I am starting a new blog series: Fartlek Friday! Fartlek means "speed play" and we use this to describe unstructured running workouts that help us get faster at various speeds. These posts will be short, somewhat random, and hopefully helpful! Each Friday I will be sharing a quick running or fitness tip. If you have any tips you would like me to share in a future post, E-mail me at milebymileblog (at) gmail.com! Today's tips is how to organize your running gear!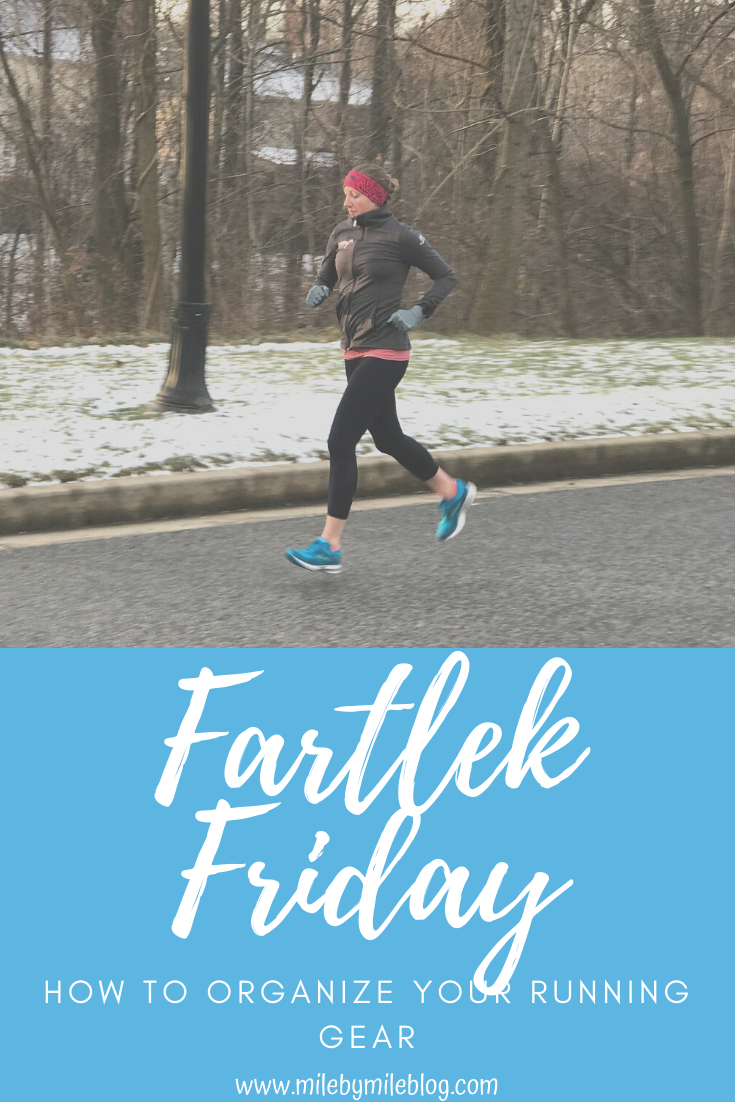 How To Organize Your Running Gear
When I say "running gear" I'm not really talking about clothes, but all those other little things that seem to go missing right when you need them. This includes your running watch, headphones, Road ID, gloves, Koala clip or running belt. etc.
I don't know about you but it drives me crazy when I am trying to get out the door and I can't find one of those things. So I put together a bin for these items that is near my door. If you have an outlet nearby, you can also create a charging station for your watch and headphones! (I have to charge mine up high so that my toddler can't get to them, but once they are charged I put them in the bin.)
When I get back from a run I make sure to take all those things off right away and add them back to the bin so I know where they are. It saves me so much time when I don't have to run around the house gathering everything up!
As you can see here I also have a bin with some winter running accessories that I keep near the door as well. This isn't as well organized but there is a pretty good chance I will have at least one hat or pair of gloves in there!
How do you organize your running gear?
I'm linking up with My First 5K and More, Running With Attitude, Run Laugh Eat Pie, Runs with Pugs, and Zenaida for Fit Five Friday!