A few weeks ago I shared that I am coaching Rob for the Cleveland Marathon in May. He has now completed week 9 of training so I thought I would give another update. My last post about this was written after week 4, and at that time he had completed all workouts as scheduled. He has still been doing well with getting all the workouts in, but some snow and ice last week meant we had to move things around a bit.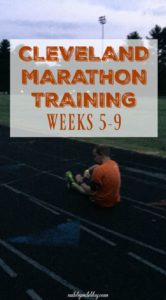 We also realized the other day that he had been doing additional core work on his lower body workout day. This is great, of course, but I had been wondering why he always said that workout took so long. Of course 2 days of core work is better than one, but this is someone who has done ZERO core work since he started running 5 years ago.
I also think he was really excited to get a "cut-back week" in week 8. In the past he never trained consistently enough to take a planned cut-back week, so this was almost like a reward for other weeks of hard work.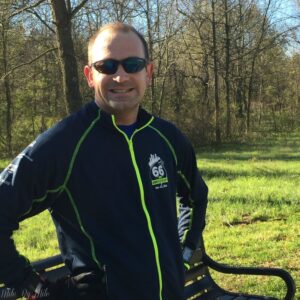 I asked him to share some feedback about how things have been progressing so far:
It's me again…(sorry). Lisa asked me to give another update on my training for the Cleveland Marathon. I have a few set questions she asked, but overall I'd rate the training as a B.
What has been tough or challenging about the last month of training? – I'd say getting going on my speedier workout day has been a challenge recently….this past weekend's long run was also pretty annoying (it snowed on Tuesday here and most of the sidewalks were ice-covered). I ended up doing the last 3 miles in the neighborhood (1 mile loops).
What is your least favorite and/or most favorite part of training? – Least favorite right now is layering up! I'm usually good to wear shorts any temperature above 30, but we've had a few mornings the past few weeks that have been really cold and windy. My favorite running workouts are Monday and Friday (my scheduled days off:))
How have you been feeling physically? – Physically, I've felt great expect my last long run on Saturday and I started to feel tightness in my left leg. Hopefully it's a one time thing and I'll get back on track.
What do you think you need to focus on more moving into the next phase of training? – The next month I'm hoping to not feel the tightness in my left leg. Overall it will be about increasing the length of my workouts while remaining healthy. The final month of training I'm hoping the weather starts getting really warm, so I can get used to the hot weather just in case I get a warm weather day on marathon day. I've managed to run two races that I've trained in cold weather the whole time only to have race weekend be about 25-30 degrees warmer than any other day I've trained.
At this point, what would you say is a reasonable marathon goal pace? – My goal is still to break 4 hours. I think if I had to go out and start a race I'd try to run my first 10 @ around 8:55 pace and see how I feel from there. Still a long way away to think about a goal time and getting to the finish line.
Lisa here again. When Rob mentioned his leg tightness after Saturday's run I suggested it could have been from running on the cambered part of the streets because of the icy sidewalks. (I had also run on that part of the street and it felt weird, but I only did 7 miles.). I'm making sure he gets in lots of foam rolling to loosen up that leg, and if needed we will adjust this week's workouts.
[Tweet "The Cleveland Marathon is 9 weeks away…see @milebymilerun 's coaching update here. "]
Anyone else have issues from running on cambered roads?
Who else is training for a spring marathon?
How do you deal with training for a race when you expect race day to be warmer than your training runs?