Happy Friday! It's been quite a week, so today's post is just a random compilation of 5 things I wanted to share today.
We got a new car! After having my car for almost 17 years, it was time. Rob and I have been sharing a car for about 7 years now and it started to give us a lot of trouble over the past few months. We spent way too much money on repairs and Ubers over the past few weeks so it was time for a new one. We ended up getting a Nissan Altima and love it so far! My old car was a 2001 so this new one basically has 15 years of more advancements than what the other one had. I'm still figuring out all the technology but it's very exciting.
2. This weekend we are traveling to Michigan. It's Rob's grandpa's 90th birthday so we are all surprising him! I am 99.9% sure he doesn't even know I have a blog, so let's hope I didn't just spoil it.
3. I've been meditating every day for over 3 weeks now. It's been going well and has become a part of my evening routine. I don't know if I am getting "better" at it but I do feel like I have let go of some the anxiety around actually knowing what I am doing. The guided meditation helps me to focus on things like breathing and body awareness. Sometimes I do the unguided mediations which are more challenging in my opinion. (In case you missed it, I am using the Calm app to mediate for at least 5 minutes a day during Lent.)
4. A few weeks ago I started using dry shampoo once or twice a week. I'm not sure how I feel about it. Since I work out in the morning, my hair is always a little bit sweaty from that, so I blow dry it after my shower to get any moisture out. The I use the dry shampoo and style it with the flat iron. I think it looks ok, but to me it still feels kind of greasy. It does save a lot of time in the morning, so I will probably continue but I would like to figure out if I am doing something wrong or if there are any tips I don't know about.
5. The weather continues to be all over the place. Most mornings are still really cold but at least during the day it warms up. How is it going to be April already next week? Time is just flying by. Now, if it could just feel like spring that would be great.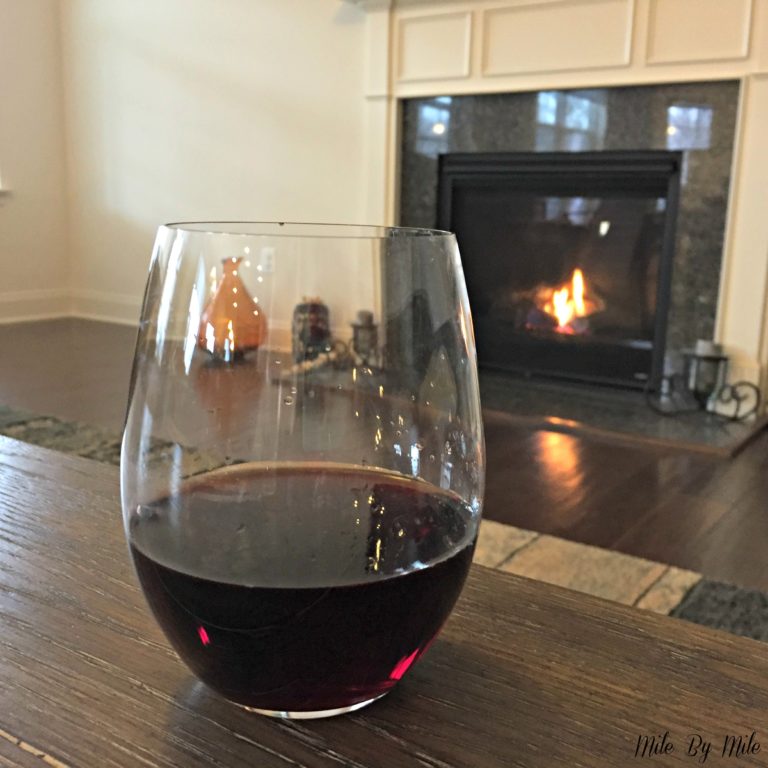 Just throwing in a picture of my wine by the fireplace because this is my view most days during the winter and may continue into spring at this rate!
[Tweet "Catching up on some random things in today's 5 things friday post! @milebymilerun #fridayfive"]
Have you tried dry shampoo?
When was the last time you got a new car?
Do you like surprise parties?
I'm linking up with Lacey, Meranda, and Rachel for the Friday Five 2.0.