At this point most of us have come to terms with the fact that our races are cancelled for the foreseeable future. Some runners have done virtual races, others have been running just for fun, and some are taking a break. There is no "right" way to handle this situation and what we choose to do may even change week by week or day by day. However, today I thought I would share some running goals to keep you focused without a race. If you are looking to work towards a goal right now, you can still be creative and find something to focus on even without a real race in the near future!
Set a Mileage Goal
Maybe you want to try to run more consistently or run more miles than you do during training. If you keep your runs easy and make sure you recover well, you should be able to increase your mileage safely. You could try running one extra day per week or just add a little bit onto your long run each week.
Run a Timed Trial
Have you ever run an all-out mile? I don't think I have. At least not since I was in high school. You could really focus on speed work and test out your mile time, or another short distance Maybe do this every few weeks to measure your progress.
Complete a Running Streak
Another idea is to do a running streak. If you're not injury prone, have a good base, and have some extra time, this could be a fun way to get in some miles every day. If also ensures that you are active every day (and hopefully getting outside, if the circumstances allow for that!)
Participate in a Challenge
There are so many challenges going on right now. I can't even keep up with them all! Find something appealing to you that works with your schedule. An added bonus with these challenges is they connect you with other runners, even if it is virtually. That's just the way we need to operate right now.
You may also like: The 9 Best Running Challenges for Your Strongest Year of Running
Run a Virtual Race
Of course there are also plenty of virtual race options. You could either do a virtual race of the distance you were going to train for, or try something new. I wasn't planning on running a 5k or 10k this spring but I have done both as virtual races already. It's a great way to challenge yourself as well as connect with other runners who are doing the same races.
Work On Form
This is also a good time to work on your running form. Maybe add in some drills, mobility work, or  strides at the end of your run. Maybe you have more time to work on the little things if you are backing off your running right now!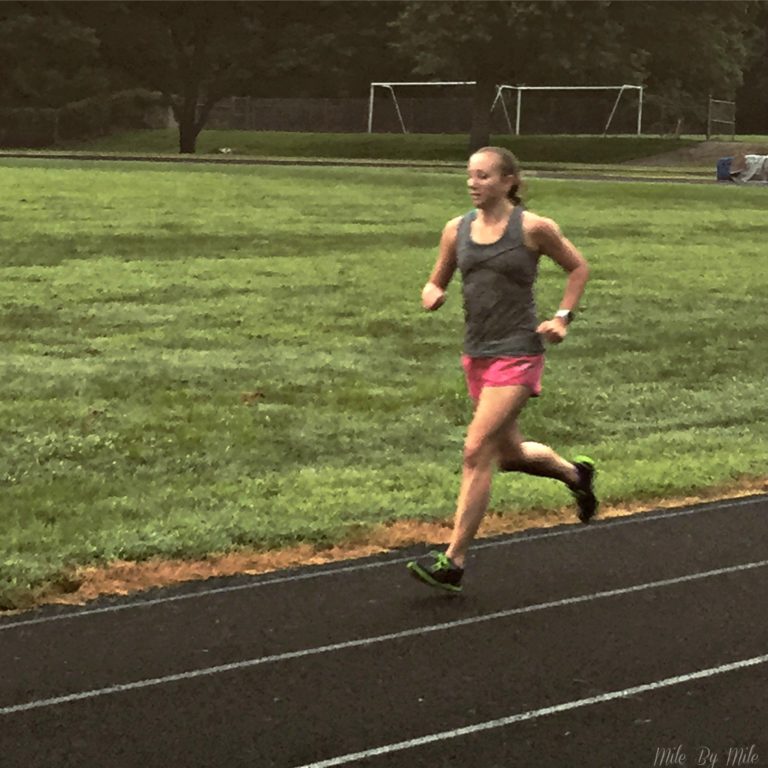 Of course, there are plenty of other goals you can work towards that are not running goals. You could try a different kind of workout, do another fitness challenge, or just try to be active every day. If nothing else this experience is giving us opportunities to try new things that we normally wouldn't do.
[Tweet "Here are some ideas for running goals to keep you focused, even without a race to train for! @milebymilerun #runnersroundup"]
You may also like:
Be Stubborn About Your Goals, But Flexible About Your Methods
Running For Stress Relief During Times of Uncertainty
Are you working towards any running goals right now?
Ever run a 1 mile race or timed trial?
Have you tried anything new due to your race being cancelled?
RUNNERS' ROUNDUP
Now it's time for the Runners' Roundup! Link up your running and fitness posts below! Join myself, Coach Debbie Runs, Confessions of a Mother Runner, Runs with Pugs, and Running on Happy to post your favorite running tips, experiences, race and training recaps, workouts, gear, and coaching ideas.

You are invited to the Inlinkz link party!