I think at this point most of us are realizing/accepting that our "new normal" will be here to stay for a while. As communities begin reopening we will slowly get back to doing some of the things we are used to, but they won't be the same as before. That probably goes for our running too, at least for a little while longer. Even if gyms reopen and races start being held again, will we do those things without feeling constant worry that we will get sick or spread the virus? We may need to think about shifting our running focus during COVID-19.
Why and How to Shift Your Running Focus During COVID-19
As I think about the future of running, for the next few months to a year or so, there are many questions and unknowns. I try to stay positive about most situations but I also want to be realistic. I don't want to get myself excited for a goal race this fall if chances are that it won't happen (or that I won't feel comfortable running in it). If I was already signed up for a race this fall I may feel differently.
In my virtual discussions with others I get the sense I am not the only one who feels this way. It can be discouraging to feel like you have no direction or goal with your running. I love running "just to run" but I feel like that will only last for so long until I either lose motivation, get bored, or overdo it and end up getting injured or burnt out.
For today's post I wanted to share some ideas for how and why to shift your running focus during COVD-19. These are all things I have been thinking about for myself and I have a feeling others can probably relate to.
Why Might You Want to Shift Your Focus?
As I said, we may be in this situation for the long haul. And by that I mean needing to stay at least 6 feet away from others, wear a mask in public, and only gather in small groups. This could impact group fitness activities and races. Here are a few reasons you may want to shift your focus.
You are struggling to stay motivated without a race to work towards
You are not enjoying running as much as you usually do
You've stopped running, even though you want to continue
You are running high mileage/intense workouts for no real reason and are putting yourself at risk of burnout
You are feeling lost without a training plan
I've experienced many of these over the past 2 months. I'll actually spend a few weeks doing higher mileage and harder workouts and then lose motivation for a few days or weeks. I definitely feel a little lost without a plan, although in some ways it's nice to go with the flow.
How to Shift Your Running Focus During COVID-19
So if you are experiencing anything I listed above, you might want to consider shifting your focus temporarily. By this I mean not focusing quite so much on your running/training, although you certainly can and should continue running if you want to!
Focus on Strength
This is such a great time to build strength! Consider getting a few items to have at home, and spend a few months making strength your main focus. Usually runners will run first and then strength train, so their legs are fresh for their run. Try strength training first, so you can really put in the work there. Try to work towards lifting heavier and not worry so much about your legs being tired for your next run. You can take it really easy or skip it if you are sore. If you usually strength train 1-2 times a week, try bumping it up to 2-3 times.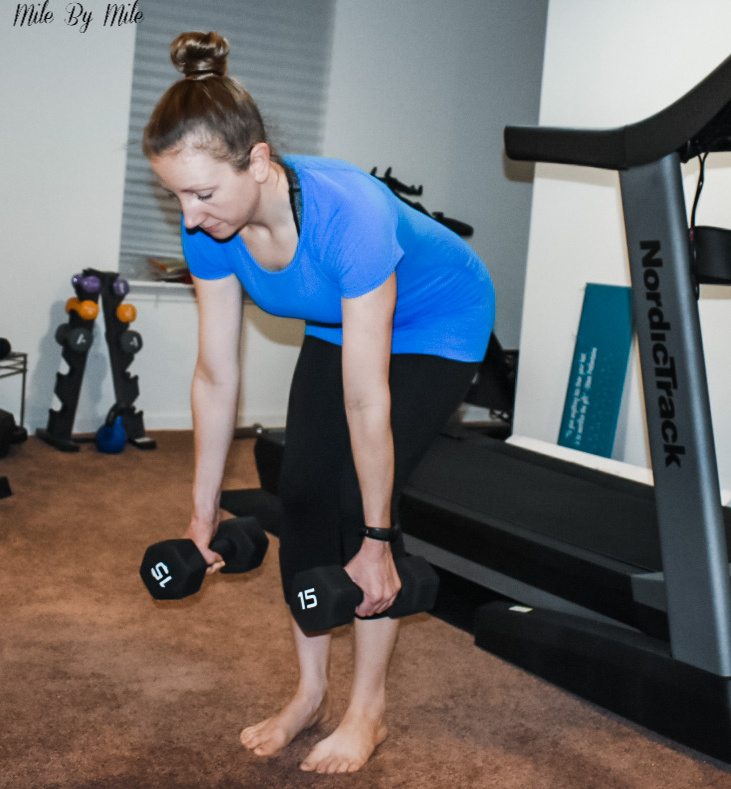 Conquer your Weak Spots
We all have those areas that give us trouble, and we may even feel like we are often toeing the line of injury there if we do too much. Take some time to really address your issues. I've always had issues with my hips and low back, and after my c-section my core is even weaker so I know that I will continue having back issues if I don't strengthen these areas. Now is a great time to do some prehab/rehab for those trouble spots.
Educate Yourself
Use this time to learn more about running by reading and researching areas that interest you. It's helpful to know why you are doing certain workouts even if you are following a training plan that was completed for you. Maybe you also want to learn more about mental training or injury prevention. Just make sure if you are using the internet for information about injuries that you are going to a reliable source.
Improve your Nutrition
I have really slacked off with my nutrition over the past year. It's not that I eat junk food all day or anything like that, it's more that I just grab things that are quick and I usually don't eat something soon enough after I work out. I've been working on meal prepping more and even trying to bake some healthy snacks that I can grab after a workout. I know many of us have struggled with our eating even more while being quarantined for various reasons. We need to remember that in order to run well we need to fuel our bodies well.
Determine Your Long Term Running Goals
I think that most runners think about their running goals for about a year in advance. Often at the end of a calendar year we start planning out our races for the following year. Maybe you do half-marathons a few times a year, or one big marathon a year. Or maybe you just like to jump into local 5ks as often as possible. But what about your long term running goals? What do you want to accomplish in the next 5 years? 10 years? By the end of your running career? Do you hope to run for as many years as possible, and what will you need to do to make that happen? Thinking about long-term goals can help drive some of the things to focus on now, and can also help us to put things in perspective.
If you are happy with how running is going for you right now, that's awesome! But maybe you want to just keep these things in mind if things start to change for you in the coming months. While I hope we can all be back to happy, carefree running sooner rather than later, I think it's important to have a plan in case that doesn't happen.
[Tweet "Why and How to Shift Your Running Focus During COVID-19 @milebymilerun #runnersroundup"]
Are you struggling to stay motivated with your running right now?
Have you shifted your running focus at all during COVID-19?
Have you set any long-term running goals for yourself?
You may also like:
5 Simple Ways To Stay Motivated When Racing Alone
Running Goals To Keep You Focused Without A Race
15 Simple Ways to Care for Yourself During COVID-19
Now it's time for the Runners' Roundup! Link up your running and fitness posts below! Join myself, Coach Debbie Runs, Confessions of a Mother Runner, Runs with Pugs, Running on Happy and Organic Runner Mom to post your favorite running tips, experiences, race and training recaps, workouts, gear, and coaching ideas.
You are invited to the Inlinkz link party!