Are you itching to train for a race, but not sure if any will happen this fall? Or do you have a race on the schedule and you're hoping it will take place, but you know that can change at any moment? During these confusing times I think many of us have been forced to learn the art of flexibility, even if it isn't our strong suit. One way to focus on preparing for a race that may or may not happen is to create your own simple training plan. This is something that can be easily modified and adjusted based on how your season plays out.
Personally, I love having a training plan to follow. I was disappointed when my training for my half-marathon in March got derailed. Instead of continuing with my training, I adjusted my workouts so that I could do virtual races and other challenges. This allowed me to continue following the schedule I had used when I was training while adjusting for those other races and workouts.
If you've never created your own training plan before, this may give you some strategies for scheduling your runs and workouts. If you're a pro at making your own training plans, hopefully this will remind you about some ways to make adjustments and keep your plans flexible!
Determine your goal
If you have a race on the schedule then that will likely be your goal. If not, what do you want to accomplish with your running over the next few months? Maybe you want to sign up for a few virtual races or plan to run your own timed trials. You could also just aim to run consistent mileage or hit a mileage goal. Another option is to not focus on your running, and aim to work on your strength training or other cross-training activities. Check out these running goals to keep you focused without a race.
Consider your mileage
How much have you been running comfortably over the last few weeks/months? If you are looking to increase your mileage, be sure to do so slowly and include cut-back weeks. If you are adding intensity to your training you can drop your mileage a bit until your body adjusts to the harder runs. Also think about how many days a week you want to run. You want to make sure you have time for other workouts like strength training and at least one day a week of rest.
Include any long runs
I usually like to start by planning out my week by knowing what day I will do my longer run. This typically takes the most time so it's important to fit it in when you can. You will also likely make the days before and after your long run easy (either a rest day, an easy run, or a cross-training workout).
Add in harder workouts
Once you know when you will do your long run, you can then add any other harder workouts into your schedule. Try to keep at least a day or in two in between your long run and your hard workout. (Your hard workout might be speed work or a tempo run). For example, you could do your speed workout on Tuesday and a long run on Saturday.
Make time for recovery
Don't forget to include a planned rest day, and other "recovery" days! Most runners need a full rest day each week. Sometimes this can include something really easy like walking or stretching. However, it can also be beneficial to not do anything on those days off to really give your mind and body a break. But if you feel like you need to do something, keep it really easy.
You also want to try to alternate hard workout days with easy workout days. If you are running 3 days a week you should avoid doing your runs back to back. More advanced runners may plan to do a harder workout before a long run to practice running on tired legs, but this is a specific strategy that should be carefully woven into a training plan. If you are running 4 or more days a week, then you will have to run back to back at some point. Just use the days before and/or after a harder run to complete an easy run or recovery run.
Include cross-training and strength training
It's important to keep up with some other workouts besides just running. Strength training is so important for runners! The good news is that a little bit goes a long way. There are a few different ways you can include strength training in your plan. You can do your strength training on a non-running day. You could also do it on the same day as a harder workout (for example, speed work in the morning and strength training in the afternoon). Or you could strength train on the same day as an easy run. You just want to be careful about tiring out your legs the day before a hard workout or longer run.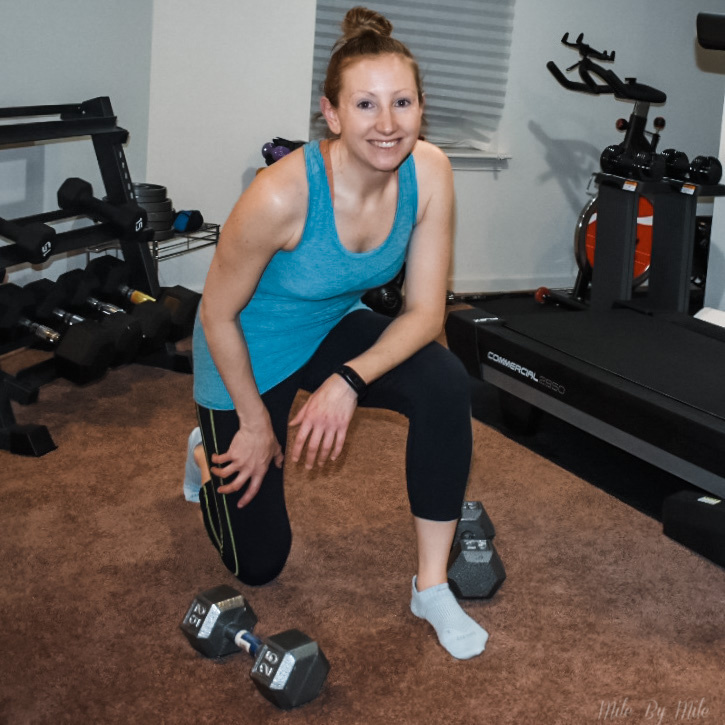 Cross-training can be included in various ways as well. If you are trying to build mileage you may want to include more cross-training in the early weeks of training and then cut back on it as your start running more later in your training. You could cross-train on the same day that you strength train, or as a second workout on the day of a run. Consider whether you are using cross-training as a supplemental workout or as a recovery strategy. This will help you determine how to fit it into your plan and how much it should be prioritized.
You may also like: Is it Better to Do Cardio Before or After Weights?
Note which workouts might be optional
Try to think about which workouts are your priority, and which ones you could skip. Usually you will want to focus on getting in at least one quality workout, such as a long run, tempo run, or speed work while the easy runs can be skipped. If you miss a key workout, you may want to move it to a day later that week. However, keep in mind that if you miss too many runs you don't want to try to cram them all in at the end of the week. It's ok to miss a few runs here and there!
Check out more training plans and resources here!
Right now, they key to staying consistent with training is to keep it simple! Unless you know for sure that you will be running a goal race, it's best to have a loose plan that allows for flexibility. However, if you happen to be someone that does better without a plan, then this is your time to shine!
Have you been following a training plan over the last few months?
Do you have any races scheduled for this fall?
How do you usually decide on a training plan?
You may also like:
Scheduling Weekly Workouts Without a Training Plan
Why You Should Follow Your Training Plan and Run Your Easy Runs Easy
Why and How to Shift Your Running Focus During COVID-19

Now it's time for the Runners' Roundup! Link up your running and fitness posts below! Join myself, Coach Debbie Runs, Confessions of a Mother Runner, Runs with Pugs, Running on Happy and Organic Runner Mom to post your favorite running tips, experiences, race and training recaps, workouts, gear, and coaching ideas.
You are invited to the Inlinkz link party!