Week 2 of this weird, crazy, work-from-home, social isolation period is complete. How many more do we have left? I think that's whats scary to think about. This was an interesting week of workouts for me. I guess you can say that the quarantine makes you do crazy things. At least I will blame it on that!
The week started off with my typical strength training workouts and easy runs. Instead of a rest day on Thursday, I did 25 minutes of yoga to keep up with the #19for19challenge. Most days we get out for a 20-30 minute walk, but this week we had quite a bit of rain so that didn't always happen. On Friday I ran a virtual 5k and then I did a half-marathon on the treadmill on Saturday. So yea, not my typical running schedule but it was fun to change things up!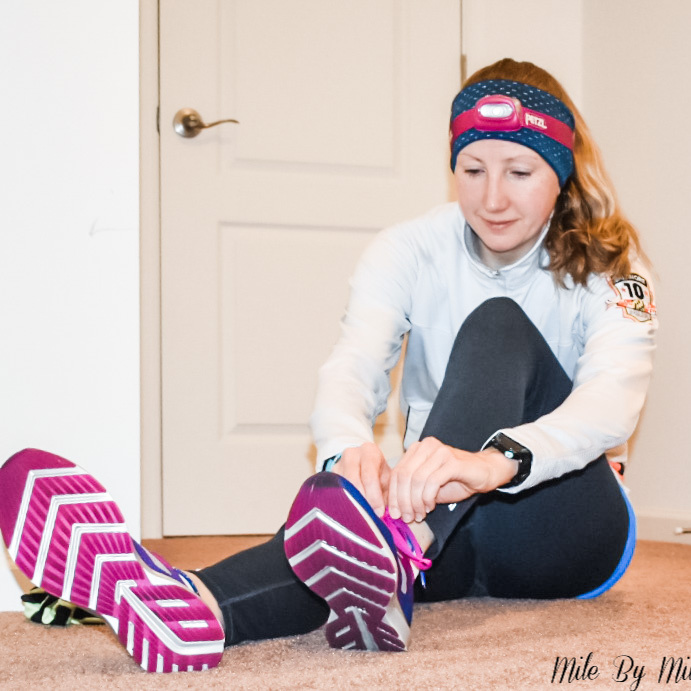 Weekly Run Down
Monday: Strength Training + Foam Rolling
Tuesday: 4 Miles + Core Work
Wednesday: Strength Training + Foam Rolling
Thursday: Yoga
Friday: 6 Miles (including a 5k in 22:04)
Saturday: 13.1 Treadmill Miles
Sunday: 3.5 Stroller Miles + Glute/Hip Exercises
Strength Training
In an effort to try something new while I am not training, I started doing strength training workouts from Lift Run Perform. Mary created a 4 week workout guide with strength workouts, bodyweight workouts, and running hybrid workouts along with some great videos demonstrating the exercises. The guide was $20 which was a great deal and I was happy to support a small business during this time. The workouts are similar to what I am used to but there are some exercises I have never done or slight modifications that seemed effective. So far I am really enjoying these workouts.
Rambling Runner's Virtual 5k
Matt from Rambling Runner is hosting a virtual race series, the first of which was a 5k to be run this weekend. You just need to join his group on Strava and then sign up for the race. I am new to Strava and still figuring it out. I don't like having my maps public so I am not even sure if my workouts are showing up. Honestly I will probably delete my account when this is all over because I really don't like the idea of people being able to see where I run. Is this a concern for anyone else? Did you figure out a way to work around it?
I did a warm up and then started my 5k on a flat route. I settled into a good pace and was really happy with how this went! I ended up running my fastest time since 2015.
Almost the COVID-19 Miler
There was another challenge, the COVID-19 miler, that involved running 19 miles within a 24 hour period before 3/31. While this felt like a fun challenge, I wasn't ready to run 19 miles all at once (and didn't really have enough time) and also didn't have time to run more than once in the same day. I did 6 miles starting at 4:45 am on Friday and 13.1 miles that I completed before 6:05 am on Saturday. So those 19 miles were not quite within a 24 hour period, but pretty close. I didn't register because its based on the honor system and I just couldn't honestly say that I did the challenge the way it was intended!
On Sunday I ran with Grayson in the stroller. It was finally not raining and warmer out, so I thought we could take advantage and get outside. He wasn't feeling it (he would rather be running around) but I think it was good for both of us to get some fresh air!
#19for19challenge
I'm sure you are all aware of this challenge started by our cohosts Kim and Deborah. I'm trying to be intentional about getting in 19 minutes of activity for 19 days. This is especially important on the days I don't run. I have been trying to get out for walks or do yoga as active recovery.
So that was pretty much my week of workouts! Lots of new things, lots of challenges, along with lots of time at home and lots of wine. Oh, and lots of video chatting/conference calls. Good thing work is understanding about having kids "participate" in meetings!
[Tweet "Half-Marathon training has ended so instead I've been doing some running challenges! Check out my weekly workouts to see what I've been up to. @milebymilerun #weeklyrundown"]
Have you done any virtual races?
Has being isolated led you to do anything crazy?
Are you trying to be active every day?
I'm linking up with Deborah and Kim for the Weekly Run Down!